So, here we go again. The annual orgy of self-promotion that is the SU Sabbatical elections is upon us. It's only the first day, but the campus is already drenched in campaign colours and plastered with mugshots of the candidates. The battle-lines have been drawn in each race and we are already starting to get an idea of how the next two, incredibly intense weeks are going to look. So how are the races shaping up? Who has the most bodies on the ground in the brightest, most migraine-inducing colours? Who has already been fined by the electoral commission? And which candidates are already simply pissing people off?
[portfolio_slideshow]
Photos by Dargan Crowley-Long
ADVERTISEMENT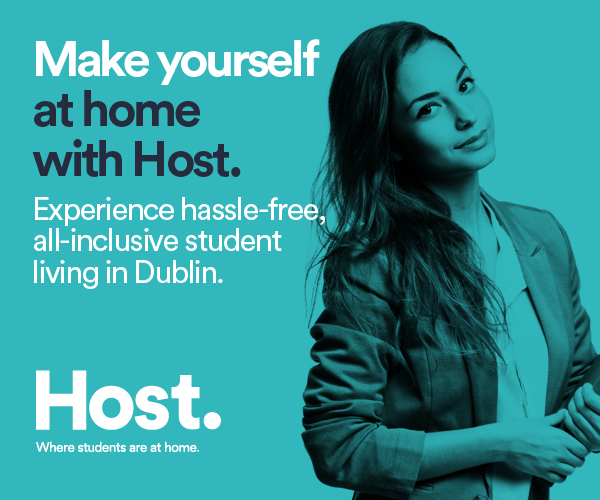 Ents
Even for a two-horse race, this is starting to look like the one to watch. Our Facebook feeds were crammed with people being tagged in either candidates campaign posters by one o'clock this morning. Chris "Fatboy Slim" O'Connor got off the boards at lunchtime in the Arts Block today with the first over-the-top publicity stunt of the election season. Playing dance troupe leader to his potential Ents Crew troupe, Chris re-enacted the famous "Praise You" video in front of the puzzled security guards of the arts block (Video below).  The "I heart CO'C" t-shirts swirled around the JS Law student as he marshalled his army of dancers. He assured our Ents reporter, Jack Toner, that the dance routine was only rehearsed the night before – we certainly believe him.
Chris O'Connor and campaigners impress with their moves
On to the first hustings session of the season outside the dining hall. Elaine "serial Facebook tagger" McDaid came out of her corner swinging. No stunts, no Fatboy Slim; just her policies and her four years of experience on the Ents Crew. She talked about using the Pav to its maximum potential for Guitar Hero competitions and the like. She mentioned expanded mystery trips and the idea of, "Collaborative Ents." Chris expressed his interest in bringing bigger acts to Trinity, his idea for forty foot screens outside the Pav and his plan to ensure that students pay no more than €5 entry to any Ents event. One of COC's policies seems worthy of questioning however – he mentioned his plan to extend the SU Deal of the Week to Off Licences. While on the surface the plan sounds plausible, we asked him about the College Alcohol Policy which states that Alcohol cannot be advertised through the SU or made to be the primary incentive for partaking in a college activity. We asked if he supported and respected the rule, and while he admitted yes, he did say he could "work around" it. One wonders if Chris has just made the first unfulfillable promise of the election. Don't write cheques that your ass cant cash, Chris.
Communications
This is another head-to-head race and if the dual video interview that the University Times conducted with these two candidates is anything to go by, then its going to be an interesting/catty one (Video Below). Eleni Megoran launched her campaign last night with her imitation, "Rosie the Riveter," poster slapped on to walls all over the campus. She also revealed a Facebook photo of her with former TCDSU presidential candidate and current University Times blogger, Declan Harmon, who is officially backing her campaign. People are already talking about the fact that she doesn't have a Facebook page set up for her campaign, a schoolboy error, particularly in the Communications race, but nevertheless, her poster is getting a lot of credit on the ground.
Eleni Megoran and Ronan Costello go toe-to-toe during The University Times Communications Debate
Upon launching his campaign profile on Facebook last night, Ronan Costello was the only candidate across all five races to have a fully formatted campaign page. His orange and blue colour palette coupled with the slogan, "Go Ginger," and his trademark fiery quiff, made for surreal Facebook imagery when all of his friends made it their profile photo. Our Communications reporter, Caelainn Hogan, never thought she'd see the day that "going ginger" would become a popular idea but lo and behold, Costello's mildly self-deprecating poster and theme is going down well.
Costello was not so popular with the Electoral Commission last night however, as he got pulled up for having a poster in Goldsmith Hall, outside of the Electoral Commission's strictly controlled postering zone. He, along with Seb LeCocq who committed the same offence, will have to do without his poster on the Arts Block ramp for 24 hours. On the fine, Costello said "I can't complain, those are the rules and it was just unfortunate that we didn't pick up on the mistake."
The hustings were not nearly as combative as the dual interview that the UT conducted but we definitely got the feeling that there is a lot of disagreement between these two candidates. Costello gave a brief and succinct speech, very much structured around his campaign manifesto; nothing we hadn't heard before but solid enough. Eleni seemed quite nervous mounting the steps. She told the crowd that she was a "different, fresh" candidate and that she had "a new approach" to the Communications Office. Overall, the general consensus among the on-lookers was that Ronan was the overall stronger speaker but that Eleni was a bit more adept in the questions section. These candidates will need to rely less on CVs and more on presentation of ideas if they want to stand out.
President
It was a quiet first day for our three prospective Presidents. There was the initial death-race last night to get posters up around the college but a lot of students on the ground have been commenting on the candidates' lack of presence in halls and in the arts block. For such an interesting race, with one clear favourite, one clear under-dog and one joke candidate, today was a little disappointing for student journos like our Presidential reporter, Ciaran Nolan. All that said, there was definitely one candidate  who grabbed everyone's attention today. Aaron Heffernan paraded around campus today with his entourage of well-suited and well-rehearsed "body-guards" ready to take a bullet for their commander-in-chief. After "officially" opening the Arts Block smoking area in front of a crowd of bemused smokers, Heffernan went on to give a hilarious speech at the first hustings session outside the Dining Hall. His performance added some panache to the proceedings after a rigidly scripted speech from odds-on favourite, Bartlett.

Aaron Heffernan opens the Arts Block
The issues brought up by Bartlett and Sebastian LeCocq were relevant and fairly eloquently put together. Addressing the congregation, Ryan Bartlett said that he has been involved in various college activities and has encountered many problems that he would like to see addressed. LeCocq's speech was similar but addressed issues that he had personally encountered such as friends who had to sleep in the 24-hour reading room because they couldn't find reasonably priced accommodation. But the truth is that both their speeches, even in the questions stage, amounted to little more than manifesto masturbation. Possibly the only entertaining moment in this section of the hustings (that Heffernan wasn't involved in) was when  the crowd sang "Happy Birthday Mr President" to Bartlett in honour of his 21st birthday.
Having said that it was a dry day for such a potentially juicy race, there have been some strange statements made by members of the different campaigns that might stir the three lads into action. Rumblings from the Bartlett camp have indicated little fear of the threat from Heffernan as his campaigners speculate that he may soon remove himself from the race. While Crown Prince Bartlett has himself denied any such statements, a Bartlett campaigner told one of our reporters that, "Aaron will get bored of the campaign," a notion that Heffernan's campaign manager, Matthew Smyth denied. On the other side of the fence, LeCocq's campaign manager, Danny O'Keefe, said that, "We feel that Bartlett has under-estimated us and that he hasn't put in as much effort as he we would have if he thought we'd be a challenge. So we think we're in with a fighting chance." Don't count your chickens Ryan.
Welfare
And now we arrive at the second-driest of the two most dry races. Welfare is an odd one this year, with four candidates who are more or less unwilling to disagree with one another (how cute). In their University Times video interview, the candidates were pretty much in agreement with each other as to how they can change the role of the Welfare officer. The only slightly left-field policy in the entire race is Russell Bryce's intention for the Welfare office to liaise a bit more with the TCD sports clubs, and helping students with emigration should they need it. This race is becoming a bit of a love-in, with no candidate providing a clear reason as to why or any other student should vote for them. But maybe I'm just bitter because I couldn't get them to fight. C'est la vie.
Having said all of that, there is a genuinely positive mood around the candidates, particularly Darren O'Gorman and Louisa "Mother Theresa" Miller. Bryce definitely seems like he has enough ideas on how to change the role of the Welfare office. Caroline seems very approachable and genuinely nice but reaction to her campaign has been mixed with one campaigner telling our Welfare reporter, Gavin McDermott, that students were taking the literature but not stopping to discuss the policies. The next two weeks are going to be about product differentiation between the four candidates.
Education
The truth about the education race is that the candidates themselves have acknowledged how similar their policies are. But, unlike the Welfare race, the candidates have made some attempt to differentiate themselves. Rachel Barry seems to be fighting her campaign on the expertise front and John Cooney is fighting it on the life experience front.
The hustings session was a bit of a disaster for the two candidates as the lack of a microphone and the presence of a JCB in the background meant that audibility was an issue and the crowd began to lose interest. Lines were obviously well learned last night as the candidates stuck to the script. However, we have found our first candidate to receive a fine. Rachel Barry told us that she had received a fine from the Electoral Commission because, "a campaigner asked some of their friends on Facebook if they'd like to be on her campaign team." Rachel has had ten campaign t-shirts confiscated as her penalty. She will apparently get the t-shirts back in a few days. I'm sure the Barry campaign team are reeling from the scandal.
As far as the student response goes, our reporter on the Education trail, Leanna Byrne, went out to ask some ordinary students what they thought of the race:
Tony O'Connor, SS Classics
[Talking about both campaigns] "They lack imagination, at this rate we're looking at the same generic promises every year.
[Talking about Cooney's referendum on fees] "There needs to be an educated debate about fees, but holding a referendum to see where each student is on the opinion scale would be wasting the time of students and staff. However, people have to realise the advantages and disadvantages of fees and the education officers must realise the necessity of informing students on the matter."
Ted Lynam, SF Science
"The education canditates need to promises a higher education quality and realistic results."
[Talking about Cooney and Barry] "The fact that both candidates are pretty directed towards future job prospects is a plus seeing as students need that type of focus in this economic climate."
Ian O'Connell, SF BESS
"It's all false promises if you ask me. Half of this stuff isn't even relevant like."
[About the referendum] "I like the idea of a referendum cause you need to know what page the students are on. I'm in favour of bringing in fees so I want my education officer to know that."
So, its been a fairly slow start to the proceedings but the plot-lines are still being written in each race. I don't think any candidate should feel comfortable after today. A few pre-conceptions have been shattered and a few candidates have presented themselves better than others. But by no means should anyone feel like they are sitting pretty.
Ian Curran – SU Elections Editor