Ross O'Donnellan
And so begins the Trinity Arts Festival blog. We'll be keeping you updated throughout the week of all the weird and wonderful goings on over the next week. So keep your eyes peeled for any surprises we have in store. Ready? Good. Let's get to it.
Monday: The Provost House Tour
1 Grafton Street -The home of none other than our beloved Provost, Patrick Prendergast. The great adventurer, just back from a trip to the US, kindly allowed the friends of Trinity Arts Festival into his not-so-humble abode, under the supervision of the wonderful Dr Christine Casey. Could we have asked for a better tour guide? Certainly not.
ADVERTISEMENT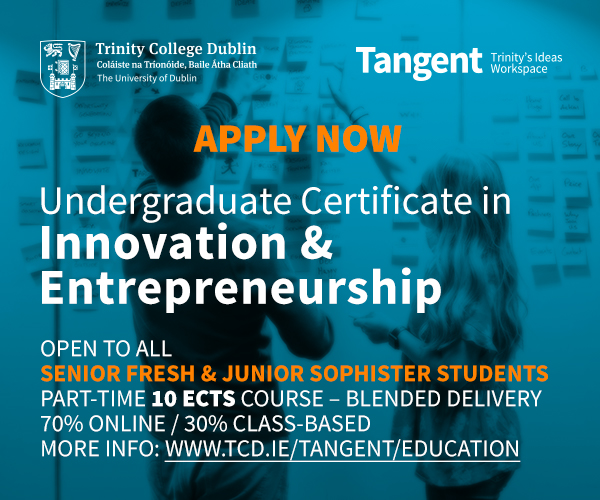 Dr Casey entertained us from start to finish with the histories and mysteries of the Provost's House. Everything from the "dinky" scrolls on the bannister to the Mask of Apollo on the fireplace had a story worth telling. Beginning in the so-called "ordinary " drawing room (it was the bigger than my house),we explored every corner of the oldest domestic building in Dublin, and learned of the scandals surrounding some of the past inhabitants. Our tour finished in the "Great Room", aptly named due to the lavish details on the walls and the sky-high arching ceiling  above.
Many thanks to Dr Casey and to those who accompanied us on the tour, and sincere apologies to those who we couldn't accommodate this time around, but fear not, we'll be hosting one more on Friday at 12pm, and you can sign up for that on Thursday. Excited? You should be.
Monday: Hist Conversation Session with Nialler9

Over the last 7 years, Nialler9 has become a highly respected music blogger and journalist, playing a role in the rise of some of the most stimulating acts you're likely to ever hear. Ever. Our resident charmer, Eoghan Quinn (he's lovely), sat down him down for a casual interview in front of a number of Nialler9's biggest fans. We even supplied tea and biscuits! Super chill.
Starting off in 2005, Nialler9's blog has become a platform for many struggling acts to gain some much deserved attention in a highly competitive industry. The blog, along with his passion for music of all genres, has taken him all over the world, and he spent some time sharing his amazing experiences in South Africa, where he was exposed to the most incredible "Africancentric/digital" artists.
But what did we learn from our discussion with Nialler9? Well, his favourite live act is Tune Yards. The most promising new act he has spotted is the experimental Galway native Daithí. The most interesting album he has listened to in the last year is 'You Are All I See', by electronic artist Active Child. But most importantly, we learned the man behind the blog is humble, captivating, and wonderfully passionate about music. We would like to give him our warmest thanks for coming in to speak to us today.
Monday: Workshop: Chinese Calligraphy
A staple of the Trinity Arts Festival, the Chinese Calligraphy workshop is always one of the most beloved events that we hold each year. Providing you with an opportunity to learn an unusual but beautiful art form, we always look forward to the response from students once they've taken the class. With that in mind, we hunted down once such student post-workshop, and demanded she tell us just how great it was. Intense? Yes. Insane? Certainly. Regardless, here's what she had to say:
"Today I attended the Chinese Calligraphy workshop, knowing nothing about the Chinese language or alphabet, and so I was more than a little nervous going in. I was relieved of all anxiety, however, as soon as we were introduced to our teacher, the bubbly (and eccentric) Joy. Warm and welcoming, her constant exclamations of "Jesus Christ" ensured that we never lost focus throughout the class!
She began by discussing some of the background to the art form – the brushes used, the paper, the ink – but after that, the fun began! Tools were passed around and Joy showed us some of the basic strokes. Next, we got to work, and let me tell you something, it's much harder than it looks! Seemingly simple characters like those for mouth, sun, and big were initially a challenge, but through the help of games, competitions, and the unwavering patience of our teacher, we got the hang of it. By the end, we had each made a little wall hanging with the character used to represent the year of the dragon!
It was a great to try something completely different, and I would definitely recommend it to anyone at all interested in Chinese culture. I really enjoyed it!"
See – we told you it was great. We'd like to give a big thank you to Joy for guiding the class, and to Ellen for providing such a wonderful (and completely uninfluenced) review.
Monday: Comedy in the International!
Fear. The one constant emotion felt by an audience member at a stand-up comedy gig. We love it. Oh, we love it so much. Comedy in the International, in association with DU Comedy Soc, was the first of our night events that we'll be running throughout the week, and we would like to thank you all for arriving in droves and ensuring that it was a roaring success.
Comedians, both amateur and professional, took the stage and ensured that every joke was pushed, every audience member was in stitches, and every American was shocked and offended. Hosted by the incomparable Marcus O'Laoire (RTE's Republic of Telly), the stage was shared by a range of performers including DU Comedy Soc's finest, Johnny Kelly and Francis Breen; our opener, George Fox (Humorisms.com contributor, Laughter Lounge regular); our supporting act, Chris Kent (support act for PJ Gallagher and Ardal O'Hanlon, and resident MC of City Limits, Cork); and of course, the star of the show, our headliner Andrew Stanley (I Dare Ya, RTE and resident MC of the Comedy Cellar).
We would like take this opportunity to thank all of those who performed and made sure that we all had such an incredible evening, and ensured that the conversation was never politically correct (in particular the I-don't-know-if-I-should-laugh-or-not moment provided by Stanley during a gag concerning 9/11). Furthermore, we would like to apologise to that poor Canadian girl in the front row (we can't remember her name, it had a lot of a's and z's) who, due to the astounding investigative skills of Stanley, discovered that her name was not, in fact, Spanish for Elizabeth.
Tuesday: The Trinity Art and Architecture Tour
You think you know… but you have no idea.  For four years I have hobbled along the cobblestones of our fair college, completely ignorant of the histories and scandals behind the sculptures surrounding me. All that changed today, when Trinity Arts Festival hosted the Trinity Art and Architecture tour, in association with Trinity Visual Arts Society. Led by the charismatic Sinead Brophy, we were taken on a whistle-stop tour, and given insight into some of the highlights of the Trinity Art Collection.
What did we learn? Well, George Salmon was apparently an "alarmingly sardonic" individual. His sculpture, which portrays him glaringly intently at passers-by (rather than the more traditional straight back, impassive expression), conveys his individuality. William Lecky was a man of independent means, which allowed him to pursue any degree of his choosing, without worry of how he would make a living afterwards. Jealous? Me too. We took made our way under the Campanile (I went around it, I'm superstitious) and learned that the weird blob of a sculpture that I never really knew the name of isactually supposed to be either a mother cradling a child, or a baby in a womb. Abstract? Not as much as Alexander Calder's 'Cactus Provisoire', located bang-smack in the middle of Fellow's Square. Try and convince me all you want. That is not a cactus.
After deepening our knowledge of the 'Sfera con Sfera' (more commonly known as the spinning-globe) and the Museum Building, we were regaled with tales of drunken students mistaking Michael Warren's untitled wooden sculpture by the Pav for just another pile of giant tree trunks, and subsequently lighting it on fire. You know, because that's normal. Actually no, sorry, not normal. Criminally insane.
Big thanks to Sinead and VisArts for helping us out on this tour, we'll never look at those sculptures the Trinity Art Collection the same way again. Except for the cactus, its not a cactus.
TUESDAY: Demystifying Jazz Singing
As much as I would have loved to, I didn't take part in the workshop on jazz singing led by the accomplished Edel Meade (driving force behind the Swoo Beh project), which took place today in the Jazz Soc room. Did I stand in the back of the room, quietly observing the talented men and women of TCD as they honed their talents under the guidance of their wonderful teacher? Yes. Was I green with envy and red with anger that I was not blessed with this gift? Obviously.
Alas, they all had an amazing time. Meade was full of tips, quips, and a genuine passion to help the students improve vocally. She performed for us and demonstrated that jazz singing, when done properly, can move a person to laughter, tears and everything in between. Everyone left the room a better performer than they had been upon arrival.
I would highly recommend taking this workshop next year, or even to consider joining Jazz Soc and really working on your craft, whether you have had training or merely have talent. However, if you're like me (and you sound like a dying hippo falling from a banana tree), just go along and watch. Trust me, it will be worth it.
Tuesday: Ballymun Lullaby
Our second Hist Conversation Session involved a screening of the critically acclaimed, multi-award winning musical documentary Ballymun Lullaby, as well as a chat with the exceptionally talented director, Frank Berry. We caught up with audience member Joseph Noonan following the Session to listen to his thoughts on the event. I realise that I'm writing the way a news reporter talks. I think I like it, so I'm going to continue. Here's what Joseph had to say:
"As director Frank Berry himself well puts it, Ballymun Lullaby "is a story that needs to be heard."  The film, which revolves around the music teacher and group of schoolchildren who form the Ballymun Music Programme, challenges the negative views that many Irish people today still hold of the area.  Through the work of  the charismatic Ron Cooney and his talented pupils, Berry's 72-minute documentary bears witness a transformation that has taken place in the north Dublin community, with the demolition of its high-rise flats and the emergence of a group of young, creative and talented musicians with the likes of Glen Hansard amongst their ranks.
I felt it was a pity that more students didn't come along this afternoon to the free screening, but as Berry informed us during the questions and answers session that followed, RTÉ have scheduled to broadcast it by the end of March, and the full album will be available in CD shops nationwide very soon. Check it out!"
Big thanks to everyone involved for making the event such a success. Over to you Anne.
Tuesday: Stitch and Bitch
Knitting. Oh, I really didn't think I would enjoy this one as much as I did. The wonderful and outrageously kind Knit Soc teamed up with us to host this workshop, inviting everyone from newbies to experts to come along to stitch, bitch, and drink some tea.
Upon arrival I was pleasantly surprised to find that I was not greeted by a host of elderly women, knitting, bickering, and reeking of medicine (I'm unsure as to why I would have expected this, given the lack of said women I have seen roaming the cobbles of Trinity, so don't ask). In fact, I was met with a collection of young men and women, in almost equal numbers, immersed in conversation, and generally having a great time.
Unfortunately, I had to leave early; but fear not. Our volunteer extraordinaire Rachel Campbell stayed from start to finish. A knitting virgin, Rachel emerged from the workshop a semi-competent and very pleased knitter, thanks to the patience and encouragement of her mentors. She is now a member of Knit Soc. And you know what? I can see why.
Much love to Knit Soc, and keep an eye out for what they have in store for us later in the week. You can ask, but I won't tell you.
Tuesday: Storytelling Evening at the Electric Lounge
After a jam-packed-super-hectic-insanely-enjoyable Tuesday, all we wanted to do was chill out with a pint in an underground bar while strangers entertained us. And whaddaya know – we got just that.
Kicking off at 7.30, the Trinity Arts Festival hosted a storytelling evening at the Electric Lounge (Formerly Shebeen Chic), complete with comedy courtesy Improv She Wrote, tales both strange and wonderful from a host of storytellers, and live traditional music. Sam, Sarah, Dave, Tom, and Sarina all shared with us some of the most captivating stories from their past. There's more to storytelling than just speaking, and these talented men and women demonstrated that, moving us from tears to laughter to outrage in a matter of minutes.
Many thanks Improv She Wrote, our storytellers, and our live traditional music band for keeping us entertained throughout the night; and to everyone who came along, supported us, and helped make the night a booming success.
Wednesday: Horrible Histories
After the eye opener that was the Art and Architecture Tour which took place yesterday morning, I thought I had seen it all. I thought I knew, but again, I had no idea. Today's tour, which we ran in association with DU History, exposed us to the darker side of our college's history. Intrigued? You should be. Keep reading.
Our learned tour-guides Ronan Richardson and Doireann Hanley led us on an adventure which took us to every corner of campus. No story was left untold. No scandal unexposed.
From pranksters to murderers, our college has seen it all. Our leaders eased us into the tour with vaguely amusing stories of 18th Century students scaling the Campanile and decorating the peak with a red top hat, as well urban ledgends surrounding the structure. If you're a virgin, do NOT walk under the Campanile. The bells will ring. Loudly.
Don't worry, we're getting to the juicy stuff. After taking us on an voyage around the college, our tour-guides let us in on some lesser known secrets, buried deep in Trinity's history. Did you know, for example, that students once assassinated a Provost of Trinity College? They did. Their master plan consisted a brick in the face. Clever.
This isn't the only instance of blood-thirsty students that our college has seen, however. A group of students were once arrested for attempted assassination of a Junior Dean. But it wasn't just Trinity students who were prone to violence. Fellow Edward Forde once assassinated a large number of rioting students from his window, only to be defeated by a shot to the head. So much pain! So much agony! We love it.
Big ups to DU History and especially to our wonderful tour guides Ronan and Doireann for opening our eyes to the horrible history of Trinity College Dublin.
Wednesday: Drumming Workshop
Yo Karen, plz oh plz share with us how much fun you had at the Drumming Workshop hosted by the all mighty Trinity Arts Festival earlier today.
"Well Ross, the first time somebody attempted to teach me drums, it nearly ended our friendship. Tentatively, I signed myself up for TAF's Drumming Workshop on Wednesday. My nerves were somewhat soothed upon arrival when our teacher, Niall Gregory, walked us through the instruments. Gregory, a past-performer at our very own Trinity Ball, began by giving us a flavour of drumming history. Mentioning Cuba, Brazil and West Africa as drumming hot-spots, his blatant passion for the music and interest in its development was infectious. And so we began.
Niall showed us a few 'simple' patterns on the various drums and bells. I was terrified. However, it soon transpired that each one was within our reach as we began to clap them out. Using tactics finely honed by bringing drumming to primary schools, Niall told us to clap along to a rhyme: "Birthday cake is so much fun to eat!" Simple and effective, we were soon exchanging proud glances as we clapped out the beat. Graduating to the actual drums and bells, the original scepticism was replaced by excitement and shortly we all began to relax into it.  We were divided into groups, each with their own rhythm to play, and as we played in unison it really did sound rather good. Niall took lead drum and we played on, learning how to change from one pattern to another in unison.
The drumming session certainly proved to be a highlight of my Wednesday and added pep to my step for the rest of the day!"
Delish.
Wednesday: 'Art, Nature and Oliver Messiaen' by Andrew Curtin
Take it away, Miranda Knight:
"The couches of the Phil Conversation Room are the perfect environment for an intense mental workout on art, nature, beauty. Yep. But really, wouldn't you be disappointed with anything less from the Metaphysical Society?
Andrew Curtin spoke (or chatted very casually if you would prefer)  to the room about different ways which we experience nature change how we judge the 'aesthetic'.  He made an interesting point was also made about the changing view of  nature which came about in the '60s, when  nature began to be viewed as something which deserved to be protected.  This appreciation of the natural aesthetic is the motivation for many environmentalists, who wish to preserve nature because they appreciate that the aesthetic beauty to be found in nature can affect us in a profound emotional way.
Curtin went on to talk about the distinction between our relationships with objects of art and with nature.  The environment is limitless, we have a direct relationship with it and can choose how which we experience it and what way to record the memory. In appreciating 'nature-as-nature' from a scientific perspective, we must understand that we are not always appreciating nature because  it is nature, but for its colour, sound, smell etc.
Curtin then spoke of 20th century composer Olivier Messiaen, who used bird song as inspiration for many of his melodies. We listened to a couple of pieces, and heard Messiaen's emulation of bird sounds mixed with more obvious musical elements. Finally, Curtin drew attention to how important a sense of mystery can be to our aesthetic experience, even though paradoxically knowledge can also enrich our experience.
I think that everyone appreciated Curtin's easy explanation of some pretty mind-blowing ideas, which were a bit of a challenge to follow at times, I'm not going to lie to you! I definitely left the room with a lot on my mind, and it has definitely altered my perception of the world. (One could say that knowledge has enriched my experience, eh?) "
Thursday: Treasure Hunt with VisArts
Henry Elder. The man. The myth. The ledgend. Yes. Having spoken to VisArts before the treasure trail took place, I know that they were more than confident that the participants would be challenged mentally and physically for hours due to the complicated clues they had left about Trinity campus.
They did not know, however, that one of the aforementioned participants go by the name of Henry Elder, and OH did he want to win the magnum of wine that was on offer. In just 11 minutes Henry managed to decode every clue, moving at light speed through our college grounds. Unfortunately for the other participants, their legs weren't long enough. They couldn't keep up. They merely looked on in awe as Elder passed them by. "Eat my dust!", he said. He didn't care. He wasn't there to make friends. Wine was in the air. He wanted it. He got it.
Big thanks to VisArts for organising the tour, and congratulations to Henry. Drink sensibly.
Thursday: Hist Conversation Session with Don Conroy
Thursday afternoon was all about one man: Don Conroy. As our fourth Conversation Session approached, students prepared themselves for surrender to nostalgia, and to meet the man that captivated young versions of ourselves with his talent and passion for art and wildlife.Students arrived with friends and family to relive fond memories, and to listen to the tales and triumphs of the man behind the television screen.
He may just be my favourite person ever. Upon entry, students were provided with drawing materials to follow the master artist as he demonstrated his gift. He captivated the room for over an hour, regaling us with stories of his past. His talent has taken him all over the world, and his passion has gotten him noticed everywhere he went.
As the session drew to a close, there was a feeling that neither the audience or himself wanted to finish up. One more story, please. Before departing, Conroy gave us an insight into his own personal convictions relating to the importance of art and self-expression in the current economic climate. Art breaks boundaries and open doors. Art entertains and unites.
On behalf of the Trinity Arts Festival, I would like to sincerely thank Don for enthralling us with his tales and entertaining us with his talents.
Thursday: Pattern Making
As I was unable to attend the scheduled Thursday workshop, ran in association with the wonderful Fashion Soc, I sent one of my favourite volunteers (Sarah O'Neill) along to get the inside scoop. Take it away, Sarah.
"So June is a haute couture wedding dress designer who came in to show us how to make our own patterns from scratch, which is in fact, far more difficult than one would expect. She used a pattern of a 'princess' skirt in the demonstration. We used pattern blocks to draft the basic skirt blocks. There were about 20 people there, all with an interest in fashion.
June went through the process step by step and then gave all of us the chance to make our own patterns. Fashion Soc provided all the equipment we needed, we paired up and measured each other and then began to make the patterns. It was difficult enough so she and the fashion soc girls came around and helped us all individually. It was really interesting, as June is clearly an expert in her field and we're all getting the instructions so that we can follow on and make the skirt at home. "
Much love to Fashion Soc and June for helping us run the class. Students of Trinity, beware, the fashionistas have been born.
Friday: THAT'S A WRAP
Trinity Arts Festival 2012 – you have aged me. From knitting to swing dancing, we've done it all. Friday night the TAF crew host one final event, our Wrap Party at Block T, at which we held an exhibition of all the art produced during the week. Noms were provided by the wonderful KC Peaches, and music by the Panda Party DJs (Max Rocha and Big Mike Hennessy – you had us thrusting all night long).
So what did I learn? Lots. I cannot sing, knit, or swing dance. Don Conroy is my absolute favourite human. Cloud Castle Lake, Simon Bird, I Am The Cosmos and CDJ are now among my favourite acts on the Dublin music scene. Trinity is brimming with young, talented students from all walks of life, eager and willing to contribute to culture and express themselves artistically.
Basically what I'm saying is: Trinity Arts Festival, I <3 U.
Many many many thanks to Bank of Ireland for your kind sponsorship; KC Peaches for keeping us full all week; All the societies who got involved and helped make this years Arts Festival bigger and better than ever; The volunteers, whose unwavering dedication ensured the success of every event; And finally, to our wonderful committee – Hannah McCarthy, Cian McCarthy, Anna Cosgrave, Evan Horan, Lorna Murphy, Eoghan Quinn, Michael Hennessy, Cara Sanquest – I SALUTE YOU.
ROSS OUT X