Niamh Ní Chróinín
Contributing Writer
Trinity College's Seomra na Gaeilge was officially opened on Tuesday evening by Raidió na Gaeltachta presenter Seán Bán Breathnach and Provost Patrick Prendergast. The evening, a 'long awaited' one according to Prendergast, comprised of a host of speeches, music provided by the Traditional Irish Music Society and a wine reception.
ADVERTISEMENT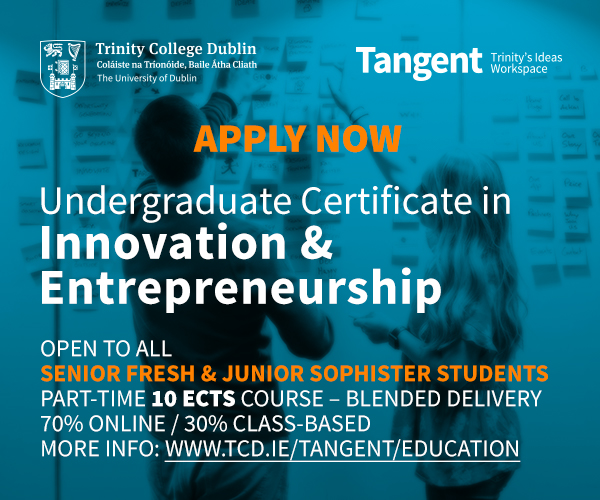 The room, which has been open since Freshers' Week, functions as a space for Gaeilgeoirí and Irish language enthusiasts who wish to experience Trinity life through the medium of Irish.
The room was granted by the Space Allocation Committee at the end of the last academic year following a campaign led by An Cumann Gaelach. Trinity College is now in the majority of Irish universities to provide such a space designated to Irish speakers.
Breathnach spoke of his pride on hearing Irish in conversation as he passed under Front Arch earlier in the day and praised Trinity students for their fighting spirit in promoting the Irish language on campus.
Seomra na Gaeilge, which can be accessed at the rear of the Buttery in Botany Bay, is open weekdays between 9:00 and 16:30. Tea and coffee-making facilities are available and the latest Irish language newspapers, magazines and books are provided.
The room will also host the weekly Ciorcal Comhrá (Conversation Cirlce) organised by An Cumann Gaelach on Tuesdays at 7.30, as well as other events throughout the year. Trinity students are invited and encouraged to organise Irish language events in Seomra na Gaeilge.
Among those in attendance at last night's opening were former auditors of An Cumann Gaelach, Jen Ní Mhathúna and Séamus Conboy, and former TCD Students' Union president Cónán Ó Broin.
Seomra na Gaeilge has seen throngs of visitors since it first became available for use two weeks ago and it appears that the room's popularity looks set to flourish.
Directions to Seomra na Gaeilge can be found here