Conor Bates, Carl Kinsella, Una Kelly, Colm O'Donnell, Fionn O'Dea
News Team
President
Rosa Langhammer
ADVERTISEMENT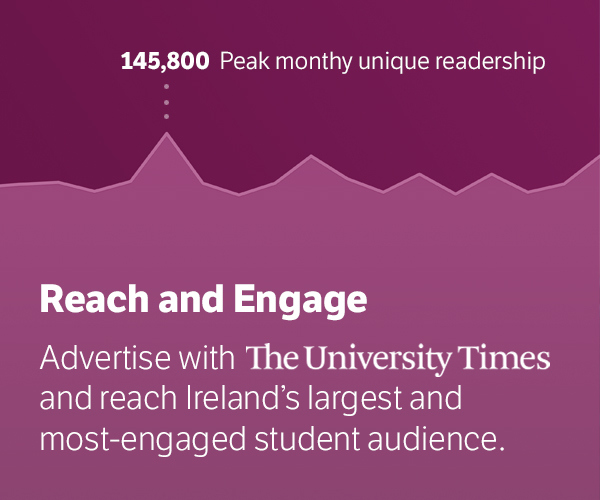 COURSE: JS BESS
AGE: 21
CAMPAIGN MANAGER: James Doyle
Belfast girl Rosa was the Treasurer and Vice-President of Trinity Hall JCR in 2011/12 and has kept herself busy in her third year of college as Cancer Society PRO, DUBES committee member, treasurer and fundraiser of Enactus TCD, SU Finances and Services committee member and treasurer of Trinity Netball.
Langhammer notes how little interaction the average student has with the SU and wants to be a leader who transforms it into something students have contact with every day, whether it be through services, nights out or just talking to SU officers about issues. She feels that many students are not even aware that the hub of SU activity is in House 6, pointing out that students are not likely to go there unless they are involved in a society or the SU. This is a problem she will focus on; "I want to make the SU into a relevant body which listens to the students about the small and large annoyances of daily college life and does something about it," she told The University Times.
She emphasizes the failings of the SUSI grant system and wants the SU to "be on the backs of the awarding bodies from day one" to ensure students receive their funding on time. In her role as President she would continue to focus on ensuring the government do not make any more cuts to the grants.
She believes the SU's current part time jobs listing is insufficient and if elected would transform it into a dedicated online section which could be accessed by students at any time. She wants to create an SU app for smartphones so that students can easily access information such as deal of the week, library information and timetables. "If elected I'd make this a reality and give students a say on what they want to see on their app," she said.  UK.
Tom Lenihan
COURSE: JS Law & Business
AGE: 21
CAMPAIGN MANAGER: Jack Danaher
21 year old Tom Lenihan is running for the position of SU President. The Dublin student, who  plans on being a filmmaker when he leave college, has a wide variety of experience and positions within the student community. He is Secretary of the Law Society, Film Editor for Trinity News, Legal Counsel for Fishsoc, an active member of VDP and Class Rep for JS Law & Business.
When asked about his vision for the campaign, Lenihan declared that "Student Union elections for many are an irrelevance and often are only notable for a funny campaign poster or a promise never to be fulfilled. For others it is an opportunity to make their voice heard and have a say in the way the university is run."  He feels that many students doubt the competence and validity of the union in identifying and acting upon the needs and wants of its members, "Often people groan when they are asked to vote or support a union they see that does not represent their views. Such cynicism is warranted given the widespread cuts to services and the disconnect between college authorities and students."
Lenihan believes that to change the status quo what is needed is "a person that understands the issues students face and will not only strive to retain existing services but improve on them in order to make college life easier."
His aim is to represent the ideas and views that every student can offer and communicate that in a clear, accessible and achievable manifesto. He stated that "It takes someone to have the energy and enthusiasm to bridge the gap between college authorities and the SU and share their obligation to serve the students of Trinity. I can be that person". COD.
Lylas Aljohmani
COURSE: 5th Medicine
AGE: 22
CAMPAIGN MANAGER: Dani Hersee
This final year student has taken on an impressive amount of SU and society responsibilities since her first days at college. Among the long list are SU Assistant Campaigns Officer, Health Science Faculty Convenor, School of Medicine Convenor, committee member on SU Welfare and Education teams, Biological Society secretary, committee member of the basketball team, and chairperson of Health Day.
Aljohmani feels the union needs to become more approachable and believes the format and order of the Union can be daunting for students. To this end, she proposes holding informal clinics in social areas such as the arts block couches. She believes one the key tasks of the president is to ensure the rights of students inside and outside Trinity walls are upheld, and the issue of grant cuts and late payments need to be at the centre of future lobbying. She will continue the tradition started by Rory Dunne of donating 10% of the president salary to the Student Hardship fund.
"Making the most of the services we have is vital in improving the Trinity student's experience," states Aljohmani. She wants to improve the accommodation advisory service by setting up links with private letting offices to provide Trinity students with priority in student accommodation hot spots. She would like to see the SU bookshop used more by setting up an online catalogue, and organising college book sales in each term, managed and staffed by students.
She believes the SU needs to support students as they make their future decisions, and proposes working with the alumni office and careers advisory service to create an internships base, as this will "insure that the SU is taking care of it's students even after they leave Trinity's cobbled streets." UK.
Education Officer
Jack Leahy
COURSE: JS History & English Literature
AGE: 21
CAMPAIGN MANAGER: Colm O'Donnell
Jack Leahy is a third-year TSM History and English Literature student who is running for the position of Education Officer. The 21 year old Dublin native is no stranger to the Students' Union and the inner workings of college bodies. Leahy has been involved in a large amount of societies including DU History and TrinityTV, in addition to two years of peer mentoring.
Leahy became sports editor of The University Times in his first year. He now holds the position of news editor. In keeping with his media background, Leahy is a founding co-director of the National Media Conference, held in Trinity last November.
He also has notable SU responsibilities. Leahy has been a class rep, secretary to SU Council, and is currently the Finances and Services Officer on the SU Executive. He has represented students in USI special congress on fees and to College on matters of student finances.
If elected, Leahy wants to ensure that decisions of the college are made with the students in mind. He hopes to increase student input in module assessment and ensure that valuable education resources like library hours, study space and book access are not undermined in this economic climate. He wants to capitalise upon positive developments with regards the 24hr-library facilities and increase opening hours in the Hamilton and John Stearne libraries as well as book access and LEN availability in the BLU libraries.
Leahy's campaign is based on interaction between the students and the SU and a holistic approach to student life and equipping students with the skills will make them attractive to employers. If elected, he plans to organise courses in anything from crisis management and project leadership to basic coding and design, free of charge, for students of the College to keep Trinity students competitive in a tough market for graduates.
He aims to make the SU "reach out and give members a sense of ownership of their Union." In short he plans to "increase dialogue", to further "discussion of SU policies with students", and increase what the "SU can offer students beyond the confines of lectures, labs and tutorials." CB.
Eric Tebay
COURSE: SS Biochemistry
AGE: 21
CAMPAIGN MANAGER: Richard Diffley
Tebay has been involved in student politics since his first year, taking on more responsibilities each year. In his second year he was part of the Welfare team and Ents crew and represented students at a national level in the USI congress.
He then became the Deputy Faculty Convenor for Engineering, Maths and Science, sat on the Education committee, before becoming EMS Faculty Convenor and Education committee secretary this year. He organised Science Ball 2013 and is an active member of Q Soc, with a particular interest in all LGBT social issues.
He wants to make the Union more transparent and accessible to students, and in this respect would create an online discussion forum on an Education Facebook page, and ensure that students' concerns and suggestions are taken back to the appropriate college committees. If elected he would bring a better focus to study skills, as he believes students find it difficult to make the transition from Leaving Cert style rote learning to independent college studying. He proposes to introduce a new Exam Skills Week into the college calendar, featuring seminars and workshops on essay writing, time management and study techniques.
"College's current methods for assessing courses are not as effective as they could be," he told The University Times. He wants to centralise how students assess their modules, believing that a single survey per term would encourage more students to take the survey and so improve the quality of their education.
He sees opportunities to improve library services, stating that the introduction of automated borrowing and returning services means the Union can push for longer opening hours and the creation of more study space, ensuring students have access to resources when they need them. UK
John Curtin
Course: Law & French
Age: 22
Campaign Manager: Aoife Considine               
Running for the position of Education Officer is 4th Year Law and French student John Curtin. Curtin made the decision to run having spent last year on Erasmus in Paris where he organised a delegation from his college to attend the Model United Nations World Championships in Vancouver. He has since set his sights on organising a potential Trinity delegation to participate at this year's event. He began examining the current educational set-up in Trinity and the possibility of more practical work in many courses while volunteering for a new free legal aid clinic for startups and small business along with other Trinity students.
Curtin, an "experienced debater", has been involved in mentoring of Erasmus students in college and has worked with Amnesty International as part of their student speakers programme. He considers Erasmus opportunities in courses where this is not currently possible to be worthy of discussion and attention from the college.
A staple of this campaign is set to be Curtin's support for Christmas-time exams for. "The current system of people having work due after Christmas when the library isn't open has to be rectified. In terms of modernising the current system, I think that a simple change such as being able to access exam results online and a breakdown of your results would make students' lives much easier."
Though Curtin is complimentary of recent developments concerning extended library opening hours on campus, he is adamant that the same effort must be made in ensuring that the opening hours of the John Stearne library in St James Hospital are extended.
With the ever-increasing student contribution fee set to dominate SU campaigns for years to come, Curtin acknowledges that this is "a crucial time for third level education in Ireland and especially Trinity with the introduction of a pilot programme to reserve a proportion of places for applicants who are considered in alternative ways to the points race." Though he deems this to be "a very positive step in the right direction" he understands that "it is essential that the registration fee does not increase to a level that deprives students of the opportunity to go to college."  Drawing on his debating experience, he claims that he would not be shy about vocalising this viewpoint as Education Officer.  FO'D
Welfare Officer
Stephen Garry
COURSE: SS Psychology & Economics
AGE: 20
CAMPAIGN MANAGERS: Margaret Dee, Donal Browne, Kate Purcell
Stephen Garry is a senior sophister Psychology and Economics TSM student, and currently the only contestant taking part in the race for Welfare Officer. Garry has been an active member of the student body since coming to college from Ennis, Co. Clare at age 17, and has held several positions of responsibility in that time.
Garry boasts extensive experience of working with the Student's Union, having been elected Class Rep for the last two years, School Convenor, and Evironmental and Ethical Trading Officer. Stephen Garry already has experience in the field of taking care of students, having been Trinity Halls JCR Welfare Officer. Garry's resume is extensive. He is the incumbent President of Trinity's Student2Student program – and a current member of the See Change Youth panel (a group outside of college that works to lessen the stigma attached to mental health issues).
The policies Garry proposes to implement reflect the work he has done in the field of mental health. He hopes to better equip Trinity Students to deal with stresses of college life by making available both education and training programs. Garry describes this as 'the cornerstone' of his prospective office.
Garry believes the Welfare Officer must be well placed to hold dialogue between the various bodies in college, identifying the role of the Welfare office as 'a collaborative one'. Garry cites his close work with Trinity's Health Promotion Officer, the Student Counselling Service and the Senior Tutor as necessary experience he will bring to the Welfare office as he seeks to 'improve collaboration on SU projects and obtain college backing, finacial and promotional, for these endeavours'. CK.
Communications Officer
Matthew Taylor
COURSE: SS History
AGE: 21
CAMPAIGN MANAGER: Claire McCabe
Matthew Taylor is running for the position of Communications Officer. The 21-year old Senior Sophister History student enjoys literature and film. Since his arrival in Trinity College, Taylor has gained an interest in journalism and radio.
Taylor is active in the college media forum. A committee member of Trinity Publications for three years, Taylor has written for the Trinity News, The Bull, Miscellany and is the current opinion editor of the University Times. As the treasurer of Publications, he also sits on the college Capitations Committee, and the Communications Committee. Taylor also boasts the position of station manager for TrinityFM, and being one of the founding members of the National Media Conference.
If elected, Taylor plans to improve the connectivity between the SU and students, citing a lack of knowledge of "the range of services and opportunities available to them." He aims to increase accessibility to the Students' Union, and turn into a body that students "actively want to be involved with." Similarly, he proposes a reforming of the University Times structure, to ensure that its "editorial line remains fair and impartial."
When asked about life in Trinity, Taylor responded, "if I could change something about college, it would be the mentality. Education isn't meant to be an efficient service which sees you mindlessly piloted through college before being thrown out. To me, this seems to be too prevalent a view among both educators and students. It is a large source of the ills of education, because it leads to a situation where people don't care for one another and cease to act in a broader interest beyond themselves. And if someone could turn on the heating in the Berkley, that'd be great too." CB.
Tommy Gavin
COURSE: JS Sociology & Philosophy
AGE: 24
CAMPAIGN MANAGER: D Joyce-Ahern
Tommy Gavin is a Junior Sophister TSM Sociology and Philosophy student running for the position of Communications Officer. At 24 years old, Gavin has seen and done a lot when it comes to the world of student journalism.
Gavin completed a BTEC Higher National Diploma in Journalism in Rathmines College and during this period he worked as a researcher for Karen Coleman on her Newstalk radio show. He cites the University Times as being "one of the reasons he came to Trinity" and has been involved with the UT since arriving at the college.
Having been involved with college media since his first year, as deputy editor in the second volume, Gavin has held the position of magazine editor since 2011. If elected, Gavin says he "will tighten up and improve on the structural side of the UT", through implementing a cemented code of practice for the future, thus making it "more accountable and transparent."
If elected, he plans to "foster and develop" the thriving student media within Trinity. In his words, this would involve protecting them from "the challenges facing media today." He would also continue "to place a strong emphasis on the online" side of publication, for both University Times and the SU.
In relation to the other facets of the Communications Officer role he notes that the "Student's Union should have a more engaged role in social issues." He asserts to make the SU's online service "more accessible and user-friendly". Ultimately, he wants to make the SU website "a focal point of interaction between students and the services of their union. CB.
Leanna Byrne
COURSE: SS BESS
AGE: 21
CAMPAIGN MANAGERS: Johanna Clancy & Rebecca Kummert
Leanna Byrne is a 21 year old Senior Sophister BESS (Joint Honours in Business Studies and Political Science) student from Clontarf, Dublin. With a keen interest in politics and journalism, Byrne has regarded the media as being "a big part of [her] life for as long as [she] can remember". Having worked with The Irish Times and Orla O'Donnell of RTÉ, Byrne is no stranger to the newsroom. Most recently, she was an intern in local LA newspaper, The Brentwood News.
She has been involved with the University Times since coming to Trinity and in her three-and-a-half years has held a number of positions, including news editor in the last volume, and is the incumbent deputy editor. Byrne affirms a strong knowledge of the UT's inner workings, listing her "people management skills" as being key to a good editor.
Aside from her roles within the UT, Byrne has also displayed involvement with the Students' Union. As a member of the communications committee and a two time class rep in political science, Byrne has worked within the SU on a recurring basis. She wants to "look at UT and the Communications Office as part of a bigger picture."
Byrne aims to change how the Communications Officer operates, in particular striking a more favourable balance between the roles of SU officer and editor of the UT. If elected she plans to "work on the disconnect that students feel towards the Students' Union" and make it an easily accessible resource. This would encompass a further development of the online element of both UT and the Students' Union, in order to "connect students to all areas of college in a way best suited to them". CB.
Ricky McCormack
COURSE: SS Drama Studies
AGE: 22
CAMPAIGN MANAGER: Lydia Rahill
Ricky McCormack hails from Bray, Co. Wicklow and hopes to bring a fresh, new voice to the Communication's office in House 6. His experience speaks for itself in its diversity and its quality, he currently serves as Productions Officer of DU Players, Editor of the Piranha, Editor of the Trinity Societies Yearbook, a honorary member of the Philosophical Society Council, and sits on both the CSC Executive and the Publications Committee.
Lest that array of titles and positions fool you into thinking he just works inside the confines of college, McCormack spent the summer in Washington D.C. working under the media and press secretary of Congressman Ed Markey (Ranking Democrat of the House Natural Resources Committee)
Speaking to The University Times about what he thinks is currently hindering the Students Union, McCormack said that he believes that "Trinity has both an intelligent, driven and opinionated student body and a well established Students Union which offers excellent services and opportunities. The problem that I have seen in my time in Trinity is a disconnect between the two."
McCormack feels that as long as this disconnect remains the union cannot function at it's optimum and students lose out on the potential their union can offer them. He wants to use the role of Communications officer to bring students back in touch with their union, to be aware of what their union is doing for them, and what it has the potential to do.
In relation to college he feels there is a lack of interaction between the student body and the college administration. "As cutbacks increase student services continue to shrink and without direct interaction between the student body and administration we cannot hope to preserve and prioritise necessary services. I want to bring more forums for students to communicate with administration and to be aware of the real affects college action has on them and to voice their opinions." COD.
Ents Officer
Seán Reynolds
COURSE: JS BESS
AGE: 21
CAMPAIGN MANAGER: James Morris
Sean Reynolds is a 21 year old Junior Sophister BESS student from Dublin. His foremost contribution to student life in Trinity College thus far has been as a founding committee member and key player of DU Fish Society. Reynolds held the position of Ents Officer during the society's first year, offering students 'pub trawls', the 'phishtry' tour and a variety of club nights. Further credentials include organizational nightclub work outside the college. Reynolds is an organizer of Movements in The Button Factory, and cites his role as chief organizer of Dublin's 'Four Nights' series earlier on in the year as vital experience 'working extensively' with Irish acts.
Without criticizing previous Ents Officers, Reynolds is running with the belief that there are major improvements that can be made to the Ents Office and how it operates. Reynolds believes that working in conjunction with Ents to put together September's Ents/Fish Soc 'Surf Sail Salmon' event has enlightened him on how to use the Ents Office to 'provide students with the quality entertainment they deserve'. A cornerstone of this quality entertainment is Reynolds proposal to organize off-campus festival-style events in addition to Trinity Ents club nights, and 'reopening Trinity as a place to hear quality live music on a regular basis', Reynolds told The University Times.
Reynolds is well-aware of the Ents Office's facilitative role in helping class reps organize their own nights for their classes. Reynolds believes that he has the experience to aid 'societies, sports clubs and societies' in pursuing their own initiatives. Ents Officer is certainly a dual-role of organizing events for the entire student body to enjoy, but Reynolds claims that if elected he will not shirk the micromanagement  aspects of the job. CK.
Cian Mulville
COURSE: JS BESS
AGE: 21
CAMPAIGN MANAGER: Andrew Nagle
Originally from Dublin, Ents candidate Cian Mulville also spent six years of his childhood living in Beirut. Having worked closely with former Ents Officer Chris O'Connor last year on several events, including the weekly club night Madhaus, he has also held positions on the 2012 RAG Week Committee & the Ents Exec. This is a small chunk of his experience, having also run events in Dandelion, Whelan's, Howl at The Moon and several other Dublin nightclubs. He tells us that in this time he has made countless connections in the Dublin nightlife industry which, added to his experience will allow him to secure the best deals for the students of Trinity.
He pledges to "reintroduce a weekly Ents night, so that Trinity students are not left at the mercy of club promoters who often charge upwards of €10 entry. A Trinity Ents club night is essential both for organising class parties and for providing a venue to book major bands & DJs."
Other ideas of his include see cheap weekend trips to some of the major European cities such as Amsterdam, Prague and Berlin. Talking to The University Times he told us that he "would love to organise a trip to something like the Amsterdam Dance Event in October!"
The Trinity Ball is arguably the Ents Officer's biggest responsibility, and this is an area Mulville feels the students have been let down in recent years. He says that he "would never challenge the sanctity of the Ball; the atmosphere is unbeatable and it is always one of the best nights of the year. But last year we were essentially given the leftovers of the UCD Ball, with artists travelling straight from UCD to Trinity in order to lower MCD's costs. The Ball should be about entertainment, not profit, and to this end I would ensure that we get the best line-up possible!" CK.
Cameron Macaulay
COURSE: Business & Arabic 
AGE: 29
CAMPAIGN MANAGER: Paul Testar
Cameron Macaulay is running a enigmatic  Ents campaign shrouded in mystery, misinformation and 'maturity'. One of the few things The University Times can verify is that Macauley is a student of Trinity College, Dublin – though whether he is a student of Business & Arabic, as he claims, is less certain.
Macauley was inspired while inter-railing in either 2009 or 2002 to 'pursue a career in quality drinks promos', and having already conquered UCD Ents (he claims to have been UCD Ents offer in both 2006 and 2007, a claim disputed by the UCD Ents Bebo page), he has decided to bring his love of 'getting his mates concession into clubs' to Trinity. The core tenet of his campaign is one of transparency is Trinity's Student Union. Macauley promises students that he will keep abreast of the actions of his fellow officers, primarily by having them 'email, text and Facebook me what they're up to'.
What qualifies Macaulay for such heavy-duty work? As 'UCD Ents officer' he 'brought' such acts as 'Delorentos' to the 'UCD Ball' and successfully implementing a staff wristband system for the UCD Ents Exec. Perhaps more impressive than these achievements, Macaulay was voted 'Most likely to Party with Shaggy' in his high-school year book, an accolade with which few are honoured.
Macaulay hopes to use the Ents office to recapture his former glories of organizer of 'Sorority' at Bondi Beach Club, a night which regularly boasted attendance equalling 48% of capacity – an impressive considering the girls-only policy of the night. Macauley's fundamental aim is to promote  Trinity's entertainment side over it's academic side, asserting that 'people like to drink cans, not books'. to all areas of college in a way best suited to them". CK
Conor 'Shmeesh' Gleeson
COURSE: SS BESS
AGE: 21
CAMPAIGN MANAGER: David Egan
Born and raised in the harsh streets of Sligo, Conor Gleeson (more affectionately known as Shmeesh) is a Senior Sophister Business and Economics Student. He has studied both marketing and accounting, what he believes are the two fundamental attributes required to be a successful
Entertainments officer. Shmeesh has a 5 point plan he believes can revolutionise Ents.
To further improve on the stellar work of previous Ents officers, Shmeesh has promised to introduce small screens at the Pav, as well as revolutionary new ideas such as BYOBav and BYONaggins. Shmeesh promises to introduce heaters outside as well as awnings, so students can damage their lungs in a warm and dry environment.
When residing in Trinity Hall in first year, Shmeesh discovered it is an "absolute trek" from Rathmines to college, a reality he believes doesn't bode well for either college or nightclub attendance. The vast expanses of the rugby and cricket pitches are locations which Shmeesh sees as having huge potential for a brick-by-brick relocation of Trinity Halls. In the likely event that such plans fail to make it past the college buildings office, Shmeesh will look into providing free buses from halls to those that hold tickets for every Trinity Ents night.
Shmeesh acknowledges that it is important to represent students in matters other than the area of entertainment. With this in mind, and with the recent announcement that the Berkeley Library opening hours are increasing to 24 hours during exam time, Shmeesh asks the question, "Why not have a 36 hour study space?"
'Shmoke of the Week', Shmeesh acknowledges that not all trinity students want events involving alcohol, so he has contacted 'Maguires' regarding discounts on his favourite tobaccos. This he has branded 'Shmoke of the Week'.
Shmeesh's CV is very impressive, currently being the poster boy of the student union (he actually puts up the posters for the SU), having run a moderate number of relatively successful underage discos in his hometown of Sligo as well as a heavy involvement in the previous two Ents crews. Shmees believes his postering experiences gives him an edge over his rivals as "Postering is a very risky business, pricked fingers and impaled toes caused by spilled thumb tacs". If elected as Ents officer, Shmeesh promises to nurture the talents of prospective poster boys, enlightening them in the arts of safety procedure and teaching them his 'innovative' techniques of eye-catching poster arrangement.
Shmeesh also had the 'general soundness' to have a "Black Winter" in his junior Freshman year. In doing so that he was able to sample all that the Dublin nightlife has to offer, while also researching various popular television series from the comfort of his bed.
Shmeesh is an animal lover and promotes the protection of all animals, in particular fish, and has never been involved in a society that has been founded solely on the murder of one of god's creatures.
Speaking to UT, Shmeesh was quick to stress that more of his 'revolutionary' plans can be read in the manifesto and encouraged students to approach his campaign team and find out more.