Ciar McCormick | Junior Editor
"We were nervous… it wasn't like attending an organised protest… we were catching people off guard…we weren't actually kicked out of Front Square… but if the security knew what we were doing, they would have… we are invisible workers and this made us visible."
On the 17th of September a small contingent from the Third Level Workplace Watch (TLWW) stepped on to Front Square to draw attention to the inadequate working conditions of junior faculty members in Universities all over Ireland. These working conditions include precarious and seasonal work, as well as temporary and zero hour contracts. Casualisation of employment commonplace across many sectors of work, the university is no exception.
ADVERTISEMENT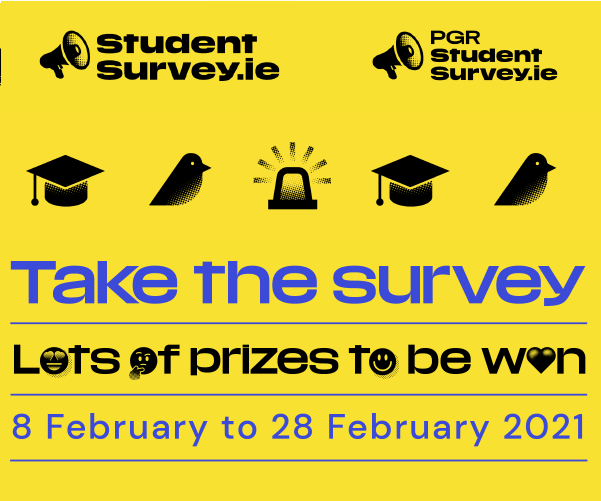 Dressed in the academic attire of the gown and cap, their faces masked, they stood out among the crowds while the hustle and bustle of Fresher's week continued around them. They handed out leaflets in the form of mock degrees for the fictional 'Discount University'. The degree illuminated the importance of the plight of junior academic staff: "Our working conditions are your learning conditions".
"Our working conditions are your learning conditions"
On their leaflets The TLWW advocated several shocking claims about the working conditions in Irish universities: that the average rate of pay for corrections of exams and essays is between €1 and €2, teaching assistants are only paid by the hour for classroom time and therefore consultation with students, lecture preparation, and module design are done for free, that teacher numbers are down 12 per cent whereas student numbers are up 15 per cent, and that Irish Universities are employing researchers under the JobBridge scheme.
I met with three members of the TLWW not long after their demonstration in Front Square in Lanigans Pub on Eden quay. They asked to remain anonymous, as such is the environment that their working conditions provided that they can be let go at any time.
Their goal is to protect the precarious workers in academia, to highlight the working conditions of this workplace and to win rights and entitlements for these workers. They explain that there is an inflation of salaries for solicitors and administrative staff tied to the college, but for the junior academic staff it is a race to the bottom in regards to wages. "Students and teachers are necessary, but administration is not", yet these essential staff members are not being rewarded for their vital role in the university. TLWW claim that "the work is there, the need for academic staff is there due to the increase in students numbers, but instead there has been a decrease in staff".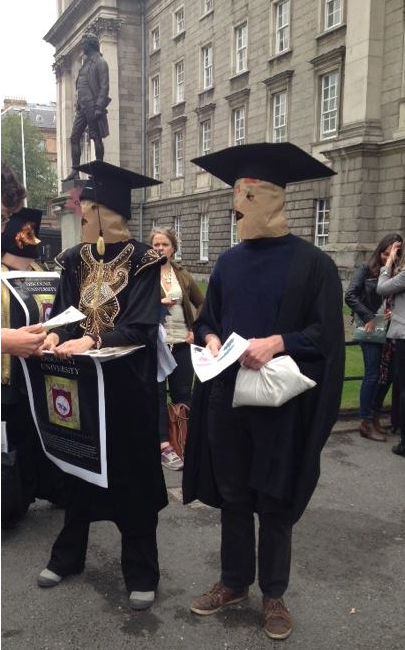 TLWW internal research suggests that the average annual salary of the academics they researched was €10,000, and 63 per cent of participants relied on hourly paid work. One interviewee spoke of an experience of being asked to "speak on [their] interest in return for book tokens", another recalled "people signing on to the dole whilst teaching at masters level" because the wage provided by the college wasn't enough to live on". A former tutor in the School of English, in an email, divulged similar experience: "I was too fed up with the prospect of scraping by on terrible pay with no job security as a TA or occasional lecturer, so left Ireland". Their research also indicated that 57 per cent of these casual workers in academia are recorded to be doing this precarious work for five years or more and that the average time spent working hourly and seasonal work in academia was eight and a half years. Their study also suggests a gendered element to these precarious working conditions with 62 per cent of casual work being done by females.
They continued by explaining the stigma and embarrassment experienced by a junior academic: "There is a perception that once you work in academia you are well paid… The idea is that this is your chosen vocation and you are to work hard until you make it… you are led to assume that if you don't make it, that it is some fault of your own." The reality is that this perpetuation of temporary and precarious work is not due to a lack of effort, or skill, or talent, but because of how universities are run nowadays. "There is a carrot and stick theme that is common in academia" they explained. "You are always told one more year of a shitty contract before you get a permanent position… It's an empty incentive. Hiring policies need to be changed."
There was a reluctance from college to provide any substantial information on the employment of junior academics
In communication with the appropriate staff in Trinity College Dublin, over the space of two months, there was a reluctance to provide The University Times with any substantial information on the employment of junior academics in the College. The only information that was passed on was an assurance that the faculty of Arts and Humanities, the School of Nursing and Midwifery, and the Law School do not employ researchers on the JobBridge scheme. In frustration at the lack of transparency displayed by the college, at a Q&A late in September, I decided to quiz the Provost on whether he knew of the temporary and precarious work the college was providing its teaching assistants and junior lecturers. He replied: "This is the first I've heard of it."
Retaliation to the unacceptable working conditions in Trinity College Dublin has already begun. In this term Postgraduate students in the School of Chemistry, responding to a proposed pay cut, undertook a go slow on corrections, only correcting lab reports for the hours they got paid. The School of Physics is also understood to be considering a similar strategy. Actions like these have been adopted by departments in other universities that suffer similar conditions, in France, Scotland and the U.K.
Although the TLWW are not opposed to unionisation of academic workers, they criticise current Irish union structures in education for only "fighting for the rights of permanent staff". TLWW "want to create solidarity across a nature of precarious workers within academia and provide a critical voice on how universities are run".
TLWW claim the results of Irish universities continuing this model are threefold. Firstly, the resulting jobs will be a "hamster wheel of precarity" for academics. Secondly, providing only precarious jobs for those who might fill these positions will lead to high levels of poverty in certain academic circles. Finally, learning conditions will worsen as those employed are not being paid enough to do their job properly.
The organisation is calling for other precarious workers in academia to share their experiences and concerns. They will continue to collectively organise this ever-increasing sector of the workforce.
---
Further information on Third-level Workplace Watch can be found on Twitter at @3rdlww or Facebook at Third Level Workplace Watch
Photos by Third-level Workplace Watch