Being truly linked to the other end of the world is a goal that many have dreamed of making a reality. As technology improves, a new Kickstarter project may be on its way to achieving this. "Twin Space" is a project that will place two large screens in the middle of two busy cities – one in New York close to the Brooklyn Bridge, and one in Trinity College Dublin's Front Square. It operates much like a window into the other city, with the ability to notice weather, sky and the body language of others much as if they were right in front of you. In other words, it seeks to create a lifelike connection, one that avoids the pitfalls of things like Skype, which is strictly private and limited in its use. If the project gets funded, "Twin Space" is scheduled to be installed in Trinity in December and will remain until March 2016.
In an email interview with The University Times, Cathal Curtin, the lead architect of the project, and a nominee of the Royal Society of Ulster Architects Bronze Medal and the Royal Institute of British Architects Silver Medal, spoke of the inspiration behind "Twin Space": "There was a small project called 'hole in space' from the early 80s which influenced my thinking." The "Hole in Space" project was a television screen which connected a busy New York Street to Los Angeles for three days.
What if you caught someone's glance and then maybe you met again in a month?

ADVERTISEMENT
He then began to form his own twist on the idea. "I began to think about something that uses digital and is in place for a while, what form it would take and could the structures even be moveable? What's the sound like? I wondered what it would be like to 'slice two cities in half and put them facing each other' then see what happens over a longer period of time. Beautiful and with eye contact. What if you caught someone's glance and then maybe you met again in a month? We can only guess at what will happen over time and the pieces are designed to allow that to evolve."
The project has been funded by Dublin City Council and New York City's Department of Transportation. Curtin also noted Trinity's backing of the project, saying they've been supportive right from the beginning. Explaining why he chose Front Square as the Dublin location, he said there was something special about it. "People are instantly relaxed here". It is interesting to note that Curtin is not a graduate of Trinity nor is he connected to the College, which highlights how closely Front Square is associated with Dublin.
The project is currently being crowdfunded on Kickstarter: "This felt like the perfect platform to pool funding from a range of sources.The project is for people and is social. It allows support to come in from both cities and also opens the project up to a wider audience."
For "Twin Space", if you pledge €20, you can have your name, or that of a friend, engraved on the structure in either Front Square or New York. €200 will get you two invites to a "small, secret switch on party between the two cities". He hopes that "people, particularly past and present Trinity students will support the project and pledge so that this can happen". The project has over 130 backers, but with just eight days to go, has only raised about €10,000 of its €200,000 goal. The Kickstarter campaign is scheduled to end on July 24th.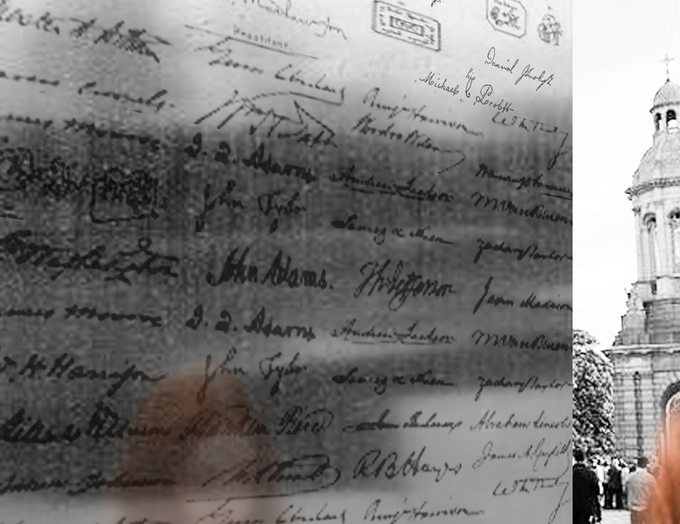 For €20, you can have your name, or that of a friend, engraved on the structure in either Front Square or New York.
When asked of the obstacles involved in bringing the project to life, Curtin admits that there have been many. This includes a large amount of "engineering work carried out for the New York side" which involved "co-ordination between myself, two engineering offices and two host organizations". He also added that the biggest hurdles have been in co-ordinating timelines, permits and financing.
It's clear that Curtin is fully committed to achieving a lifelong ambition with this project. He finishes by underlining that "Twin Space" offers "a way for both cities to finance something that would build a bridge between them", something that he is clearly passionate about. The campaign video on Kickstarter declares that "Twin Space" aims to "change how cities function and communicate". Because of the way Kickstarter works, the project will only get funding if it reaches the €200,000 goal and Curtin has confirmed that the project will be cancelled if this target is not met.
"Twin Space" still has quite a mountain to climb, then. Whatever this project's legacy may be, its unique appeal and sizable media interest does confirm our shared longing for connection, and this goal will continue to be pursued fiercely.