Although I walk past the ID2015 sign outside Dublin Castle almost every day, the first time I really took notice of the Irish Design 2015 initiative was when I arrived home from London, and stopped to read about Dublin-based milliner Martha Lynn. I read this as part of the Design Island exhibition: a collection of photographs by Peter Rowen on display in Dublin Airport which showcases 24 different Irish Designers at work in their studios all over Ireland. From shoemakers to carpenters, the exhibition shows the wide array of talent throughout Ireland. It's the first part of ID2015 that really grabbed me, and that made me want to know more, and hopefully it will have the same effect on the 21 million passengers that will have seen it by the end of this year. Karen Hennessy, Chief Executive of both ID2015 and the Design and Crafts Council of Ireland, says that this exhibition is to act as a signpost reminding people both at home and abroad of Irish design. Rowen's stunning shots of designers at work definitely made me stop and stare, leaving me desperate to know more about the story behind these captivating images.
The cogs for this initiative started in back 2013, with a huge boost coming from Enterprise Ireland who, according to Hennessy, "have been embedded in it". This year there there have been over 300 events nationally, a mix between programs hosted by ID2015 and the designers themselves. 44 exhibitions and 24 talks promoting Irish design have taken place already, and the Doyle Collection, a group of luxury hotels have partnered up with ID2015 and have given Irish Design it's own permanent exhibition space in the Westbury mall. It's estimated that over half a million people will have interacted with ID2015 by the end of the year.
Ireland is certainly no stranger to great and internationally renowned design, from Waterford Crystal to Philip Treacy's hats, not to mention Orla Kiely, our products are coveted all over the world. This initiative is about ensuring that this tradition is maintained. Even the Office of Public Works has gotten incredibly involved, with their venues being used to help promote Irish design – especially to tourists.
ADVERTISEMENT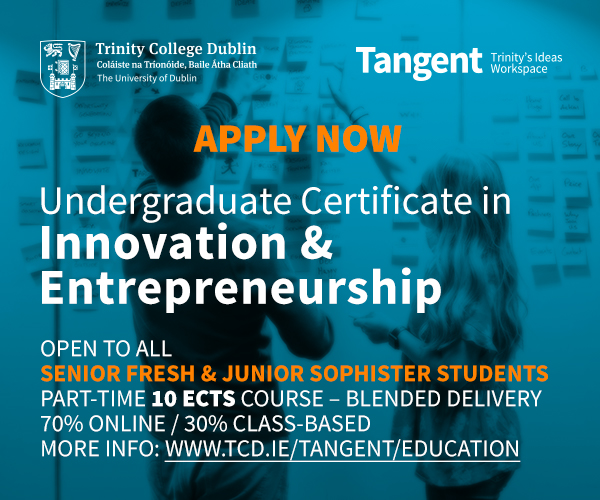 Representation in Ireland itself is only a small part of this initiative, with a huge part of it being about marketing us abroad. Hennessy told The University Times that over 30 embassies worldwide are showcasing exhibitions, stating that ID2015 has brought Irish design "out through design weeks in Milan, New York, and London". Eindhoven, the Netherlands, will even play host to ID2015 in two weeks time. London's Victoria and Albert, arguably the world's greatest museum of art and design, even held an Irish design exhibit earlier this month. Further away from home, ID2015 has brought Irish architects to the Chicago Architecture Biennial and Hong Kong will host a major architecture installment at the Shenzhen Bi-City Biennale of Urbanism/Architecture next month. Hennessy comments on how "great [it is] to have that endorsement over there", a sure cause for excitement for Irish design enthusiasts. Watching the short films fueled by this initiative and from the Irish Architecture Foundation, it was amazing to see the impact Ireland has had in some of the world's major cities. The short film entitled We Built This Town highlights the contribution that Irish emigrants had on the architecture of London, Chicago and New York. We Built This Town acts as a microcosm of the impact Ireland has had on an even more global level. The initiative also focused on bringing emerging designers to London Fashion Week in partnership with the British Council, indicating that this initiative will easily live past the 2015.
From simply encouraging designers to making them more business savvy, ID2015 is creating the building blocks these young designers need to keep them competing abroad. ID2015 has accomplished far more for design students than I would originally have thought. The initiative has also created a peer-to-peer app, not wanting it to become commercialised. It provides recommendations based on the best design experiences Ireland has to offer. The app was created in partnership with IBM as well as with the Irish Design Institute, Hennessy told me enthusiastically. Speaking of the participants in the Fresh Talent exhibition, Hennessy stated: "These guys need the nurturing that happens in college". The 22 participants work in an array of disciplines such as set design, product design, fashion and visual communication, to name a few. Ail+El design was one of these participants, they make beautiful concrete flower pots and a wide array of printed textiles and art work. James King the designer of the Medi-Pod, a medical supplies transportation device, also participated. Julie Connellan, a Trinity Graduate with a degree in European Studies, also participated with her jewellery designs being on display. These two examples show the range of people and work celebrated by ID2015.
Hennessy pointed out the attention that Fresh Talent gained throughout Ireland. As well as having made a strong "buzz" abroad, Hennessy pointed out the importance of keeping some of that excitement at home. "From an Irish perspective, things like Fresh Talent that are showcasing our own young and emerging talent are getting the most traction." The opening exhibition was in Kilkenny before being moved to the ID Hub, Dublin Castle, here in the city centre and ran up until the 20th of September. This exhibition gained a lot of attention from outside the design world with Lovin Dublin encouraging people to visit it. From speaking with Karen Hennessy, I really think there is such a need for people who don't think they're interested in design to reexamine this outlook. It's the rapport with people who are outside the world of design that keeps things fresh, the footfall going into Dublin Castle, the Hub for ID2015 show that there is a demand for Irish Design. "Ground level people have been engaged" and these are the people who need to be engaged as they are the ones who will be buying into Irish design.
ID2015 have definitely been keeping things fresh, partnering up with businesses like Bus Eireann and keeping the doors of communication open for students. This is very unlike what one would usually expect from a government initiative. However, it's not all about new talent and fresh meat. Established designers are also being celebrated, with the partnership with Bus Éireann showing this! All different types of creators are being acknowledged. With six different bus wraps being used to promote already established designers here, in Ireland. Rather fittingly the Orla Kiely bus wrap had mostly been used during race week in Galway. It's important to pay tribute to designers who have made their name, as their presence can pave the path for the next NCAD graduate. Kevin Thornton, renowned chef and food designer, and graphic artist, Maser also have a coach showing that the talents represented are varied and interesting. Stephen Kent, Bus Éireann Chief Commercial Officer had this to say, "Our customers and the public are surprised and delighted to see these new designs, which are being exposed to a huge audience as the coaches traverse across the country." This innovative way to advertise established designers is certainly more fresh than the signage of the past and also increasingly more useful.
We as students, are constantly being reminded about how fickle the world of design and in fact, most creative industries are. With the issues in higher education funding and the problems with funding that NCAD has had, especially had over the past couple of years, It's difficult not to get bogged down by it all. But initiatives like this are key to showing the government the importance of Irish Design, The initiative is working on developing a "design toolkit" for colleges, which will provide them with the essential skills needed to set up on their own businesses. They're also working on a "one stop shop for designers and creators to point them in the right direction to set up their own business" Hennessy told The University Times, that the aim is to have 1600 business professionals with design training and estimated that roughly 40 to 50 million will be brought back into the economy.
Design2015 is adamant that design graduates are highly sought after, this year has also seen the launch of a of a biannual, peer reviewed design and practice journal and the first all-Ireland design conference. Both of these accomplishments are integral to the promotion of Irish design worldwide and to attract people and businesses to Ireland. For Hennessy "making sure that students have the core skillset to be able to create their businesses from college design programmes" is a key factor in this initiative. She spoke animatedly about the cause, I couldn't help but get excited, imagining all that is yet to come from Design2015 this year. I don't see this quickly coming to a stop once January 1st comes about. Karen has been impressively building ties which will last around the world. Just this past fashion week, 11 Irish designers had the opportunity to present themselves as part of "unfold". This opportunity to showcase your work to buyers and be on the official schedule is impressive and ID2015 has greatly impacted these young designers lives. Hennessy believes "These designers have the ambition and capability to expand into international markets. We look forward to seeing opportunities unfold from our presence in London, building a legacy for the ongoing development of our innovative and vibrant fashion sector." The Irish fashion sector has always been well maintained, with strong links to London, Orla Kiely is after all an NCAD graduate and London Fashion Week veteran.
Commenting on her highlights of the past year, Hennessy didn't know where to begin: "There have been so many". One thing she's definitely looking forward to is having the flagship exhibition, "Liminal" back to Dublin Castle: "The work featured in Liminal reflects the level of innovation and new product development happening in the design sector in Ireland." It features over 20 designers and was named by Design Milk as one of two highlights at Zona Tortona in Milan. She speaks highly of her team, who she says were "Just so well able to deliver because they have such passion for what they are doing." ID2015 employs nine people full time, as well as some who work part time. Irish design has really shone over the last year, both nationally and internationally, and rightly so. As Hennessey states: "Ireland is a creative country, and we have incredibly dynamic and agile designers." Fostering young talent and promoting established talent is key to giving Irish design a new lease on life. The Irish Design initiative has brought Irish design to a global stage where it has been allowed to shine. The funding of initiatives like this one is necessary for Irish design to thrive, not only internationally but also at home, and Hennessy believes this is starting to happen: "The year has resonated with people, and they have really wanted to get behind it." I don't see the results of this initiative fizzling out, as can be common with such year-long projects, but the Irish Design has been set up to be like a pillar of Irish society. Soon, designers and artists will be as revered as entrepreneurs on this island, especially if Karen Hennessy has anything to say about it.
Trudy Kilgore also contributed reporting to this piece.