January is widely known as the month of diets, exercise, quitting alcohol and general self-help. While skipping dessert and joining the gym are excellent ways to look better, what about feeling better? Why not try to feel good about yourself by helping others? The perfect opportunity presents itself in the form of Trinity's annual Raise and Give (RAG) Week, back with a charitable bang in 2016.
Despite relying on the financial limitations of students, RAG Week continues to grow every year. In 2014, RAG week aimed to raise €20,000 and surpassed that by reaching €22,000. 2015 raised the bar again with funds hitting an incredible €23,000. It truly speaks to the selfless generosity surrounding RAG Week that it encourages students to cut into their meagre pay cheques or allowances to donate whatever they can to the abundance of good causes on offer. Although last year's goal to raise €30,000 was not reached, Katie Cogan, the Entertainments Officer of Trinity College Dublin Students' Union (TCDSU) feels this year could prove to be the "most successful RAG we have ever seen". She also acknowledged that RAG needs "whole scale involvement to really achieve that potential". The student population definitely has the power to make a change with the money raised during RAG, they just have to make sure they get out and support it.
The charities being supported are as wide-ranging as they are important. There are charities specifically tailored to hardships faced by students, struggles with illness, homelessness, endeavours to develop overseas healthcare and so much more. This year the charities involved include Vincent de Paul (VDP), Voluntary Tuition Programme (VTP), Cancer Society, Amnesty International, Student Hardship Fund, Free Legal Advice Clinic (FLAC), Suas Educational Development, Medical Oversees Voluntary Electives (MOVE), Dental Oversees Voluntary Electives (DOVE), Trinity Access Program (TAP), Enactus, Student 2 Student (S2S) and the Postgraduate Hardship Fund.
ADVERTISEMENT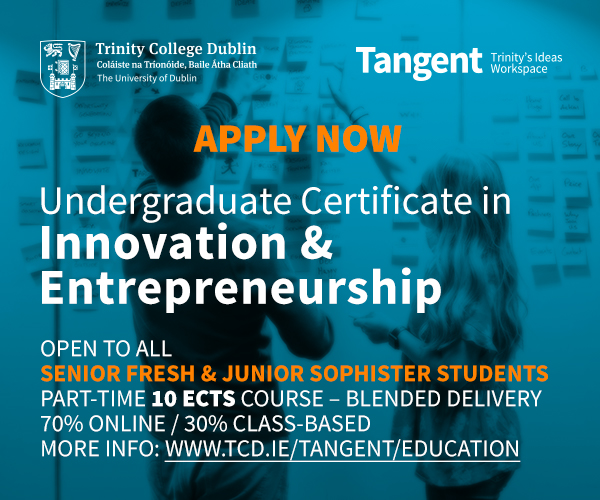 Without question, RAG Week is one of, if not the only, college-wide initiative that unanimously brings every student together to achieve a common goal of raising money for charity. Cogan specifically intends to find a way to engage as many students as possible with a wide and diverse range of events. She stated that this lineup is planned to be "fun, inclusive and sometimes humorously inspiring". The enduring popularity of RAG is often attributed to the never-ending list of ways students can get involved. There will be so many exciting RAG events happening during the week it's going to be very difficult to chose who to give your money to.
Monday, January 25 will see the first ever Rose of Trinity. It's shocking that this is the first time the pageant everyone loves to hate and hates to love has been given the Trinity RAG Week treatment. The unmissable event will kick off in the Sugar Club at 7:30pm. Cogan has no doubt this will be a "wonderful glamorous and hilarious night". Tickets cost €7 and are available from the YPlan App. Ents never fail in providing a top notch deal – for The Rose of Trinity you can get 4 tickets for €20 online and from the SU Shop. Tickets for most of the events this year will be available from the YPlan app, the SU Shop or at the door.
Determined to keep up the momentum, Trinity TV are presenting the annual RAG table quiz on Tuesday. If your annual viewing of Jimmy Carr's Big Fat Quiz of the Year re-ignited your passion for general knowledge get into a team of four with your friends and head to the Dining Hall at 7pm. There are some incredible prizes to be won, including free dinners in a variety of restaurants and Trinity Ball tickets among countless others so there will be plenty of winners. Not to mention the fact that by doing something charitable everybody wins that warm fuzzy feeling inside.
Keeping things fresh, there's another brand new RAG event on Wednesday, January 27. The Rave for RAG with VDP and DU Players will be on in the Players Theatre from 8am to 12pm. This is an event that highlights the diversity of this year's RAG events. DU DJ Society and Yoga Society will be coming together to create an interactive festival vibe with plenty of activities, dancing, meditating and of course glitter. It is in Players after all. And it's only €4 in.
The first ever Rumble for RAG will be in full swing in the Hangar on Andrews Lane on Thursday, January 18! The official RAG party will have all proceeds going to Suas, who work tirelessly to support educational facilities in the developing world. A small but courageous group of men and women have been training non-stop for this charity fight night. If the new Rocky movie and Sylvester Stallone's Golden Globes win have left you itching for more boxing action, or you just want a fun, adrenaline filled night, this is the place for you.
This year RAG is being brought into the following month so you can rest assured the fun doesn't end in January. February kicks off with a Chapel Gig on Monday, February 1 at 7pm. The Chapel S2Session is organised in direct support of S2S for an important cause, Mental Health Week. Acts include Rob Donnelly, Arenn Pièz, Sean Byrne, Jupe and The New Social. With tickets only costing you €6, where can you go wrong?
The RAG events will end on a high with the annual RAG Week highlight, Trinity Come Dancing with DU Dance. This year the crowd-drawing event will take place at the Button Factory on Thursday, February 4. Based on the ever-popular BBC TV show, Trinity Come Dancing will feature eight Trinity celebrities. The celebrities are always the cream of the crop, the most well known power players in the student community. Expect anyone from society chairs to sports team captains, after all, last years' winner was none other than then-President of TCDSU Domhnall McGlacken-Byrne. Whoever this years' lucky celebrities are, they will get to put on their dancing shoes and put their best foot forward with eight DU Dance professionals. Tickets, as with the other events, are available from the YPlan app, the SU Shop or at the door if you're lucky. For Trinity Come Dancing the ticket includes entry to the after party at Notorious.
Official RAG events aside, there is still room for even more fund raising, this time at a more personal level. This is the beauty of RAG Week. There is no limit to the ways you can get involved. In the past, students had resounding success with anything from sponsored silences to dressing up for a day (we all remember Jason Leonard's fabulous day in drag last year). Shave or dye and sponsored cable ties are also classic and reliable examples of ways anyone can individually fundraise and do their best to give back. Cogan is encouraging students to get in contact with any ideas or requests to get more involved. As if we needed any more incentive, Trinity Ents will be rewarding several students who make exceptional fundraising efforts with much coveted Trinity Ball tickets and free dinners at a selection of restaurants. Ultimately, Cogan said she wants "people coming out of RAG feeling like they made a difference because they were involved" no matter how small or large the contribution, as they say, it's the thought that counts.