Candidates in the Trinity College Dublin Students' Union (TCDSU) elections made one of their final appeals to win votes in Trinity Hall this evening. While the crowd was dominated by campaign teams, it was clear to see which candidates the momentum was with, as the elections near their close on Thursday.
President
In what was arguably the most emotive hustings to-date, Stephen Carty epitomised the mood with a passionate and charged speech, calling on voters to "remember my passion and how my ideas resonated" with the Trinity Hall residents. This performance was in stark contrast to his performance at Dining Hall hustings last Monday. This wasn't lost on Carty, who told the room: "One week ago we were told it was a two-horse race and that I had no passion."
Sticking to the script of activism and College inefficiency, something that has sustained his campaign for the last week, Carty called on voters not to accept this situation any longer. With the mantra of "it's your money", Carty emphasised how the current administrative system isn't working for students.
ADVERTISEMENT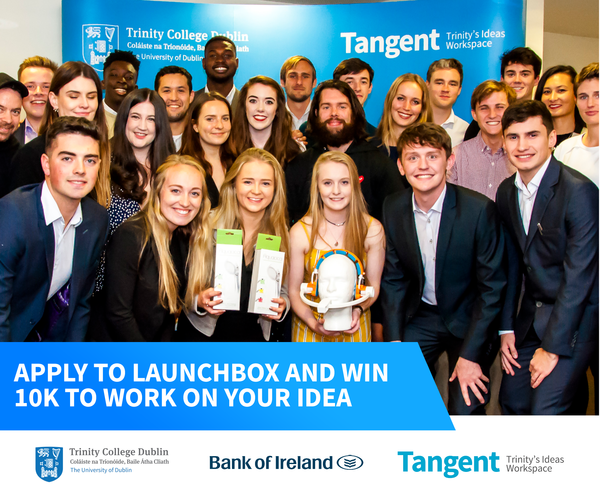 Responding to a question over why his pledge to donate €5,000 of his sabbatical officer salary to the Trinity Access Program (TAP) was not included in his manifesto, Carty said that it had been the intention of his campaign team from the outset to introduce this in the middle of the campaign as "we didn't want it to be lost in the manifesto".
Kieran McNulty, who spoke in the same emphatic manner as Carty, took a very personal angle to proceedings, recounting the times he struggled with anxiety while living in Trinity Hall. He highlighted the help TCDSU provided for him to get passed such struggles, saying that it "helped me to get help" and "to pluck up the courage" to get involved in campaigns such as the marriage equality referendum.
As McNulty has done throughout the campaign, he spoke ardently of his experience in the union, highlighting how he "researched solutions" and "talked to services". In the battle of ideas that this presidential race has become, McNulty said: "I know my ideas are the best ones."
Reaffirming the four pillars of his manifesto: equality, efficient services, empowerment and accommodation, McNulty declared that "no student has to sleep in a box-room".
Finishing his speech nearly in tears, McNulty urged the students in attendance to vote for him to be the next TCDSU president: "I know I have the best experience and I know I can do this."
Dan O'Brien, the final presidential candidate, spoke in a markedly more reserved tone than his competitors, and in his initial speech at the hustings. Doing what he has tried to do throughout the campaign, O'Brien brought discussion down to the level of students, remarking that "I want to be real with you because that's what the SU needs".
Highlighting the misconception that one needs to have gone through the union career ladder in order to hold the position of TCDSU President, and how this has alienated students in the past, he said: "People take this attitude, where if you haven't come up through the established path … you are excluded from the system in a very real way."
Pointing to his plan to "digitise the way students engage with the SU", as well as noting his proposed weekly column for students, he emphasised his desire "to engage with people on their terms in their own words".
It was a question from the crowd which eventually invoked an emotional response from O'Brien. When asked about what he would do regarding non-EU fees, a personal issue for O'Brien, he stated that there is a perception that "education is a right for Irish students, but a privilege for everyone else".
Education
Both candidates for the role of Education Officer spoke confidently, and like most previous hustings, there was little to separate the candidates in terms of the issues they addressed. Echoing past hustings, Patrick Higgins continued his focus on student engagement, whereas Dale O'Faoilléacháin continued to cite his prior experience in the union as one of the things that distinguished him from his rival.
Higgins again explained how he felt "disassociated" with the the union, which was the reason he decided to run. He described meeting students in D'Olier Street and elsewhere who had experienced similar dissociation, and felt underrepresented by the union as a whole. In many ways, he seemed much more composed than previous performances, describing his ideas for improving educational resources.
Focusing on the union, and its role in College, Higgins stressed his aim to magnify the voice of the union in issues that he felt "class reps aren't pushing for enough", like the divestment campaign. Calling for a greater dialogue between College staff and students across all areas, he referenced the Trinity Education Project, and the importance of giving students a voice in such discussions.
O'Faoilléacháin's union experience again proved central. In his roles as Health Science Convenor and a S2S mentor, he stated: "I've had the opportunity to talk to all walks of life in Trinity." Again, with his references to the "Student Partnership", which allows students to form their own curriculum, and his idea for a "broader education" where students get credit for extracurricular studies, O'Faoilléacháin placed himself ahead of Higgins: "I set out on this journey to make the changes needed by students, I hope you give me the chance to fulfil this goal."
Welfare
All three welfare candidates appeared more self-assured as they made their final addresses of the campaign. The first of those running to take the stage, Aoibhinn Ní Lochlainn, was full of energy, and seemed at ease addressing the crowd. She highlighted the importance of experience in the role, and referencing her medicine course, reminded the audience of how she devoted her "studying time to make sure people are OK". Showing a more serious side, she related her experience of depression in first year. If elected, her motivation as Welfare Officer would be "making sure it didn't happen to anyone else".
Éamonn Redmond seemed to have grown in confidence, and spoke with more conviction than in previous hustings. Echoing the more personal approach of Ní Lochlainn, Redmond admitted that he "hated first year", and explained that he wants to "make things better" for other students.
Redmond stressed that people should feel able to approach their Welfare Officer, something all candidates have agreed on throughout the campaign. Focusing on his placement in social work, something Redmond has used in previous hustings, he again highlighted his "external exposure" to other welfare services. Using one of his strongest campaign points, Redmond made much of the "transferable" skills he had gained in social work, as well as his "exposure to a lot of different minority groups".
"Over the weekend, I was trying to explain what a Welfare Officer is to my grandparents," joked Andrew Wafer, appearing more secure than previous hustings. He spoke about how he had came to the conclusion that the Welfare Officer is "an ally for every student in college". Wafer reiterated what he had said in previous hustings of the role of the Welfare Officer as a "good listener", and being a voice for students.
He praised earlier Welfare Officers' work in standing up for students, and his competitors, saying that Trinity is in "safe hands" no matter who is picked.
Communications & Marketing
Although the candidates in the communications & marketing race took very different approaches in addressing the audience, both appeared confident and at ease in their final performance before students cast their ballots. Emmet Broaders decided not to focus his points specifically at the first-years living in Trinity Hall, in contrast to Glen Byrne who re-published a manifesto for Trinity Hall students on Facebook prior to the hustings.
Like Carty, Broaders spoke nostalgically about bringing the comradery of Trinity Hall into the greater college population: "I want to bring that sense of community back into the wider scope of College." Using the familiar territory, the former JCR officer compared his planned forum to the Trinity Hall JCR Facebook page. Byrne, on the other hand, focused on sponsorship and how it can benefit students even if doesn't create revenue, citing his work with Daft.ie in his efforts to alleviate the accomodation crisis as an example.
Byrne listed his experience as a Public Relations Officer for numerous societies in the past as well as previous design work for RTÉ and the Undergraduate Awards, prompting an audience member to ask if he would organise design classes for societies in need of help advertising their events. He replied that he would love to, and that "presentation is key. I want to make societies presentable".
In response to a question on improving sponsorship, Broaders said he would make it more personable, similar to the way Coca Cola improved sales by putting names on their cans. He said Coca Cola's campaign "got people wanting to enjoy it" and that he wants "to bring that kind of humanism to advertisements".
Ents
In the race for Ents Officer, the candidates focused on their ideas for the upcoming year. Although no candidate emerged a clear winner, Padraic Rowley and Caolán Maher performed strongly, with both outlining clear plans for the coming year.
In a very composed manner, Browne cited both her past experience and "concrete plans" as being key to her campaign, mentioning her christmas day idea, an intervarsities event, and ents-duction where she spoke of having a workshop in Trinity Hall.
In addition, Browne focused on inclusion and encouraged all first-year students to get heavily involved in one club or society, stating: "We all talk about student engagement, you have to be if you're running for a sabbatical officer."
Unlike other candidates, Browne's speech did not end with an appeal for votes: "I'm not going to beg you to vote for me", pronouncing, "you're all intelligent people".
As confident as ever, Caolán Maher firmly argued that he is the most qualified candidate based on his experiencing managing the club night Wrekt: "No other candidate can say they brought 750 people to an event four nights in a row."
Critical of the current state of the Ents Officer role, Maher argued that ents is too separated from the students and lacks diversity. Almost seeming too eager to discuss the infractions that have marked his campaign, Maher replied to a question from the audience concerning free cans with a firm: "No, no free cans tonight."
Grace O'Boyle gave a very clear and concise speech about what students want of their Ents Officer: "Originality, creativity and innovation".
Expanding on one of her key manifesto points, O'Boyle wants to showcase the work of Trinity students. "I want to make Trinity a hub for every student to submit their work", she noted, adding that everything from "medical research" to "entrepreneurship" would be included.
Conceding that she is "not the loudest candidate in the race", she claimed: "I can be the best Ents Officer", echoing her speech from Dining Hall Hustings last week.
Like Maher, Padraic Rowley came across as very comfortable in front of the microphone. A key point of his campaign has been about catering to diverse interests, and tonight was no different. "Before I do my events you should know what other people are doing before my events", Rowley said, acknowledging that people have "specialised interests".
A question from the crowd asked Rowley whether he would bring back a cheap weekly night out. Rowley responded with: "Having one single specified club night every week I wouldn't do", but rather he would advertise those societies that have already events organised.
Editor of The University Times
Sinéad Baker, the sole candidate for Editor of The University Times, appeared confident as she addressed a receptive crowd in Trinity Hall. Much of the speech focused on her plans to implement new staff training days and her manifesto goal of making The University Times a national authority on higher education.
Baker spoke passionately as she recounted her last three years at The University Times. She was keen to stress that although the race is uncontested, she has campaigned as if it were not: "The paper has taken up so much of my time over the last four years", she said. "I would love to do it full time."
In response to a question on staff training, Baker said that current levels were "just not enough. If we want to compete with national papers we need to be properly trained".
By inviting speakers and holding workshops, her hope is "that even people who don't want to be journalists can come, learn, and interact with their paper in a new way".
Correction: 23:55, February 15th, 2016
An earlier version of this article incorrectly stated that prior to Trinity Hall hustings, Glen Byrne released a new manifesto for Trinity Hall students. In fact, this manifesto was released earlier in the week, and was in fact just re-published.
---
Nora Donnelly, John Bethell and Niamh Egleston contributed reporting to this piece.