With four contenders in this year's Ents race you'll have to keep your calendar free if you want to sample a bit of what everyone has to offer. However, there will also be plenty to do in between lectures. From glitter and bandanas, to tie-dye and yellow bows, imagination is key. This ambition is perhaps due to Katie Cogan's successful run as Ents Officer, with imaginative events like last term's "Hogwarts Express" and this term's highly anticipated "The Blue Planet".
Katie Browne is promising plenty of daytime events as well as two big nights out. Browne told me about how her past experiences as Ents Officer for Trinity GAA encouraged her to put herself forward for the role. For the past two years she's organised nights out, mystery tours, and a number of trips away from College. Browne also cites her experience as chair of Psych Soc, where she learnt how to organise events on a smaller scale. Her daytime events promise a house band and a cover band. She's also hoping to secure a trad band, hoping to organise music sessions in the Pav.
Browne's first event is Thursday, February 11th, and will take place at the Harbour Playhouse. At a 40 minute walk from college, hype is essential in making this event a success. However, a BYOB comedy gig followed by a "Glitter Fest" at Whelan's should tempt plenty of people. Her second event will take place in the Turk's Head, entitled Bandana Beats, with free entry for anyone donning a bandana.
ADVERTISEMENT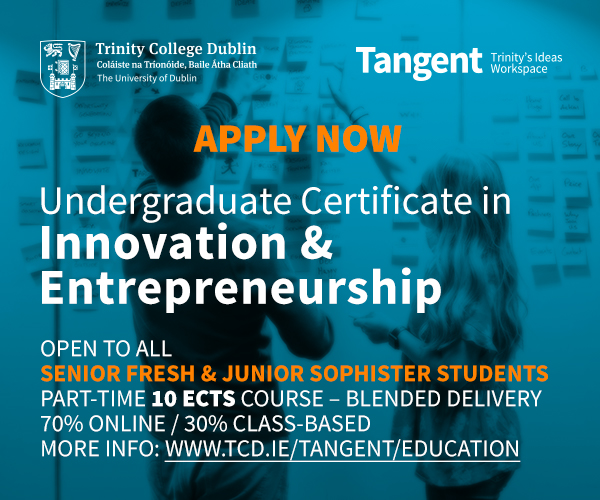 Speaking to The University Times, Caolan Maher felt confident that he would "absolutely destroy the thing". His line up of events starts on Monday with a Flash Mob in Front Square. Maher describes it as his way of "spreading the happiness and cheer of Campaign Week". He's keen not to be known as the guy who started WREKT, and he's been sure to transform the Grand Social into something truly different. On Wednesday, February 10th, Maher has organised an interactive capoeira demonstration, which will turn into an interactive dance session for the final two hours. Maher guarantees something for everyone, with buses from Halls, face painting upon entry and €3 entry for everyone with a piece of fruit.
He wants his night to showcase the "afro side of culture". On Saturday 13th he'll be organising events in The Bernard Shaw, including interactive graffiti and tie-dye workshops. He's promised "plenty of tunes" and emphasised that this relaxed atmosphere should capture what he's going for with Ents.
On Monday, February 15th, for his next event, he's promised card and board games as well as henna tattooing. This event at the Pav features a live band, a beatboxer, a rapper and a magician. In contrast to this, Maher has also organised a sensible drug policy talk from DCU's Dan Kirby, who ran the "What's in The Pill" campaign and is head of "Students for Sensible Drug Policy" in DCU. The event will also be followed by a "Disco Party".
It's clear that Maher wants to appeal to as many people in college as possible, with his last event on Tuesday, February 16th. For "Trad Tuesday", ceol agus craic are promised.
Grace O'Boyle wants to focus on "good music, artistic installations and amazing visuals". On Tuesday February 9th, she's taking over the blank canvas of Hanger and has promised to make it something unforgettable. Music will be the emphasis on this first night, according to O'Boyle. Ian Blake, So'Alty and Stup have all been confirmed for her first night. With a lineup like this, not to mention the festival-esque art installations that she has promised, O'Boyle will be hoping she can attract a big following.
Her second night will be next Monday at the Wiley Fox, where her aim is to "showcase what Trinity has to offer". With DJs from DU Players, DUDJ and BoraBora, the night promises to be more pop-fueled and house-centric, as opposed to the disco funk on her first night.
Padraic Rowley promises something special with his line-up, including interactive visuals he and his team have coded, which "become more vibrant the more excitedly people dance". His first night will take place this Wednesday 10th at Hangar, with Trinity DJs Jack Skehan and Jack Dunne playing on the night, an event Rowley hopes will be a major crowd pleaser.
Rowley is conducting a mindfulness workshop on Monday 15th in the Arts Block. Primarily with campaigners in mind, he wants campaigners to be able to take a moment to relax and forget what colour t-shirts they're wearing. The following night, Rowley has organised a punk rock night with a live band playing.
On his decision to run, Rowley stated that "[he's] always been involved with events in college, since first year" and that he gets "a buzz from organising something and watching people having fun". Staying true to this statement he also mentions an app he plans on releasing during campaigns. It's called "Where Next?" and has four separate buttons that let you pick "Something Cheap, Something Interesting, Something Free or Something Musical".
It's clear that the next couple of weeks will be busy, especially for these candidates and their campaigners. Hopefully for the rest of us, at least some of these events live up to the hype. From capoeira workshops, to glitter and interactive visuals, this Ents race should be one to remember.