It has long and often been said that you choose Trinity for its academic reputation and not its sporting prowess, and as hard as the Department of Sport might try to shake that image, it is probably true. Most sporting students accept this early in their student careers and do their best to maximise the potential of their squad, while suitably balancing their studies, and many may retire from College having never featured in a major tournament or won any notable titles. As Allie Kelly and Sarah Cunneen entered their final year with Trinity Camogie, they were at risk of falling into this band of students. Serving as dual captains of the camogie team, however, Kelly and Cunneen managed to successfully inspire their club to All-Ireland success, bringing the Fr Meachair cup back to Trinity after a long absence.
The Fr Meachair championship is equivalent to the junior championship or third division, below the Purcell Cup, the intermediate championship or middle division, and the Ashbourne Cup, the senior championship or top division. Trinity were relegated from the Purcell Cup into the Fr Meachair Cup the year before Kelly and Cunneen arrived at Trinity, and the girls have never known anything but Fr Meachair. Having reached the semi-finals in both their first and second year, and travelling to compete in the shield last year, Kelly couldn't help but admit they felt a certain amount of frustration that the club couldn't seem to progress further in the competition: "It's been driving us mad not being able to get out of it for so long."
Although Trinity may not have brought home the coveted Fr Meachair title last year, they did manage to gain some silverware through the Fr Meachair shield. The shield was due to be awarded to the winners of the play-off between the third-placed group teams, as those who did not qualify for the cup finals. Although their rivals IT Tralee did not travel for the game, Trinity insisted on playing in the Ashbourne weekend. DIT met their challenge and agreed to play. Although Trinity were always going to lift the plate regardless of the score against DIT, the girls celebrated the shield win in true Trinity GAA style regardless.
ADVERTISEMENT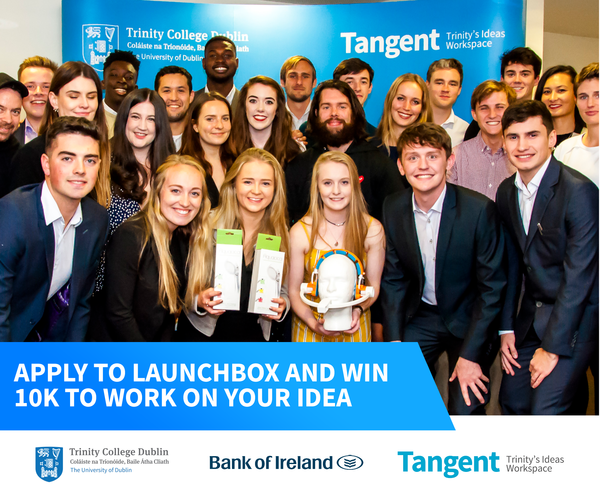 The team drew 2-11 2-11 against Athlone IT in their opening game of this year's championship and firmly sealed their place in the Ashbourne weekend with a convincing 0-12 1-2 win over St Mary's, Belfast in what Kelly called, "one of the toughest games we played all year". Trinity had to overcome Limerick IT to earn their place in the final, and although LIT had beaten Trinity in their league 3-12 to 2-06 very early in the season, Trinity were in full stride by the Fr Meachair weekend and dominated the game by a final score of 8-07 to 0-03. Facing Athlone IT for the second time in the championship, Trinity were determined to get the better of them this time around. In a hard-fought win Trinity managed to come out 1-10 to 0-08 winners and Fr Meachair champions.
From looking at the results across the season alone, as the team gradually improved from losing their opening league fixtures to the successive wins that led to their championship title, you can almost select the pivotal moments that may have shaped the winning squad. Kelly and Cunneen agree that there were key moments throughout the campaign when something shifted in the mentality of the team, with Kelly citing the win against St Mary's as a turning point for the team, while Cunneen argues that it was as far back as their league win against Athlone IT: "It started from when we beat AIT in the league. That's when we really felt that we knew we could do it."
Although Trinity have reached the finals weekend in previous years, Cunneen feels that having a belief that they could win the championship from early in the competition had a huge impact on their game, and is something that was lacking in previous campaigns: "Other years it started too late – we'd get to the semis and be like 'we're going to win'. This year it was 'we're going to win' from early on in the championship and it just carried through and it just became second nature to think that. We have a new coach, Aideen, and she has a winning mentality about her". Kelly even described a competitive dynamic within the team as something that had not been evident before this year, as the team began training earlier than usual after Christmas and even missed an iconic Trinity GAA weekend trip because it was too close to the championship.
While it was Kelly and Cunneen that lifted the Fr Meachair cup aloft in February, the success of the club this season can be largely attributed to their coach, Aideen Naughton. As the team had little success in the past two seasons, Kelly and Cunneen thought a fresh perspective might help the team to grow and, through links with St Vincent within the club, Naughton was recruited. Naughton made an immediate impact on the team and gained great respect from the players: "She just brought something different. She trained Saturday mornings at eight, which would have never happened before, and you wouldn't have got the numbers even if it did. But everyone went. Everyone wanted to train with Aideen."
Kelly and Cunneen explained how Naughton had a great sense of inclusivity and equality about all her drills. She would notice when any player was missing, whether a regular starter or not, and did not reward players with time on the pitch if they hadn't given time to training: "You'd almost fear her to an extent, but not in a way that was bad. If you didn't go she would notice you weren't there, even if you're 29th [on the panel] she'd ask why weren't you there, what was your excuse. So it wasn't like it was the 15 core players. Everyone had to be there. Your place wasn't safe so you had to go and I think that really pushed numbers at training because if you weren't there you weren't playing and that's the way it was". "She's a drill sergeant. From day one she had the girls scared," Kelly explained, describing how some eager Erasmus students were scared off by Naughton's horrific and regular burpee punishments: "It was our punishment, but it turned into a joke. But when you're doing them it's not a joke".
The icing on top of the camogie season came soon after their Fr Meachair win when the CCAO All-Star nominees were announced, with three Trinity players named. Aisling Maher, Rosanna McAleese and Annie Courtney are all in the running for a third-level camogie All-Star. This is the first year that the All-Star team has been amalgamated into one team across all competitions, which would make winning an All-Star as a Fr Meachair player an even greater achievement. Kelly described the influence having such talented players can have on the whole team: "When you have players of that standard on the team it really brings up the other girls as well. You have to up your standard to match girls like that. They upped the intensity, like, I've never seen Ash drop out of a drill. If she's able to do it, we're all able to do it".
Maher, who won player of the match in the Fr Meachair final, McAleese and Courtney all have experience playing for their respective county teams, and Cunneen admitted that when it comes to nominations county players may attract the attention of selectors. Kelly and Cunneen believe there are many more on the panel that could have been named, citing examples of a player who had no previous camogie experience before starting College but has since become one of Trinity's star players, and another player who broke her hand in the first half of the Fr Meachair final but continued to play the whole game and still managed to catch clean balls. Comparing Trinity camogie with other colleges that achieve consistent success with camogie and regularly entice county players, Cunneen acknowledges how much the deserved All-Star nominations meant to the club: "It's great to see there's girls in our college getting the same amount of recognition as [colleges with multiple camogie scholarships] are. If one of them gets an All-Star we'll be able to put them forward for Pinks as well. Previously we never thought we'd be able to get to that level."
Although Kelly and Cunneen have played their last match for Trinity camogie, they hope that the foundations they've set this year can pave further success in the club's future. Trinity compete in a play-off match at the beginning of next year to determine whether they will receive promotion to the Purcell Cup. Kelly and Cunneen feel that, if Trinity can successfully enter the Purcell cup, the team will become much more attractive to the many county players hiding on campus that they have chased to join the team, and it will make Trinity a more enticing option for future collegiate camogie stars. Kelly admitted that any decision regarding promotion will ultimately come down to the new club committee, but adds: "There's no glory in winning the same thing twice". Due to the constant influx and departure of students, college sport changes every year. But even with a number of key players graduating this year, Kelly and Cunneen feel very confident about the current cohort of players in the Trinity flanks, with a lot of talented freshman that can guide the club for further success, particularly under Naughton's guidance.