The appointment of Jane Grimson as Pro-Chancellor of Trinity, alongside David McConnell, is one with obvious significance, both for Grimson and for the College. Speaking with The University Times shortly after the announcement, Grimson, a Fellow Emeritus in Computer Science and former Dean of the Faculty of Engineering, Maths and Science, repeatedly refers to her "family tradition" in Trinity, saying: "both my children went to Trinity, my daughter works in the access programme, my step-mother is a retired professor of French. I'm looking forward to at least one, if not two, if not three of the grandchildren going to Trinity to keep up the family tradition." However, in appointing Grimson, a professor with an expansive understanding of gender inequality in academia and an advocate for reform, Trinity appears to be responding to that call for change.
Grimson notes that in her time as part of the Trinity community she has seen enormous change, and on multiple occasions she has been the arbiter of change. Completing her undergraduate degree in 1970, she was the first female graduate of engineering in a class of only 30 people. It was an unusual set up, no doubt made easier by the fact that her father was a professor of engineering, yet Grimson says: "I suppose when you're in the system it doesn't really occur to you that it's odd. I suppose that it's as you move through your career that you realise it's not straightforward as you perhaps thought it was."
Indeed, the Trinity that Grimson attended is vastly different to the one studied in today. Its 3,000 students were predominantly male, a converse of the current figures, where women outnumber men. Grimson recalls that, despite being a campus very much so of the 1960s, "it was also a place where, at that time, women had to be out of college by midnight. There was always a mad dash to be out in time. It wasn't until about '68 that the first girl was elected to Schol. They could sit the Schol exam but they weren't foundation scholars and were not entitled to live on campus. So they had the first women scholars and the first women fellows."
ADVERTISEMENT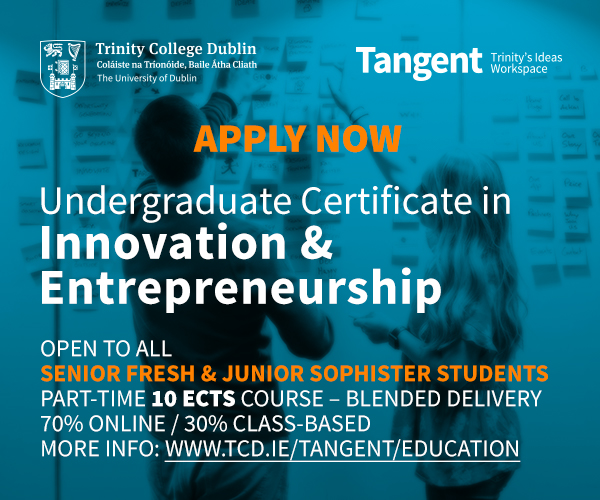 I suppose that it's as you move through your career that you realise it's not straightforward as you perhaps thought it was
Considering the monumental changes she witnessed during her undergraduate studies, gender equality within academia is a key issue for Grimson, who has worked with the Center for Women in Science and Engineering Research (WiSER) and leads the National University of Ireland Galway (NUIG) gender equality working group. Indeed, she is well-positioned to comment on Trinity's gender equality, having seen it at all levels during her time as Vice-Provost between 2001 and 2005. She was the first woman to take up the position, an appointment that came at a hugely significant time in Trinity's history, with the centenary of women's admittance to College taking place in 2004. It is this event that Grimson notes as her personal highlight during her term, recalling that then-Provost John Hegarty was anxious to have her play a key role in the series of commemorations.
However, her experience as a female academic has taught her to be particularly sensitive to the obstacles faced by women working in the academy. She asserts that the "leaky pipeline" is very much so a feature of Trinity, with women making up only 17 per cent of senior positions. However, this is consistent with other Irish universities, as is the fact that there has not yet been a female provost elected. What is observed is a fundamental lack of support for women struggling to progress in university positions, which Grimson sees ultimately as an enormous failing.
The prospects of women after graduation is yet another key issue for Grimson, who has witnessed the slow climb of many women through the system in her time. She says: "I think what young women – even going back 20 years ago when they would have started going into higher education, and still now – find when they get to their 30s is that there is a problem. I wouldn't call it necessarily a glass ceiling, but they tend to get stuck and they tend to drop out disproportionately. It has to do with many things, and obviously work–life balance is a major issue."
When asked what the root of this is, she says: "I think one of the issues is the way in which we judge success and excellence in academia has been shown to be somewhat gendered." She notes that within academia great emphasis is put on the networks one has, with invitations to be a keynote speaker and positions on editorial boards being great indicators of a professor's influence. She says: "women tend not to be so well networked, particularly when they have children because they can't travel" and, further, that there is data which shows women tend to publish less than men. She asserts, however, that in this instance the disparity is not attributed to gender, but rather to more men being in positions of seniority: "It stands to reason that those who are more senior probably have a whole army of PhD students writing papers that you can get your name on and so on."
Grimson highlights the challenge of addressing this gender imbalance, particularly among students in STEM, saying that it is enormously difficult to devise initiatives that will be sustainable. She notes the worrying trends among women in STEM, particularly in computer science, saying, "when we first offered computer science undergraduate degrees in Trinity in 1978, it was 50/50 and it's gradually reduced down to 10 per cent girls". As many girls are discouraged from pursuing computer science due to what Grimson calls the "image of being nerdy", she believes that the challenge lies in redefining that image. She points to initiatives like CoderDojo that aim to make computer science more accessible to a younger age group, and sees particular value in the girls-only CoderDojo classes, saying: "Ultimately you don't want to have that differentiation, but initially it's sometimes useful."
Women tend not to be so well networked, particularly when they have children because they can't travel
Her understanding of gender inequality in all its dimensions becomes increasingly clear as she speaks of Trinity as a research institution. Having served as Chair of the Irish Research Council for Science, Engineering and Technology – prior to its amalgamation into the Irish Research Council – Grimson is aware of the ongoing tension between applied research funding and fundamental research funding, particularly between STEM and the arts and humanities. She notes that Trinity is exceptional in the amount of scholars that come from all areas to research, yet says that when there is money pumped into one of these areas, "it distorts the whole thing". She says that interdisciplinary research is becoming increasingly important, as "if you look at the big problems facing society today, climate change, ill health, aging and so on, these very much so multidisciplinary activities". She also notes that it is this area where women are more likely to fall into difficulty, and so should be bolstered alongside both STEM and the arts and humanities.
Yet, Grimson remains enduringly positive that Trinity is a leading institution in addressing gender inequality in academia. She references the Athena SWAN bronze award, won by College last December through work undertaken by WiSER, as a testament to Trinity's progress in gender equality, but warns: "we mustn't sit back on our laurels. We have to be aiming to get a silver!"
Grimson's optimism in relation to what Trinity can succeed as an institution is all pervading, most notably in her response to being elected Pro-Chancellor, which she calls "a huge honour". She is committed to the traditions that College does so well, such as the commencements – "I know people find them a bit stuffy, being in Latin, but I really enjoy them" – while also constantly striving to help make Trinity a more modern and innovative university. It is fitting, then, that she should continually return to College in different positions in a relationship that began when she was eight years old. She recalls: "When I was waiting for my dad to take me home I would spend time in the Museum Building writing on one of the big black boards. I never thought I'd come back writing on them for real."