When, in 2014, an Irish Independent article stated that the Provost wanted to turn "every single Trinity student into an entrepreneur", the desire was met with anger – and memes. Interpreted as a cynical move and lambasted by some, interpreted as naive and ridiculed by others, the statement became a focal point for much of the anger that had arisen towards the college administration over that year.
When the Provost explained this position, however – stating that he wanted all students to be equipped with the kinds of skills they'd need to become entrepreneurs, rather than see the university become one oversized business incubator hub – that anger abated, and the position was interpreted as largely reasonable. The anger had been in reaction to what was seen as the prioritisation of commercial culture, entrepreneurship and profit over other, more basic things that make a university important, such as study for the sake of study.
This is why the reaction to the news that a new student "business incubation hub" will take over what is now the second floor of the Hamilton Restaurant has been so strong, and so cynical. We're back to seeing commercialisation take priority over more basic and necessary things. All of Trinity, and not just its students but its librarians and lecturers too, are crying out for space for students – not high-concept, specialised space, but space where we can sit down, eat our sandwiches and maybe discuss a group project that we've been asked to do. Despite this desire, and this need, the news of the Hamilton Restaurant has come just months after a space at the front of the Berkeley Library was converted into the home of the Blackstone Launchpad Programme, a student entrepreneurship programme.
ADVERTISEMENT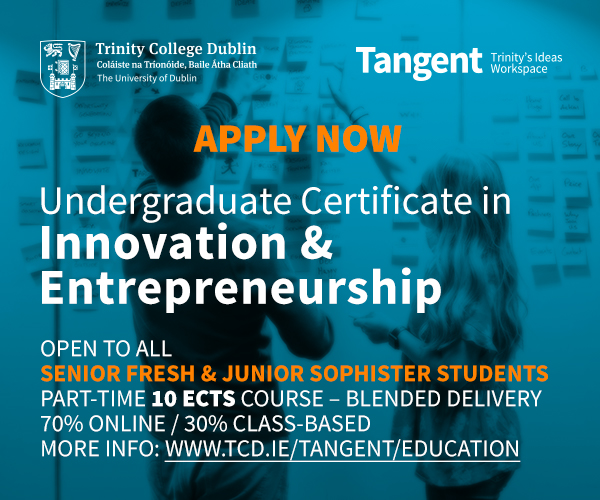 These these two spaces will be on campus, and the €70 million business school is being developed at yet another location. Many believe this new school should be the home of student entrepreneurship, instead of impinging on the space of STEM fields. The school will also include a 200-seat restaurant but – while the restaurant is not unwelcome – there is much greater demand for places for that students can eat their own food, rather than another commercial outlet in a reasonably well-provided campus that is, itself, surrounded by restaurants due to its city centre location.
All of Trinity, and not just its students but its librarians and lecturers too, are crying out for space for students
As these developments take place, students still lack a place to eat their own food, charge their laptops, or sit down and work on a group project. Students barely have spaces to do college work, never mind the extracurriculars that the university frequently states that it values. As Kieran McNulty, incoming President of Trinity College Dublin Students' Union (TCDSU) stated in an email to The University Times: "There really aren't many places for students to go during their day between lectures, besides the library. To lose another space may not seem damaging on paper, but it's quite a blow for the sense of community which Trinity prides itself on."
Frankly, Trinity is just poor at managing its space. A recent report revealed as much, stating that Trinity's infrastructure lags behind other comparable universities, and that the college was behind in providing "informal breakout and education spaces". The spaces that it does provide do not seem to be serving Trinity's societies as well as they should be. Trinity's strategic plan commits the College to the provision of student spaces – increasingly flexible and informal spaces that help fulfil its aim to "promote student life". While Trinity's location remains highly restrictive when it comes to providing these areas, it seems illogical to use the spaces that do emerge for what students need the least. That College continues to prioritise "business incubation hubs" bodes poorly in terms of what students might hope for from Trinity's upcoming construction projects.
There is nothing wrong with having multiple spaces for entrepreneurship in a college. Under ideal circumstances, they would be a very welcome addition. But Trinity's staff and students want something more basic: a place to spend our time that doesn't involve having to incubate corporate ideas, sitting on the floor of the arts block, or being forced to leave the campus entirely.