With an impassioned speech on the endurance of society filled with optimism for the world's future, US Vice-President Joe Biden this morning accepted an honorary doctorate from the University of Dublin in Trinity's Public Theatre – urging graduates to check their ambition with perspective. The theme was apt amidst apprehension in the wake of Britain's historic vote to leave the EU, an outcome Biden said the US respected, but not the one it preferred.
His comments on Brexit were among his first words at the podium. He asserted that the American relationship with Britain and the EU "runs deep and will endure", and that "our relationship with Ireland and the EU will remain the cornerstone of our global engagement".
Seemingly reluctant to dwell directly on the negative aspects of the referendum, Biden instead offered observations on how to positively effect change. Referencing his 36-year career in American politics, he noted the importance of "an impassioned argument in reason and fact". Borrowing a line from WB Yeats's poem "Easter 1916", he said that the world is "changed, changed utterly. A terrible beauty is born". Building on the poem's own emotive power, Biden rousingly remarked that "those words are even more applicable to the world you're graduating into than they were in 1916".
ADVERTISEMENT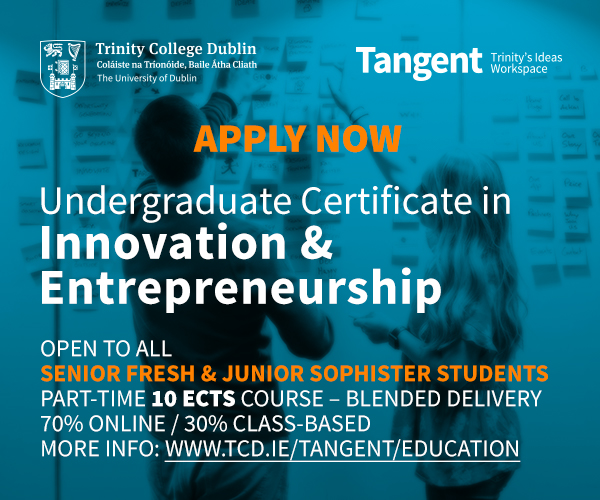 Speaking to a full chamber, Biden described his audience as "the most tolerant generation in history", praising their openness and acceptance of difference. He acknowledged the privileged positions afforded to them by their college degrees, but cautioned against complacency: "Intellectual horsepower and tolerance doesn't make a generation great."
Biden's address reached its emotive peak as he spoke of the importance of family, particularly his own, in the course of his life and career. "I never stayed for the soirées, I never stayed for the embassy parties", he said, recalling his commute home to see his children, and the warnings of missed opportunities from his colleagues. "But I look back on it and I did not miss a thing." He stressed that to effect change ambition is necessary, but that "ambition without perspective can be a killer".
In 1972, Biden lost his first wife and daughter in a car crash that also injured his two sons. Last May, Biden lost one of those sons to brain cancer. Referencing these tragedies, Biden warned his audience about the dangers of complacency: "If you're not careful a sense of inevitability creeps in – but be careful, things can change in a heartbeat." Describing how he found "redemption" in his children, he told the audience: "Follow what you think is the most important thing for you to do."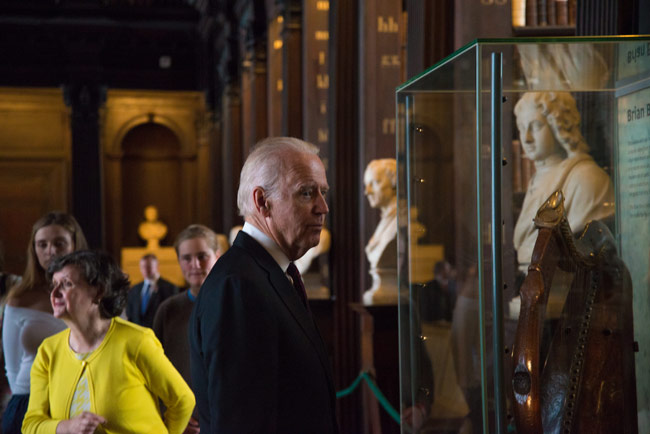 His speech was marked throughout with hope, as the Vice-President repeatedly encouraged the audience to see opportunities for improvement in society's current challenges. "What bothers me most in this period is the sense of helplessness", he said, "when there is so much reason to be optimistic." He continued: "We are at an inflection point in world history", urging those present to use their unique talents and positions in elite society to "bend history in the right direction". It was a stirring appeal, with significance for both the graduates and members of the College community present, and the world at large.
Biden, on accepting both an honorary doctorate alongside the Gold Medal of Honorary Patronage of the University Philosophical Society (the Phil), seemed to stand in awe of Trinity and its rich heritage. Addressing the Phil, he quipped: "When your clubs are older than my country, it sometimes draws attention", seemingly as humbled by the Phil's medal as he was with the university's honorary degree.
"I'm proud to join the ranks of American political leaders who have drawn inspiration from Trinity", he said, referencing both former US President John F Kennedy, former US Senator Ted Kennedy, and Woodrow Wilson, the latter whose thoughts he said were "full of Edmund Burke".
The good humour that has defined his trip to Ireland so far continued with a comment on College's famed commencement ceremonies, which are conducted entirely in Latin: "I took four years of Latin, and the worst part was I only caught every fourth word."
Referencing the Chancellor of the university, former Irish President Mary Robinson, he said that she was "greatly greatly admired in the US". Noting his genealogy in Ireland, he told Robinson: "I don't want to worry you but I think you and I may be related."
Biden, who is the 47th Vice-President of the US, has played a key role in the Obama presidency since 2009. As Vice-President, Biden led the implementation of the US Recovery and Reinvestment Act, passed in the wake of the 2008 crash to stimulate growth in the American economy, as well as the ambitious Ready to Work initiative, which aims to develop and create more jobs and training programmes across the US.
More recently, Biden, who has served as a senator for 36 years, attracted attention for the letter he wrote to the victim of a sexual assault at Stanford University, after she penned a letter to the fellow student who assaulted her. In the letter, Biden told the student "the millions who have been touched by your story will never forget you". Biden has been a strong supporter of the "It's On Us" campaign in the US, launched by Obama in 2014 to raise aware of sexual violence in American colleges and universities.
Biden, who has been a vocal advocate against domestic violence and sexual assault for many years, appointed the first-ever White House advisor on violence against women during his time as Vice-President. Referencing the letter, and Biden's campaigns in this area, the President of the Phil, Matthew Nuding, described the letter as required reading, calling Biden a man "at the centre of consequential issues" facing the world today.
Although Biden will return this evening to Trinity for an American Ireland Fund dinner, his time here this morning concluded with a visit to the Book of Kells and Trinity's Long Room. Gasping at the majesty of the library, Biden asked: "If anyone sees Harry Potter in here, let my grandson know, will you?"
Correction: 17:17, June 24th, 2016
An earlier version of this article incorrectly stated that Biden said it could get "tetchy" in reference to some of Trinity's student societies being older than the United States. In fact, Biden said it "sometimes draws attention".
---
Charlotte Ryan and Edmund Heaphy were reporting from Trinity's Public Theatre, as was Sinéad Baker, who contributed reporting to this piece. Dominic McGrath also contributed reporting.