It's not everyday that you meet Oscar nominees, or what the Head Of CG Productions, James Stacey, calls "Oscar noms". For Brown Bag Films animation studio, such films have become a part of their story and have helped to shape the success of the company that they can boast of today. As we walked through the studios, situated in the modern hub of Dublin's Smithfield, Stacey points to their achievements that are framed on the walls: their Oscar Nomination letter and cuttings from Times articles. He even pointed through the window of one director's office and remarks "there's an Emmy" – a comment made with a certain nonchalance that must come after your seventh win in the awards.
The studio's Emmy wins have been awarded for its hit children's TV series shown on CBeebies, Peter Rabbit and Bing. Its Disney Junior show, Doc McStuffins, I'm told, was the most popular preschool show ever for the network and has also won the studio a Peabody award – it seems one success after another for the 22-year-old studio. Motivated by their trademarked motto "We Love Animation", Stacey explained: "There are lots of different types of industries that use computer animation and special FX in different ways and for different types of content. That motto is really to highlight that we are, at our core, story-driven and character animation people. We have been doing it for over 20 years and animated characters and stories for family audiences continue to be the driving force behind Brown Bag".
The first Oscar nomination came for their film Give up Yer Auld Sins, a poignant piece of Irish filmmaking that has had a lasting effect, instantly recognisable to any Dubliner or expatriate. This, however, was before Stacey's time with the company. Arriving 11 years ago, he has since seen the company grow from a workforce of 160 people to 300 today, and still growing. He, however, did not miss out of the Oscars buzz, when, in 2010, their second Oscar nomination came for Granny O'Grimm's Sleeping Beauty in the category of Best Animated Short Films at the 82nd Academy Awards. Everyone drew straws in the hopes of gaining a chance to attend the hottest event in worldwide film industry. In the end, he drew the short straw and did not attend the ceremony, but flew over, with other colleagues, for the festivities and after parties. Brown Bag is not only expanding in numbers, but also in retail space, now dispersed across Smithfield Square. For the duration of the interview, we were brought on an impromptu walking tour of the three premises.
ADVERTISEMENT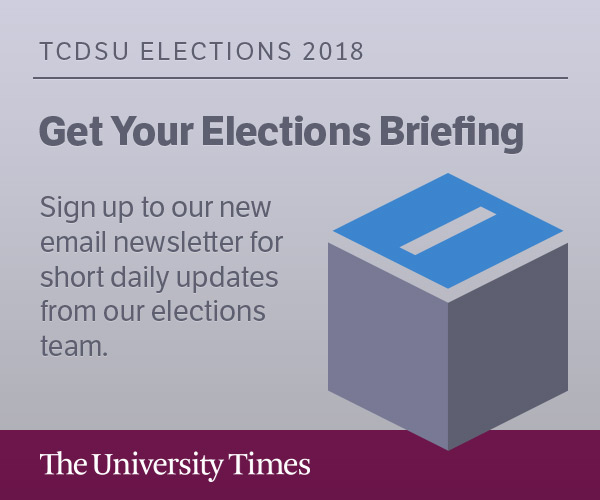 Arriving 11 years ago, he has since seen the company grow from a workforce of 160 people to 300 today, and still growing
When watching one of Brown Bag's films or TV shows, they play with such coherence that, often, the magic of animation can elude you. Stacey exasperatedly called the process of animation a "very time consuming process", with a 52×11 (that's a season of fifty two episodes at eleven minutes each) taking up to one and a half years to produce. The studios are divided into components that work on various stages of what they call the "pipeline", or, in layman's terms, the process of creating an animation from start to finish. The Annex, one of the first stops on our tour, is a dimly-lit and long office space, with rows of computer-filled desks, tasked with the sole responsibility of lighting the scenes of the animations. The other side of this building is the IT crowd, working on the technical aspects of the process. This area has many empty office spaces, awaiting to be filled by new employees, as they are currently in the process of hiring new additions to the already talented pool of staff that they have at the studio. Stacey pointed out that "we have a really talented bunch of artists, animators and producers who have a proven track record to get the job done for the likes of Disney, Nickelodeon and Amazon, so we have a really strong and seasoned team here in my opinion – not forgetting a technical animation pipeline that has been developed over the past 10 years. Our teams also have a lot of love and passion for the projects, and I think that shines through". The far wall of the office was pinned with brown bags that had been personalised and customised by staff, a nice touch for an outsider looking in.
This familiarity continued throughout the offices, with open and communal work spaces and friendly informality between employees as we passed through. Workers dressed casually, as you would imagine in a modern "wiki workplace". Stacey himself looked something like a cross between actor Matthew McConaughey and a Silicon Valley tech boss. He is extremely friendly and exudes knowledge about the industry and the creative process involved in the production of animated films. With a background in animation himself, having achieved a higher diploma in animation from the Oscar-winning Ballyfermot College of Further Education, his main task and responsibility within Brown Bag is as Head of Computer-Generated Animation. "I oversee the different [computer-generated] animation departments that work on the different aspects of creating our animated shows. Each step in the process requires different skill-sets and pipelines, so a big part of my job is to make sure the departments work together effectively. So, ultimately, we can produce animation that meets the director's requirements for each show. I work alongside an amazing bunch of talented animators, technicians and project managers who coordinate and plan each step to create our animation content."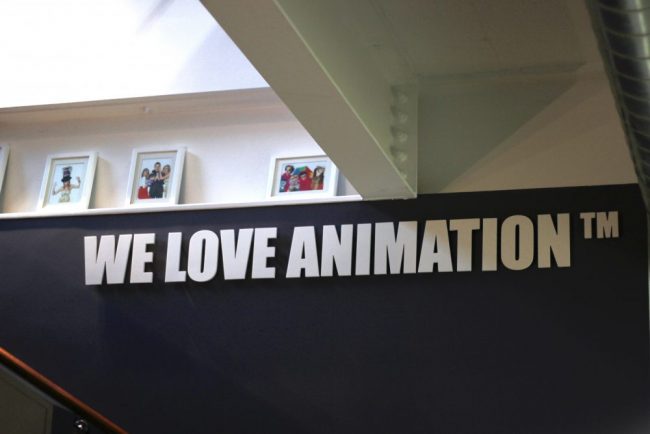 The next stage along the pipeline, and the second stop of our tour, was the long, open room of the production studios, where animators sat at their desks working scene-by-scene on upcoming animation projects that we, the audience, may not see for another year. One screen we passed showed two characters interacting in conversation against an empty plane in 3D space. The animator was busy making incremental changes to characters in what seemed like a tedious process, trying to perfect their movements, most of which went over my head. The process of how these components can come together as one film continue to impress me. Leaps in technology in recent years have reshaped what it means to be an animator in the modern world and creates an exciting, ever-evolving industry to be apart of.
Each animator sat at a computer instead of the traditional, backlit animation desks any 1990s kid would recognise from the special features reel on Disney VHS tapes. This technology is seemingly rendered largely redundant as the computer-based work gives the animators much greater capabilities. The post-production space, and the original office of Brown Bag before its expansion, is situated on the far end of Smithfield Square. It is here that the animation ends up after it has gone through the pipeline of being pitched as an idea, storyboarded, voiced, animated and lit. In post-production they are compiled and edited together with sound to create the narrative of the finished product.
While all of the 3D animation is produced in Smithfield, Dublin, the studios also create 2D animations from their facility in Manchester. The script, on the other hand, is outsourced to LA. The reason for this, as Stacey told me, is because of the superior practical knowledge and experience of LA scriptwriters in comparison with those in Ireland – a nation with a short history of filmmaking and not typically known for it. This is something, arguably, that Brown Bag are changing. What Ireland does not have in scriptwriting ability it makes up for in innovation, with all of Brown Bag's original ideas formulated in their creative driven hub of Dublin. The country's skilled creative workforce is supplied by colleges such as the National College of Art and Design (NCAD),the Institute of Art, Design and Technology (IADT) and Ballyfermot. For Stacey, it's the practical workforce we should be proud of, saying "most importantly, we have a really great pool of talented animators, artists and animation directors here".
"The Irish have a really good understanding and sensibility of American and British humour, so we 'get' their stories and characters, as well as the comedic timing and pacing that American and British clients and audiences want and expect"
For Brown Bag, being based in Ireland is a strength, allowing it to have access to both Europe and the US, acting as a bridge that lets it use both continents to its advantage. As well as this, our global position gives the country what he calls a "western sensibility", which allows the studio to market themselves to the US and Britain, with an ability to identify and match the nuances in humour for both respectively. "The Irish have a really good understanding and sensibility of American and British humour, so we 'get' their stories and characters, as well as the comedic timing and pacing that American and British clients and audiences want and expect. There are also certain tax incentives that the Irish government provide for TV and film productions and that's an attraction too". All this combines to make Ireland an ideal base for a creative enterprise like Brown Bag.
I passed comment that their work is distinctively diverse, with each project having an individual look and feel to it, mentioning the stark stylistic difference between Give up Yer Auld Sins and Granny O'Grim, which are decorating the walls of the post-production suite. Other animation studios, such as Disney Pixar, also have a recognisable appeal to them, one which allows audiences to identify their work almost immediately. For Stacey, this is as a result of the own styles of the studio's founders and directors, styles that they can bring to the drawing board as well as their broad client-base, both at home and abroad, that require them to fit to their individual needs, and their wishes to be distinctive from other networks product.
As we passed through the office, besides the Emmys and newspaper clippings, the success of the animation studio could be measured by the merchandise that has been made as a consequence of their much-loved shows and strong fanbase among children. Stacey mentioned that he often forgets how unique it is to have paraphernalia like this, saying that "every now and then you see a kid playing with a toy and you think, I did that, or I remember rendering that". Often it's the most remarkable things, like this, that seem to humble you, and in the case of Brown Bag, their success is just that: remarkable.