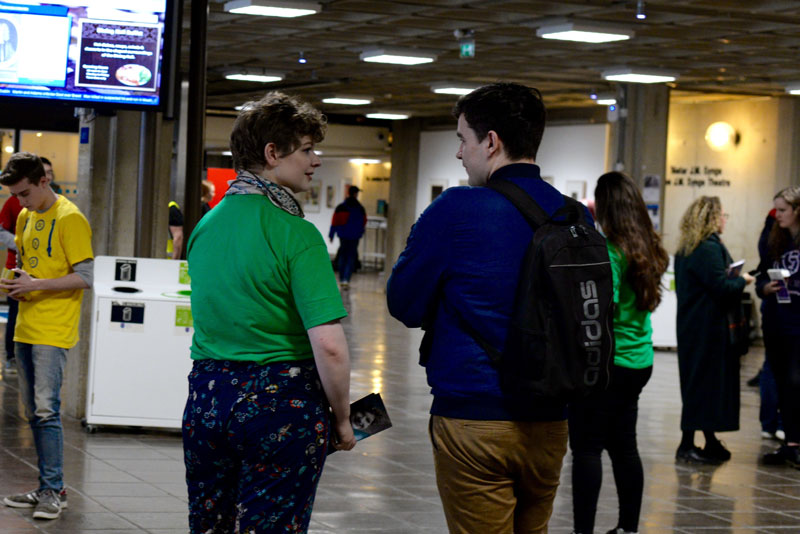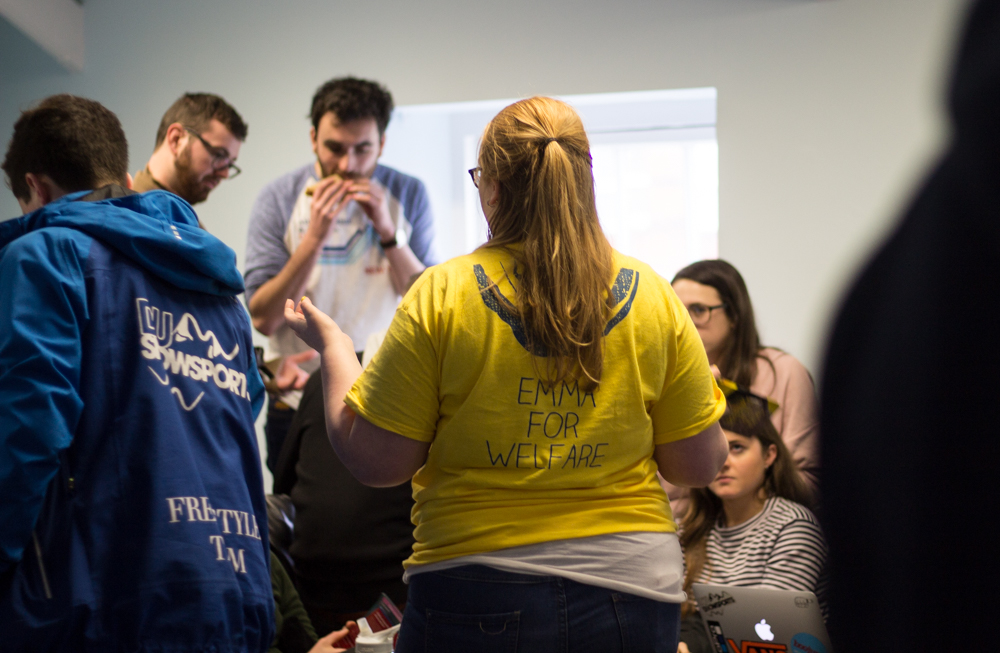 It makes sense, given that the welfare race is the most hotly contested, but the welfare candidates really are doing an impressive job at blanketing campus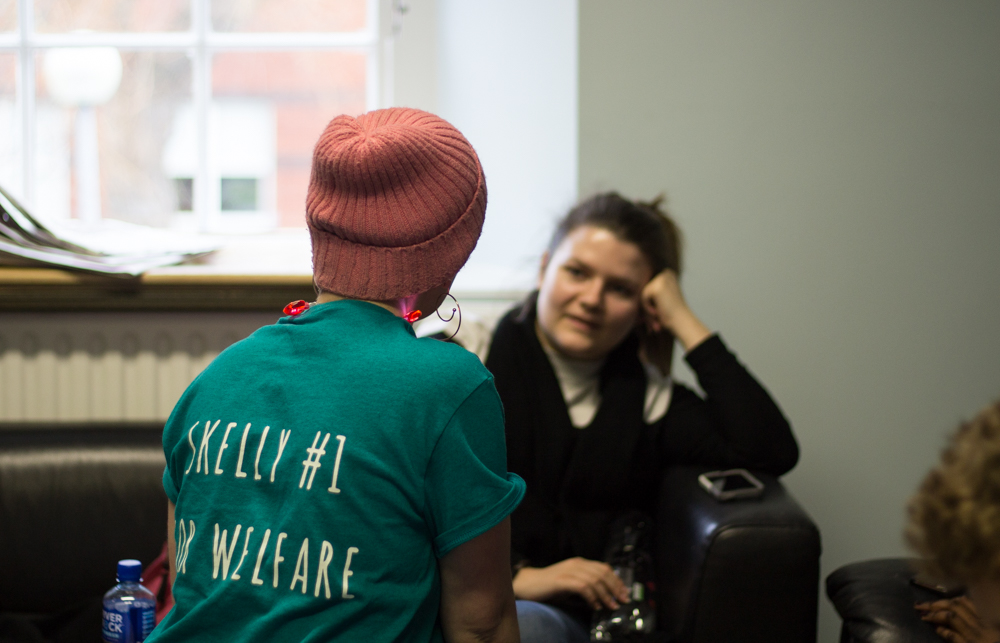 Over the last few hours, the welfare teams have maintained a strong presence in the Arts Block, despite the relative lack of students passing through.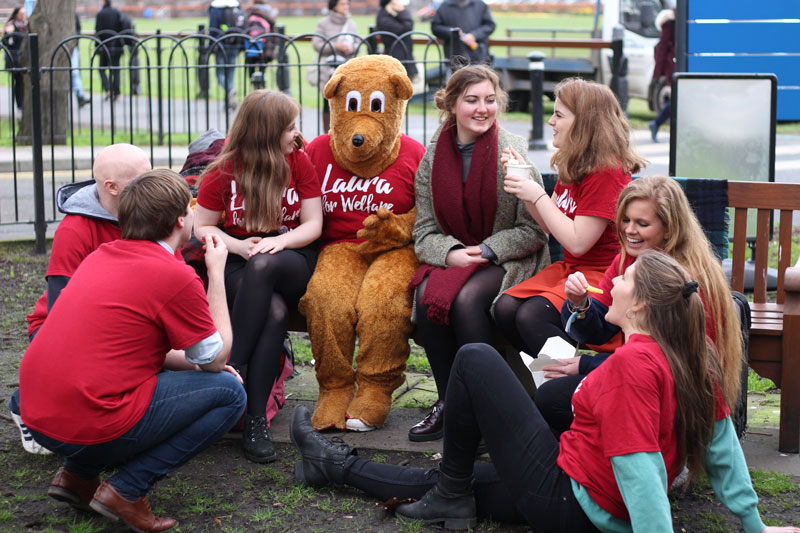 In that case, a quiet day today will probably be extremely welcome. With candidates back from their lunch break the in last 30 minutes, they've returned to canvassing. Grady's Teddy Bear's Picnic event is currently taking place in the physics garden, and Rachel Skelly's campaign video has just gone up on her Facebook page, outlining her manifesto points. Keane and MacPherson have also released statements on their Facebook pages outlining their stances on accommodation and student study spaces, respectively. Úna Harty is planning to hit up TBSI this evening after spending this morning in St James's and D'Olier St.

For Mallon, I feel he also did well in the circumstances, consistently turning to his key campaign point of accessibility. The most significant challenge posed to him was, of course, over the issues surrounding Tweets he made in the past, with host Conor Clancy asking him if students could trust him to deliver equality in light of his tweets.

Exactly. As for Keane, I think he performed well, drawing on his experience from SUAS and the union's Welfare Committee. I also think that his ability to answer the question from An Cummann Gaelach in Irish went down very well.

Which is concerning, given that this was the only event dedicated to pressing candidates on their commitment to diversity issues. His "mother" comment didn't go down particularly well, either, but he stuck to his core campaign theme of representation in other areas.

I think that the three candidates did fairly well last night fielding questions from the hosts, audience and twitter in the often heated environment of the equality hustings. Emmet had a mixed night for me, giving good responses on topics such as engaging LGBT students, but struggling when asked about his experience as a feminist.

And of course they're coming off a pretty demanding hustings last night, being pushed on their policies and emphasis on diversity issues. How do you think they fared?

Hi Charlotte. So today has been a quiet day on campus for all races so far, particularly the presidential race with Keane and Mallon both unable to campaign in the Arts Block and Hamilton today from 11-12. It's good to see that both of them are making use of a less than ideal situation by going off-campus, with Keane canvassing in TBSI and St James's and Mallon also out in the latter this morning.

With the candidates half way through their lunch hour, John Conway, covering the presidential race, is joining us now for some analysis on how the three presidential candidates are faring so far.

Úna Harty, the sole candidate for Communications & Marketing Officer, was also in St James's this morning. The University Times interviewed her in the lead up to the elections. You can see our analysis of her manifesto here.
We've got some updates on a few candidates' movements this morning. MacPherson concentrated on St James's, while Meabh Cullen canvassed in the Arts Block. Laura Grady is holding a "Teddy Bear Picnic" in the physics garden at 1pm, promising chats and teddy bears, of course. Meanwhile, McClean has just released a statement on his Facebook page outlining how he plans to increase support for Health Science students.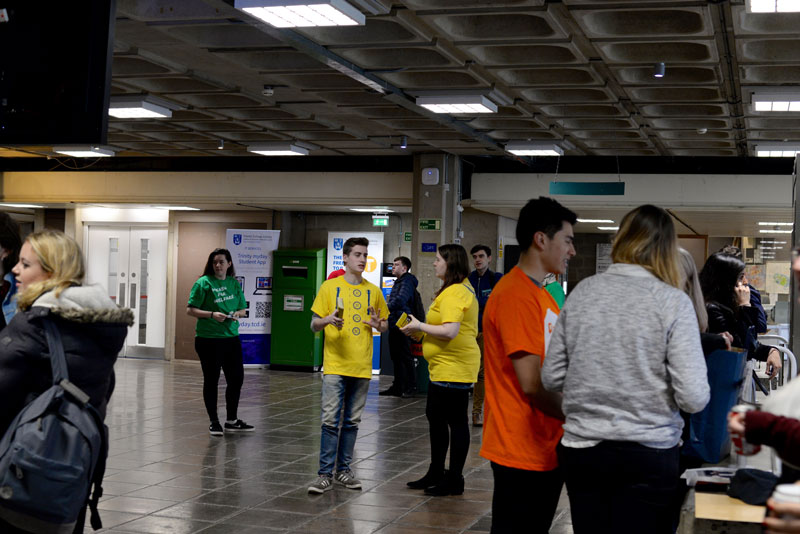 Although the candidates had a busy evening last night out in Trinity Hall, it is noticeably more quiet in the Hamilton and the Arts Block today with Keane, Mallon and Craig suspended from campaigning there between the hours of 11am and 12pm due to having broken campaign rules yesterday. They are, however, allowed to campaign off campus. Mallon and Keane have made their way to St James's and Craig had planned, last night, to focus his efforts on D'Olier St this morning during the suspension.

And right after hustings, many of the candidates and their campaign teams headed on to Halls for some more canvassing, no doubt making use of last few chances they have to reach students there. Presidential candidates Thomas Emmet and Bryan Mallon had strong presences there before hustings began, while Kevin Keane, also running for president, headed out after the event ended. Also there last night were welfare candidate Emma Purser and entertainments candidate Jonah Craig. As we previously said, some candidates are waiting until a little later in the week to head out, such as education candidate Alice MacPherson and communications & marketing candidate Úna Harty.

We're off to a quiet start for the last day of week one. Last night we saw the Equality and Diversity hustings which was tough on candidates and their policies but certainly less incisive and more measured than previous years.

Powered by LivePress