The only communications & marketing candidate this year, Úna Harty, has put forward an ambitious manifesto in which she aims to increase student awareness and bring the Trinity College Dublin Students' Union (TCDSU) shop up to date and improve communications using more modern mediums such as Snapchat and short videos.
One point on her manifesto aimed at achieving this is the introduction of infographic screens, with the hope of showing information that is appealing to students. Having already spoken with Colin McCabe, the Teaching and Learning IT Manager in Trinity, she states that she has been met with initial enthusiasm for the idea and has identified a number of existing screens in the Arts Block and other areas of College suitable for her plans. As a fallback, Harty has also put forward the suggestion of using a backlight behind the posters at the Arts Block entrance, to make them pop more.
The screens are the goal here, though, and, speaking to The University Times, Harty believes that students will pay much more attention to them, given that posters are only inanimate and screens will have movement, subtitles and possibly music.
ADVERTISEMENT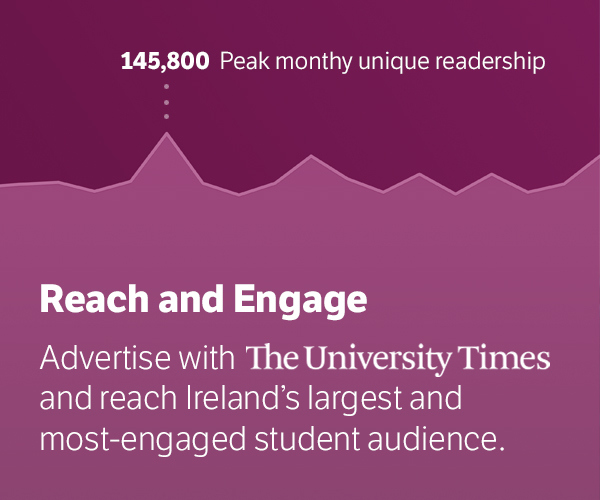 Harty has been involved with the Irish language since her first weeks in college, having lived in the Scéim apartments, and is now the TCDSU Irish Language Officer. Her manifesto is half in Irish and given her position she feels she has a solid grasp on "how the SU works with Irish". Because of her previous involvement with the language, she felt it was almost a given that Irish would feature prominently should she be elected. On the back of Éigse na Tríonóide concluding, she feels more could definitely be done by the union in supporting the Irish language week. She would also like to see the diary and wall chart return in Irish at the start of next year, as well as having the union website available in Irish at the click of a button.
Redesigning the TCDSU website is another key feature of her manifesto. Specifically, she takes issue with the fact that "very few people know it exists", and says she "wouldn't really want to be directing people to that website". The branding designed by the current Communications & Marketing Officer, Glen Byrne, has not been incorporated into the site. She highlights the fact that there are many useful resources on the site, such as the jobs portal, that aren't being used to the fullest extent because of the lack of publicity around the website.
Harty would like to incorporate a live chat feature into the newly designed site, offering students the option of contacting officers in an informal, easy-to-use and accessible manner. The current website was only redesigned two years ago, but a complete overhaul and redesign of the site has been called for by the union and Harty would like to make it more "app like", in line with current technologies.
In order to achieve many of her goals next year, Harty is going to need a strong team of capable individuals, and this is where the proposed Communications Committee comes into play. Modelled off the well established Trinity Ents Committee, the Communications Committee would have "kind of a tech role" and "of course there would be a design support role" too.
She would also like to make the jobs and accommodation portal more accessible, joking that she "wouldn't exactly swipe right on it on Tinder, like. It's just not good looking, like".
Increasing communications with IT Services is also on the agenda. The current Communications & Marketing officer liaises with IT Services twice a year, and were Harty to be elected, she plans on increasing this to at least once a month, if not every two weeks, which she deems "ideal". Harty acknowledges that "students live on the internet", and strongly believes that Trinity "needs to be able to give them that".
Harty also plans to begin designing a new app, one which will function more effectively than the current MyDay app, which is used by approximately 3,000 students at the moment. During the design phase of the new app, Harty also projects that the user base of the MyDays app will grow to 6,000 users next year. She believes that the creation of a new app, solely for Trinity students, will be very effective in cementing the union's involvement in modern technology, designed for students. Harty states her belief that the union needs to "get their foot in the door", with regard to modern technology if they are to fulfill their mandate and serve the students to the best of their ability. Such apps, however, have been promised by various union offers before, but have not come to fruition. Harty is cautious in setting a timeline for the app, stating that the design of an app is more of a strategic point, and that it is "not feasible" for someone to take on the task of creating an app in one year. Harty believes that by building from the ground up – growing the Communications Committee, improving relationships with IT Services and general modernisation – the stage will be set for its creation.
In her manifesto, Harty states her intention to upgrade and modernise the jobs portal during the redesign of the union's website. She emphasises that the new portal will feature job opportunities for all disciplines, including drama, science and engineering. This veers from the current portal which focuses mainly on job openings in areas such as business and law. Harty is focused on changing this, saying about students from other degree programmes that "they're in college for a reason as well".
On rebranding TCDSU shops, a very simple way, Harty suggests, of improving business could be to put sandwiches made in the union cafe into the shops. This would alleviate the long queues formed there during lunch time, and also entice more people into the shops. However, the shops are making considerable losses at the moment, and asked what she would do should they continue to do so, Harty says she would consider closing them, only after doing everything possible to make them profitable.
One of her proposals to promote College is to make short videos: "I think it's something as easy as making a template and throwing in your content, say these were the motions that were passed at council last night. Something as simple as that, or this is the sandwich you can get in the SU shop, it comes from the cafe."
Harty plans to use Snapchat to increase engagement and make the union "more personable" by making vlog-style videos, and, while this might be considered another way that the union could put information out there only for no one to read it, she is confident that incoming first years would be more than happy to add them.
On transparency – although she didn't use the word, because "it's been done to death" – she feels that the idea of ethical sponsorship is transparency, as well as the use of infographics showing you where your money goes, "people like to know where their money goes and that's the idea of the transparency there".
---
Maeve Claffey contributed reporting to this piece.