Trinity College Dublin Students' Union (TCDSU) council conferred honorary membership on Trinity's Academic Secretary, Patricia Callaghan, for her "outstanding contribution" to student life.
Honorary membership is conferred only very rarely by TCDSU, and only several people have ever received the honour in the history of the union.
Callaghan, as Academic Secretary, is responsible for overseeing the administration of academic affairs and the implementation of academic policy. They also work with and advise the Vice-Provost on academic policy and academic governance.
ADVERTISEMENT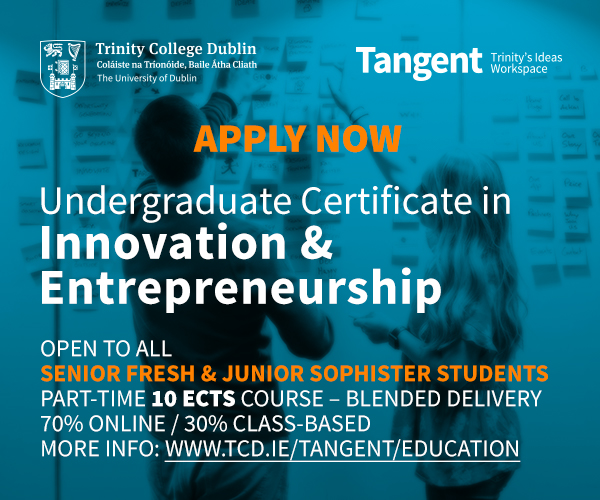 Speaking at council this evening, TCDSU Education Officer, Dale Whelehan, praised Callaghan's work at University Council and on the Trinity Education Project. From membership of the various strands and committees involved in the project to her work with the Trinity Access Programme (TAP), Whelehan said she had "always upheld the values of students as equals in the learning environment".
Her work on the Trinity Education Project, he said, has saw her involved in the development of an internship scheme for students, as well as the progress involved in the various strands of the project.
"I can assure council that the Academic Secretary has always had the student's interest at heart when voicing her opinions on these committees", Whelehan said.
Speaking to council after receiving the award, Callaghan, whose birthday is today, said it was an "honour" to receive honorary membership.
Working with Whelehan this year, she said, was "one of the most pleasurable things I've done this year".
Referencing the employability report she's currently working on, Callaghan cautioned that Trinity is in danger of "falling behind in our engagement with employers and industry".
Other honorary members of TCDSU Council include former senior lecturer Patrick Geoghegan, former Dean of Students Amanda Piesse and former Senior Tutor Claire Laudet.
Whelehan listed Callaghan's numerous achievements and involvements with TCDSU, pointing to her review of the tutorial system as well as a her work to help improve the Careers Advisory Service. In the past, he said, Callaghan also supported TCDSU in carrying out an external review of the union.
Callaghan was also involved in an audit of Trinity's relationship with Israel and Palestine, following "outcry" from the College community, he said, as well as her work on the Swine Flu Response committee.
Whelehan has also sought her advice in the development of his student partnership proposal, and praised her work in ensuring that "the quality of the teaching matches the expectations of the students being taught".
Honorary membership was introduced in 2013, following a change in the TCDSU constitution.
Correction: 19:27, March 7th, 2017
An earlier version of this article incorrectly stated that Amanda Piesse is a former Senior Lecturer. In fact, she is a former Dean of Students.