Sitting across from the two final-year English students Laura McCormack and Jenny Moran, I jokingly propose, "the faces of militant feminism", as the camera snaps their photo. They laugh, but they certainly mean business. Their work to set up a feminist journal that aims towards more inclusivity in representing all types of oppression is highly anticipated. The launch party in the Global Room, this Monday, March 6th, will perpetuate the spirit of discussion and inclusiveness integral to their project. The journal, called Nemesis after the Greek goddess who punished the gods for excessive pride, seems to be filling a gap in the market. To my inquiry about what the journal's establishment means for the university as a whole, Moran is quick to assert its importance: "I think it's a really cool platform because there seem to not be many journals of the like in other colleges around Dublin, where our thoughts and opinions can be compiled into one substantial piece." It's clear that the the two women work well together – McCormack is quick to support, noting that she thinks "the combination of the different sections within the journal, gathering together various styles of writing into one final, physical piece with an overarching feminist focus will be a really good asset to have on campus".
McCormack notes that this is not Trinity's first feminist journal, but it certainly is taking a new angle. One such journal ran in the late 1990s under the name Harlot. However, they are clear in establishing that it was more closely focused on body positivity and sex positivity, "while the politics were a bit lacking". The two have perceived this gap in the market, so to speak, throughout their studies at Trinity alongside the rapidly changing face of modern feminism. Engagements with popularised or one-dimensional feminism have left McCormack and Moran feeling frustrated. When I ask whether there was a specific impetus for Nemesis, Moran explains: "Without trying to sound too divisive, I've found many engagements with feminism to be lacking. We really wanted a platform where intersections would be focused on more convincingly than a lot of what we have witnessed in our university career". They drive this point home. Their efforts are unambiguous, driven by their desire to carve out a space for legitimately diverse discussion. Moran further recalls one occasion in which herself and McCormack found themselves at a "diverse" panel that comprised of all white, middle-class women. While providing a space for this kind of feminism to be discussed is indeed important, it is these instances of misguided diversity that Nemesis hopes to address and overcome.
McCormack couldn't agree more, observing that "it seems like today, a lot of people opt for a really convenient view of feminism, a kind of choice feminism, engaging only with people who look like you and not actually analysing the extent of oppression". Moran nods vigorously. "Gender can't be considered in a socio-political vacuum." She gives the example of Hillary Clinton's "corporate, 'lean in' feminism", a pertinent point in accordance with the journal's mission of avoiding mainstream feminism, the kind you find on t-shirt slogans.
ADVERTISEMENT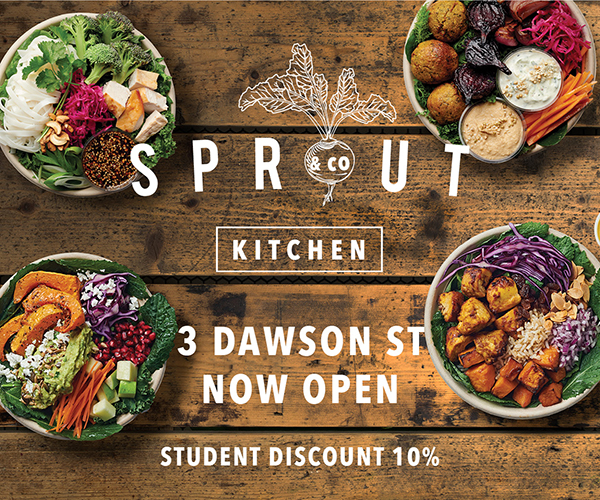 Nemesis's initial presence was online, via Facebook, where it purported to be a foundation of intersectionality. I ask if this is still the journal's manifesto, to which Moran clarified, "As we developed our goals, we had some qualms with this label. We didn't want to define our engagement by difference—trying to firmly name our feminism." She explains that the term was indeed formalised by a black, female theorist, so in using it they felt it became appropriative. She notes its validity as a theory, but that "intersectional" is a term that's been "largely co-opted". Instead, McCormack and Moran thought it fitting to give Nemesis a more flexible philosophy – "striving for an intersectional platform".
The journal's goal of diversity welcomes a wide range of writing styles and creative projects, from both within the Trinity community and beyond. "We really wanted it to allow space for a wide variety of opinions and voices. It's made up of three sections, the first is academic, the second is made up of features, opinion pieces, and interviews, and the third section is creative—with poetry, a play, student photography and artwork", McCormack says. This something-for-everyone approach coincides neatly with the feeling of inclusivity Nemesis works to impart. McCormack and Moran stress that this project is not one of self-indulgence. "The goal is that the issues we spotlight are broad, and hopefully diverse enough for people to realise that an engagement with feminism means more than just typical, standardised views", McCormack explains. Moran chimes in: "Feminist narratives can often be pandering. We try to self-critique and develop our own politics in a positive way, moving away from false-inflation of experience, and searching for adequate ways to expand our world views."
McCormack and Moran present a composed and articulate face of what looks to be a successful first print. Behind them is their enthusiastic team comprised of Sophie Fitzpatick, Imaan Bari, Aoife Datta, Ellie Vardigans and Nicole Lam, with layout by Oliver Dean. As the two founders are swiftly approaching their final days at Trinity, I ask what they have in mind for the future of Nemesis. Moran, clearly coming to terms with this herself, puts it simply: "Right now we are trying to get people to know about us as much as possible so that when we leave we can pass on something established to them, and really just something that we are proud of."
---
The first issue of Nemesis will be launched on Monday at 6.30pm in the Global Room.