Trinity is primarily a place of learning. Every day of the week, students and staff walk through its gates, with the majority leaving again in the evening. A privileged few, however, get to call Trinity their home. For some, this experience lasts for only one academic year. But for others it can be decades. Many of the buildings on this campus are dedicated halls of residences and the rooms play host to a cycle of tenants every year. Although students come and go, Trinity's academic staff can live in rooms for as long as they wish if they are elected to fellowship.
Dr Philip Coleman, a lecturer in the School of English and current Assistant Junior Dean, resides in Goldsmith Hall. Coleman was an MPhil student in Trinity in 1995 but only took up residence in 2015 upon being elected to fellowship. Speaking to The University Times by email, Coleman states: "I think of it as a kind of village within the city where I happen to live just now, and I feel very fortunate to be a part of the community as a resident."
He believes that although it is sometimes hard for academics not to bring their work home with them, living within such close proximity to work does not directly affect that. Coleman thinks that living in Trinity, and therefore in the centre of Dublin, means that he tends to go out and do more than when he lived in the "sticks". In some ways, living in Trinity has actually helped him to improve his "work/life balance".
ADVERTISEMENT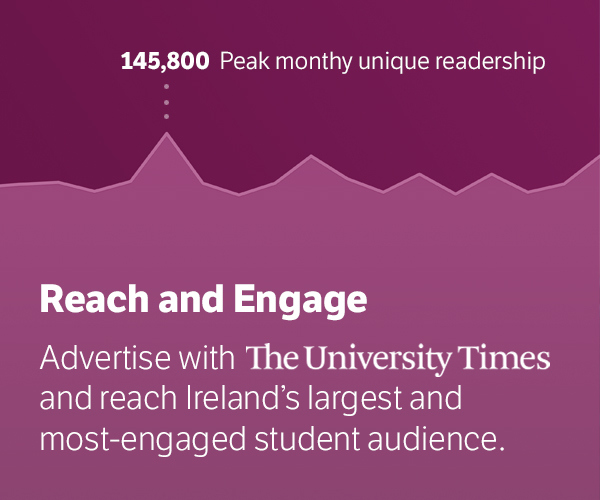 It's really important that we have a tradition of academics living on campus as well as students
While many on campus are currently affected by the noise of the Luas works, it is the sound of the DART that those in Goldsmith hear. Coleman, however, has grown used to the background noise which, fortunately, stops before midnight. "Over the past year or so", he explains, "I've actually grown to like the sound of the last DART pulling out of Pearse Station late at night, not least because I sometimes had a two-hour door-to-door commute by train from Heuston Station to Portarlington before I moved into Goldsmith in 2015".
For Dr Emma Stokes, the current Registrar of Chambers, lecturer in the School of Physiotherapy and a former junior dean, "work/life balance" is not an issue. Having lived in New Square since 2012, after stints in both the Rubrics and Goldsmith Hall, Stokes leaves campus for work in St James's Hospital every day and looks forward to coming home to her rooms. For Stokes, similarly to Coleman, it is the sense of community that makes Trinity such a unique living environment. "I think it's the staff and the students but I also think it's the housekeeping staff", she explains. "I think it's the security staff. It's the grounds and gardens staff. It's the fact you can't walk from one end of campus to the other without bumping into somebody that you know." While the student community on campus changes depending on the time of year, for staff, this a permanent home. Nor does this seasonal change interrupt the permanent residents. Stokes explains that "it's a cycle, the ebb and flow of an academic community and an academic year".
Demand for accommodation in the city centre is immense and, as a result, Trinity is never empty. "In the summer, we have a constant stream of visitors both from Ireland and internationally. We become an entirely different community", she explains. Despite staff members never really having the opportunity to get to know their student neighbours, Stokes often leaves flowers out for the students if she is going away and they are likely to die in her absence.
During her time as junior dean, Stokes had to spend the night of Trinity Ball patrolling the campus. The excitement that built on campus on the evening of the ball, however, meant that this was an enjoyable occasion. The "bar was low" for incidents on the night, and Stokes smiles as she explains that "you define success in different ways, depending on what your perspective is". Stokes notes that, when living in a community of students, with the constant vibrancy this brings, "it's really important that we have a tradition of academics living on campus as well as students". Speaking of her fondness for living in rooms, Stokes remarks that "at some point, I am going to have to tear myself away, but not right now".
Nicholas Grene, Prof of English Literature, has not managed to tear himself away from rooms. Grene came to Trinity in 1965 as an undergraduate and, although he did not get accommodation straight away, he was eventually allocated rooms in the Graduate Memorial Building (GMB). Being able to ask "would you like to come up to my rooms for a coffee?" made socialising a lot easier, as it still does for students today.
In 1930, the Earl of Iveagh funded a bathhouse for the young gentlemen of the College. Grene recalls descending the staircase in his towelling robe "in a very grand way" to have his bath. Following this, he would go to the co-op shop in Botany Bay to buy an egg for his breakfast, which he ate with his Bewley's coffee. Speaking to The University Times, Grene remarks with a strong sense of nostalgia that: "I've never lived in such luxury in my life."
Grene did not attend Trinity Ball during his time as an undergraduate, but he was able to wander down from his rooms on campus: "I remember particularly the dawn, as it was breaking up, you know, seeing this extraordinary selection of people, all in their grand dinner jackets and ball gowns looking so bleary-eyed and unsteady. I remember seeing people dancing a reel in Front Square at six in the morning."
Despite being a student in the 1960s, Grene was relatively tame and didn't partake in the drug culture of the time. Instead, it was instances of sleepwalking which almost landed him in trouble. He found himself in Front Square one morning with a hand on a lecturer's red sports car, only coming to when his hand hit the metal.
Being a student and living in rooms can often be liberating. Due to the central location, all the treasures that Dublin has to offer are right on your doorstep. As a member of staff, working and living in the same place can be convenient, however, Grene admits that "sometimes it got a little bit oppressive". He believes that living within the walls of Trinity sometimes brought with it "a sense of living on top of the shop". Yet, even in times of frustration, he feels that it is "an immeasurable privilege to live in this space, whatever college is doing with itself".
In his capacity as Pro-Chancellor, fellow and as a former lecturer, Dr Edward McParland lives in New Square. Speaking to The University Times, McParland explains that the building he now lives in was formerly the department of history of art and the office of the faculty of arts. "When this building was brought back to residents with the opening of the Arts Building in '78", he explains, "I moved into these very rooms and I've been here since then. They have been altered once in the last few years". McParland believes that living on campus allowed him to be in the heart of the College, in close proximity to his work and the institutions he needed to complete his research. Although some staff may find it oppressive to live on campus and thus so close to their workplace, McParland remarks that two hours a day of commuting over a teaching life of 40 years is quite a lot of time. It therefore benefitted him greatly to live on campus. Even though fellows live near each other, interspersed with student residents, there aren't many communal social requirements according to McParland. "On a whole, there's a privacy which I think there has to be when a lot of people are living on top of each other", he explains.
It's really wonderful and that, after 40 years or however long it is, that continues to refresh and excite me
Student neighbours, alongside staff neighbours, understand the mutual respect required when it comes to noise. McParland reveals that he has been disturbed by student noise only once or twice since he moved into the College in 1973. When asked about the nosiest event of the year, Trinity Ball, McParland replies that he loves the ball due to the fact he has "the best sleep of the year". Every year, he locks his door and says "thanks be to God that I don't have to be at it".
Although McParland prefers not to engage with the sometimes overwhelming night that is Trinity Ball, he has been an onlooker of some unforgettable moments in Trinity's history, including the drama that unfolded on Friday the 13th of July 1984. This was the night "the Dining Hall went on fire". McParland was on hand to help with the emergency and recalls that " things were salvaged and stored in these rooms and in other rooms". He recounts spending "24 hours helping" with the crisis. Even though there have been several exciting episodes in Trinity over McParland's career, it is the everyday that still resonates with him: "You're terribly lucky to live in such beautiful surroundings. It's really wonderful and that, after 40 years or however long it is, that continues to refresh and excite me."