The two candidates running for President of Trinity's Graduate Students' Union (GSU) have expressed the importance of improving how the union interacts with students and voiced support for a proposed national postgraduate officer. In interviews with The University Times, the two candidates, Shane Collins and Sibeal Conway, outlined their plans for the union in a time of increased funding uncertainty in higher education and as the number of international students in Trinity is steadily increasing.
The elections, the campaigns for which began on Monday, will see voting close at 4pm on Friday, April 28th. The elections typically have a much lower turnout than those of Trinity College Dublin Students' Union (TCDSU), and both candidates spoke of the importance of focusing on engagement with Trinity's postgraduate community.
Both candidates have experience with Trinity. Collins is the current President of the GSU and a founding president of the Trinity-affiliated Marino Institute of Technology Students' Union who studied for a master's in politics and public policy and Conway, who is currently studying for a master's in management, has served as a class representative as both an undergraduate and a postgraduate in Trinity and was involved with Trinity's societies in her undergraduate years.
ADVERTISEMENT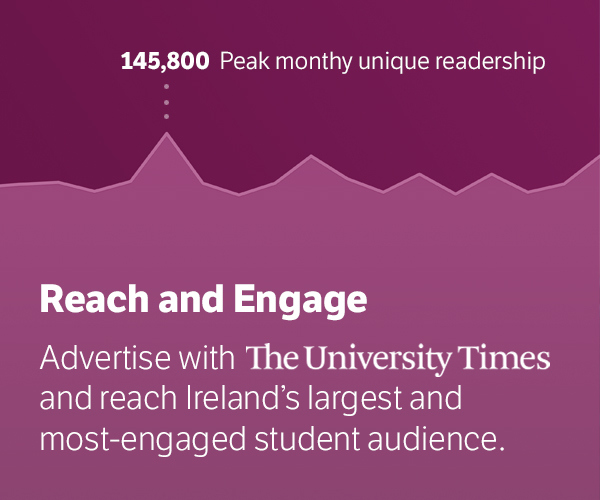 Both the incumbent and outgoing presidents of the Union of Students in Ireland (USI) committed in March to finding the funding to introduce a full-time vice-president to represent postgraduate students
For Collins, the biggest issues facing Trinity's postgraduate community in the coming year are those of an increase in fees and costs, the need to support the growing number of international students and securing sufficient resources for the union. Collins noted that, despite the recent news that postgraduate students are now eligible to apply for maintenance grants, if a student's income is slightly above the threshold "then it doesn't matter". Referencing strategies both from the government and Trinity to increase international student numbers, Collins stated the importance of having "appropriate resourcing of services", citing the fact that international students are four times more likely to use College supports compared to domestic students. Collins stated that he had met with the Department of Education and Skills to emphasise that "this is not an issue that can be confined to the Higher Education Institutions", given how much money international students contribute to the economy.
Collins also emphasised the importance of ensuring that the union remains sustainably resourced, given that the union's funding arrangement with the College's Global Relations Office, which sees it get €30,000 a year, is due to expire after this year. "If that wasn't to be renewed, I can say for certain that we wouldn't be able to operate at the same capacity as we are right now", he stated.
When asked what the biggest issues facing these students would be in the coming year, Conway cited the "existential crisis that a lot of people in their 20s have" after completing a master's or a PhD.
"You feel so educated yet you feel like you're quite lacking direction", Conway stated, citing the experiences of those she knows that have experienced "the struggle of going into working life". Conway would like to "mitigate any huge problems that PGs will be feeling in terms of that", and make the transition from college to working life "as easy as possible".
Conway also cited a lack of communication between the GSU and PhD students, who she stated "feel like they come in and do their work and come home". Using a three-point plan under the headings of "inclusion, diversity and support", Conway wants to find a way to integrate postgraduate students onto the campus "in same way undergraduates do so seamlessly".
As part of this, Conway wants to introduce initiatives targeted at international students, such as a buddy system and optional courses in topics like English and local culture. Conway states that a lot of her ideas are geared towards international students, as that's "where a huge amount of Trinity's revenue comes from" and "so many don't feel as integrated". Citing her own experience of getting involved in societies as an undergraduate, Conway wants to "facilitate the societies that are more geared towards undergraduates to encompass postgraduates too".
Collins noted the importance of societies also, noting that the union acts as both an advocacy group and a social one for postgraduates. "We've linked in with a lot of societies this year to try and do that", Collins stated, "so that's something I think we can continually look to develop further".
Collins also noted the disconnect between certain cohorts of students and the union. The union, he said, has been working on a strategy to look at how best to engage with students who work online, who are part time and who are in the health science and engineering, maths and science faculties, to be presented back to an AGM in October. He also described improving structures for research students as "key" to improving engagement with the union. He stated that, when he ran for election last year, a lot of research students asked him why they should bother voting. In response, the union is seeking to introduce a reformed representative structures within the GSU for these students, to be voted on at an EGM at the end of May. He added that this year saw "six of seven" PhD students on its executive this year, stating that this is "unheard of in recent years".
For Collins, "engagement starts at the rep structure", and he wants to ensure that the roles of the union, such as that of class representative, are clearly communicated, and available online. Collins also noted that the timing of elections is "not ideal", given that a lot of students are preparing for exams, and that he would like to bring back the election period to March.
For Conway, the key to increased engagement is "updating the current way that things are run", and giving people incentives to get involved, as many voting "won't reap any awards if they're not going to be here next year". Incentivising societies and the buddy system are part of making postgraduate life work in a way that resembles that of undergraduates, which is "the key to having people more involved".
Conway also wants to introduce a knowledge sharing environment where PhDs can "exhibit their work on rolling basis" to "share the huge wealth of knowledge that postgrads have". Noting the way that postgraduate students can see each other every day but a situation can arise where "nobody is friends and nobody interacts", she states that the issue comes from a "lack of integration into societies" "where problem lies in terms of postgrads feeling outside the community".
Both candidates stated the importance of working with Trinity College Dublin Students' Union (TCDSU). For Conway, "the number one aim of both unions should be to make people's time in university as enjoyable as possible". Postgraduate and undergraduate working together, she stated, is "the only way that can be achieved".
This year, both unions signed a memorandum of understanding, clarifying and solidifying their relationship, which Collins stated has resulted in a situation where, with common projects, "it's just taken for granted now that we'll work together". Collins noted the importance of continuing to work "very closely" together, as well as introducing new ways for the union to collaborate, such as seeing if PhD students could help with the work of the union's lobby groups and seeing if undergraduate students are interested in the conferences or research showcases that the union's put on.
Both the incumbent and outgoing presidents of the Union of Students in Ireland (USI) committed in March to finding the funding to introduce a full-time vice-president to represent postgraduate students. Collins said that he has met with Michael Kerrigan, the union's incoming president, and is "convinced that he is committed". From speaking to all involved, Collins is "sure they mean business". Conway stated that the position is something she "definitely would support", and that if postgraduates felt it was "something that they wanted" she would "go above and beyond".
The campaign will hinge on the differing perspectives of the candidates on the main issues facing postgraduate students
Collins noted that having such a position would help the union on issues such as research funding and maintenance grants, and could help with national campaigns on issues like the mental health of postgraduate students. Conway noted the importance of people "sticking up for their word" and stated that it was "really important everyone's views are accounted for and heard" on a national level.
While both candidates talk about internal and national issues, both place a different emphasis on these parts of the role. "I am not making huge sweeping statements that I'm going to do this, that and the other or abolish fees or that sort of thing, because that isn't in my scope", Conway stated, referencing her focus on supporting international students in Trinity and making sure that "everyone's views are accounted for and heard" within the College community.
For Collins, "looking at education the way I do, everything is interlinked". "If you have a student coming in looking for the postgraduate hardship fund, and they would have qualified for a postgraduate maintenance grant back in 2011, well the reason why they're having to come to you for that money is because that external money is no longer there."
He notes, however, that he is re-running partly due to the work he feels is left to do in areas like the 1937 Reading Room as well as making sure postgraduate issues, such as mental health, are being discussed on a national level.
The campaign will hinge on the differing perspectives of the candidates on the main issues facing postgraduate students and how they use these to leverage typically disengaged graduates to vote.
---
Voting for GSU President and Vice-President is open until 4pm on Friday April 28th.