This summer's Launchbox accelerator programme broke records for the number of all-female teams taking part. One initiative might have had something to do with it.
Building steadily from 2015, where there was only one female team out of a total of eight, to the following year when there was two out of fourteen, and finally coming to this year where there were three teams out of 10 founded by women.
One of the biggest issues facing women in the startup industry, research has found, is the lack of available mentors or advisors. To tackle this, Launchbox introduced the Women Who Wow mentorship programme, which aimed to support young women on their journey to starting a company. This initiative involved matching women in industry to female students as they went about starting up their own businesses, providing them with expertise, access to a network of contacts, support and encouragement.
ADVERTISEMENT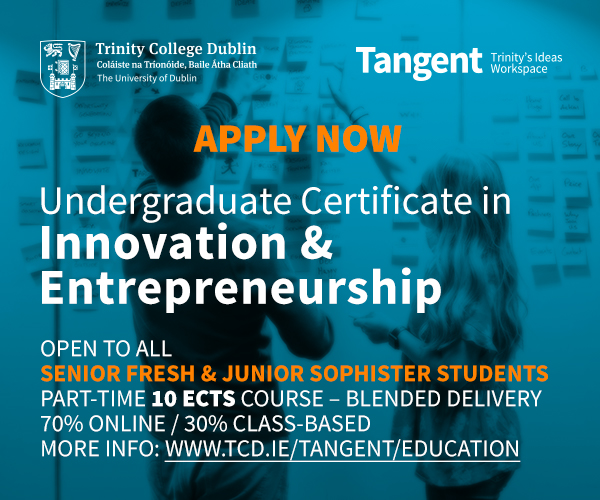 While this programme is local to Trinity, the scope of the issue appears to go beyond the gates of Front Arch and the imbalances may have deeper societal roots than just in the culture of the College. Aisling Byrne, from female-led start-up Nu, links the lack of women in startups to the wider web of issues in Irish society and its history of women in the workplace: "I think it is just the hangover of just a generation or so ago where women would give up their jobs because they had a family or they got married, and I think it is so easy to forget that it was only forty or so years ago."
"Sometimes, when people see a woman…they have lower expectations of you and are quick to dismiss you", explains Kmla Sharma in an email to The University Times. Sharma is one of the founders of Ekho, which took part in Launchbox this year. Byrne also found it frustrating to be always referred to as a "female entrepreneur". She emphasises: "Whenever I'm at events…I'm never just an entrepreneur." The inequality is indisputable, but is the Women Who Wow initiative addressing the problem at its root or is it merely treating a symptom of something larger? Does the issue of underrepresentation arise from a lack of mentorship or does it stem from the public preconception of the ideal or typical entrepreneur?
When talking to female entrepreneurs about their experiences in a male-dominated environment, many had anecdotes that revealed the general attitude towards women in business. "I remember once being interviewed by …[a] leading Irish newspaper" Vivienne Williams, CEO of Cellix, a biomedical research company, tells The University Times, "and the guy on the phone was asking me about entrepreneurship and then he said to me, 'So Vivienne do you mind me asking your age?' and I said why, and he said 'because you sound like you're about 12', and I said, 'Oh you know what they say, a woman that will tell you her age will tell you anything' so I left it at that and didn't give him any more information. But those aren't the kind of things that a man is going to be asked".
Alison Treacy, Programme Manager at Launchbox, had similar experiences at the start of her career. In an email to The University Times, she recalled "Sometimes it would be tricky being young and being female at big events or conferences that we ran. I would often get mistaken for a PA or receptionist."
Women in business are at risk of not being taken seriously as they are considered, in some cases, to be a token presence. At certain events where there is a mention of the "gender balance in the room", explains Byrne, she doesn't feel as valued, merely a "woman who is going to fill [the] gender quota". Sharma identifies with this problem. "They don't take you seriously, and sometimes you may need to work harder to earn someone's respect, which is a ridiculously frustrating concept." Yet despite the negative incidences, do all women in enterprise share this view?
Speaking to The University Times, Sarah Williams, an official mentor at the Women Who Wow programme, acknowledges her two conflicting views on the matter. On the one hand, she was very excited to throw herself into the project, but on the flip side was also frustrated that we are "still having this gender conversation". "Is this something we still need to be putting a focus on?", she said.
Claims that women struggle in entrepreneurship are very topical today, but there is an argument for the fact that running a startup is difficult regardless of your gender. "To be honest with you", begins Williams, "I get frustrated when I hear oh 'you know it's so tough for a female entrepreneur'. Quite frankly I think that is rubbish , I think it is tough for any entrepreneur, whether you are male or female and personally I don't think it matters. To be blaming it on the fact that you are a female is not going to help you, you need to toughen up and get on with it." Williams's comments reflect concerns that often dominate conversation around gender quotas and whether, instead, it is regressive to view industries and people through the lens of gender.
"Females may cite that the lack of that mentorship doesn't help them to drive things forward", continues Williams, "but you also have to take the opportunities that are presented to you. It is there, those networks are there and Enterprise Ireland will help in any way they can, so if they don't take advantage of it then that is their own fault. There is nobody to blame but themselves and they can't just say 'well I'm a female so I couldn't possibly have brought it forward'. The facilities and networks are there, it is just a matter of taking advantage of them."
So who is a typical entrepreneur and what characteristics do people think they need? The University Times spoke to Trinity's Prof Paul Ryan, a business professor who lectures on the characteristics of an entrepreneur. Studies over the years describing people's perception of entrepreneurial characteristics reveal some general stereotypes. People consider them to have a nose for opportunity, they are seen as more aggressive in nature than the average person, they are very competitive and all of these are typically associated with the alpha-male. This profile of an entrepreneur is not seen as being compatible with the average female personality. Ryan explains that, for businesses to be successful, this ideal entrepreneur is "incorrect" and falsely profiled.
"First and foremost good managers tend to be compassionate, caring and non-aggressive, and entrepreneurs need to be good managers." He points out that businesses need "somebody who can delegate and women are much better at delegation than men". The startup industry, therefore, seems to suffer from the same stereotyping as hundreds of other jobs – an issue that predominantly affects women. From Gordon Gekko to the Wolf of Wall St and, of course, Donald Trump, these icons of masculinity in business dominate popular culture.
"We condition boys to be competitive and there is this fallacy that entrepreneurs need to be competitive but what they need to be is understanding of competition", Ryan says.
The mistake many young students make is comparing themselves to the model business tycoon and letting it deter them from pursuing their ambitions. In order to encourage more women, and men, to develop their ideas and start businesses, it seems we might need to begin changing our perspective of what it actually means to be an innovator and entrepreneur.