Today's March for Choice has drawn thousands of people from across the country to Dublin, calling for a repeal of the eighth amendment. Students, politicians and ordinary people are taking to the streets today to how their support for an issue that has dominated debate in Ireland for years.
This year's march is particularly significant. For the first time, pro-choice activists have a clear date for a referendum, with Taoiseach Leo Varadkar promising a vote on the eighth amendment next May or June. Students have played a crucial role in the debate about abortion rights in Ireland, something that is unlikely to change as a referendum draws closer.
The March for Choice has grown in numbers in recent years, as the campaign to repeal the eight amendment has become a central issue for students and students' unions. The march this year will be the last before a referendum and will crucial in displaying the upsurge in support for the repeal movement.
ADVERTISEMENT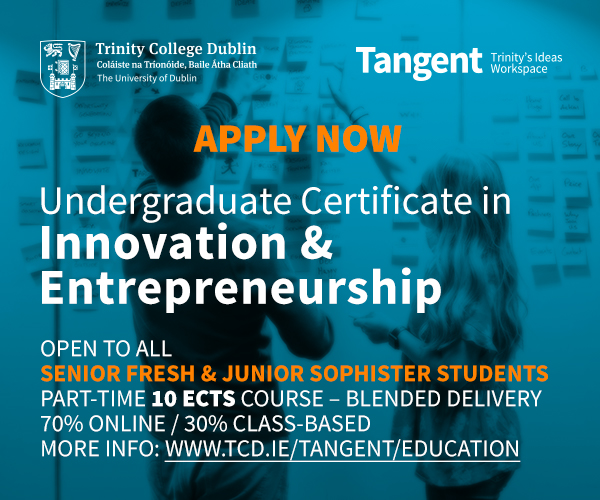 The University Times spoke to leaders within these organisations, both student and otherwise, about why they're marching, and they have put such an effort into bringing members of their institutions to Dublin today.
Taking Control of my Body

"

I am marching because I believe it is a basic, fundamental human right to have control over your own body. As a woman of child-bearing age it frightens me that the decisions that can be made about my body, whether I chose to remain pregnant or not, are entirely based on an ill-thought out and religiously driven amendment to Bunreacht na hÉireann, made back in 1983. I have the "freedom" to travel to access reproductive health care in another state, but that is entirely dependent on my personal financial circumstances. And if I chose to remain pregnant, I am concerned about how the eighth amendment affects my right to consent during my pregnancy, and what procedures will be authorised without my consent or even my knowledge. The health and well-being of the pregnant person must always be paramount, and the eighth amendment does not ensure this. It leads to legal and moral ambiguity, and it does not trust us to make our own choices about our own bodies and health care, for whatever decision is right for us.

I am marching because I believe the eighth amendment must be fully repealed, not replaced, and that we need to trust pregnant people to make the right decision for their own lives.
—
Annie Hoey, Coalition to Repeal the Eighth, former President of the Union of Students in Ireland and The University Times columnist
Ending the Eight Amendment's Legacy

"

Access to choice has been a fundamental cornerstone of the student movement for over 25 years. The eighth amendment has hung over our students, their families and every woman in Ireland since the day it was signed into law, and finally we're within sight of its repeal. It has never been more important than now to go marching for choice. This march will send an undeniable message to politicians in Leinster House and to every home in Ireland that the people want repeal, and nothing short of a full repeal.
—
Kevin Keane, President of Trinity College Dublin Students' Union
Our Time is Now

"

The people of this country need to realise that their time is now. These next few months are so vital and we have the ability to make history here, to change people's perceptions of Ireland and its archaic views. We need to rise up and show the world that we can prove ourselves once more – that we were not a country that left its LGBTQ+ citizens behind, and next, that we are not a country that leaves its women behind. I want to speak to people from other countries and not be embarrassed by my nation's laws, by my nation's pure disrespect towards people who can become pregnant, or by my nation's obsession to entangle a violation of basic human rights within its constitution. I am marching because by adding my voice to the cacophony of chants we, as a nation, can shout a little louder in the hope that Leo will come to his senses in that early-morning-rising brain of his.
—
Úna Harty, Communications and Marketing Officer of Trinity College Dublin Students' Union
Time to Trust Women

"

I would invite and encourage all UCD postgraduates to attend the March for Choice this Saturday. Following an executive decision by the UCDSU president, information regarding costs and access to abortion services was removed from the original "Winging It" freshers' handbooks. People have a right to know this information and not to have it hidden. It's time we trusted our women. That trust must include the information needed to make fully informed decisions; whatever the matter. I would also extend this invitation to the wider student community including alumni.
—
Niall Torris, Graduate Officer of University College Dublin Students' Union
To Show We Care

"

Cork people have been campaigning for choice for as long as there has been a campaign, and we are bringing over one hundred passionate pro-choice Corkonians to the March this Saturday. We want to make it clear that Cork cares about choice for pregnant people!
—
Kathryn d'Arcy, Spokesperson for Cork for Choice
Showing a United Front

"

I think the march is important because it shows that this debate does not exist in isolation. It is real. There are real people being wronged by this law – like the 12-a-day who flee the island in fear and shame. It's really important that we come together and show a united front, to tell the government that change is not just wanted but needed and to offer solidarity to those suffering because of the eighth amendment.
—
Alice MacPherson, Education Officer of Trinity College Dublin Students' Union
Ensure We Finally Have a Vote

"

I have been actively engaged in the Irish pro-choice movement for many years, ever since I was taken to court and threatened with prison as a Trinity College Students' Union officer back in 1989 for giving out information on abortion. I believe strongly in the need to repeal the eighth amendment, to ensure that we can legislate for legal abortion in Ireland and meet the real reproductive health needs of women here. I will be marching on Saturday, as I have marched every year for nearly three decades now, to add my voice to the growing movement for the legalisation of abortion in Ireland and to ensure that the referendum the Taoiseach seems to have committed to holding in 2018 offers us the chance to repeal the eighth.
—
Senator Ivana Bacik
The Law is Dangerous and Irresponsible

"

I'm marching personally because I think it is dangerous and irresponsible for there to exist a constitutional clause that denies bodily autonomy. It sets a potentially dangerous precedent. I don't think that government or laws should have a say in a persons access to a potentially life-saving medical procedure, especially when we have seen how awfully the eighth amendment has affected women in this state. Ultimately, it comes down to choice, and a person should be allowed to choose what they do with their own body. The March for Choice is vital for the repeal cause because it attracts public attention, and demonstrates the strength of the pro-choice side. With Lawyers 4 Choice, we hope to educate people on the legal arguments in favour of repeal, reproductive rights law in general, and to create a platform and community group for those in favour of repealing the eighth in the legal field.
—
Aoife O'Donoghue, Committee Member and March Co-Ordinator, Lawyers 4 Choice
The Eighth Amendment is Cruel

"

I will be marching on Saturday alongside friends of all political persuasions and none. My positioning on this issue is very clear and by no means innovative or worthy of any particular praise; I simply trust women to decide on what occurs in their bodies. The eighth amendment to our constitution is abhorrently cruel and wrought with hypocrisy.

We exile women to other countries for basic medical procedures. We allow them to bleed in foreign airports and place a huge financial barrier in the path of those wishing to access reproductive healthcare. This has to stop. It is a needlessly cruel thing to force a person to do.

I'm marching on Saturday because the eighth amendment is not reflective of the decent republic in which I wish to live. I'm looking forward to the march and to the campaign for reproductive healthcare to follow.
—
Gary Gannon, Social Democrats Councillor
Ireland Needs Repeal

"

Amnesty International Ireland is proud to be participating in this year's March for Choice. The march, led by the Abortion Rights Campaign, is an opportunity to celebrate the unstoppable momentum that has been built by activists, rights holders, civil society and people across Ireland, calling for the repeal of the eighth amendment. The Citizens' Assembly's recommendations represent a momentous leap forward for the rights of women and girls. They are a testament to the compassion and good sense of ordinary people in Ireland. It is long past time to move beyond the myth of a divided society and legislate to respect the rights of women and girls.
—
Colm O'Gorman, Amnesty International
Marching in Solidarity

"

It is extremely important that we as students and as a nation take to the streets of Dublin on Saturday, to raise awareness and protest against the eighth amendment. People from all across the country will unite as one, to demand a change which could ultimately have a huge impact on the lives of countless women. We are marching together, in solidarity, for all those who have already suffered under the current law and to generate momentum in the fight to repeal the eighth amendment. Ultimately, women should have complete control over decisions relating to their own bodies.
—
Clare Austick, Equality Officer in NUI Galway Students' Union
We're on the Right Side of History

"

We are marching because the people of Ireland, north and south, will no longer stand for draconian laws which restrict people's access to reproductive healthcare and bodily autonomy. Students have a strong track record of being at the forefront of societal issues and we are proud to march today and be on the right side of history. We march in solidarity with the repeal the eighth coalition and we would love to see the momentum continue through to the Rally for Choice on October 14th in Belfast
—
Stephen McCrystall, President of Queen's University Students' Union
We're Marching for Choice

"

We're marching today for the nearly 12 people a day who have to travel. But more than that, this is not a political theory. It's not a philosophical debate. It's not an argument to be won or lost. This is people's lives. It's about their health, it's about their choices.
—
Síona Cahill, Vice-President for Equality and Citizenship in the Union of Students in Ireland
We're Marching for our Fellow Students

"

We are proud of our history of the students who have been fighting for over 30 years. We will not be silenced on this issue we stand for free, safe and legal abortion. If you had asked me 5 years ago if this was a student issue I'm not sure what I would have said but it is a student issue. Over a quarter of those who have Irish addresses in UK clinic are between 18-24. They are our friends, they are our classmates.
—
Michael Kerrigan, President of the Union of Students in Ireland
Get the Government Up to Speed

"

All the young people in particular who are here, we must march but we also must get the politicians up to speed as to where the people are on this issue.
—
Ruth Coppinger, Solidarity TD
We Don't Want a Bit of Abortion

"

We're marching because it's time to act. It's time to make politicians change and it's time for everyone who cares for equality in Ireland to get behind repeal the eighth movement. We're calling for free, safe and legal abortion access in Ireland and we want to show politicians who seem determined to water down the decision of the Citizens' Assembly that we're not here marching because we want a bit of abortion. We want access. We want broad access and at a minimum we want the recommendations of the Citizens' Assembly and we will not support anything less than that.
—
Linda Kavanagh, Abortion Rights Campaign Spokesperson
Making Sure Pressure is felt

"

It's more important this year. The fact that a referendum has been announced and the committee is going on, there is a fear that some of the government parties will row back on how far the recommendations of the Citizens' Assembly and the committee go. I think this march today is important in putting pressure on how far we want them to go.
—
Senator Lynn Ruane, from the University of Dublin panel
Last Opportunity to Show Support

"

This referendum has to happen in May. We can't allow a referendum to disenfranchise especially the student population. We hope that the Taoiseach will confirm that as soon as possible. So this is the last opportunity for the March for Choice, which has been running for a number of years and for people to get out in support of a referendum and more importantly in support and particularly importantly in support of the recommendations of the Citizens' Assembly as a way for government and the Oireachtas to begin that and plan out a legislative framework for abortion in Ireland that will respect, protect and fulfil the human rights of women and girls and pregnant people in this country.
—
Colm O'Gorman, Executive Director of Amnesty Ireland