Róisín Harbison of Dublin University Sailing Club (DUSC) was elected the Vice-Chair of Dublin University Central Athletic Club (DUCAC) at the club's 98th Annual General Meeting (AGM) tonight.
In keeping with tradition, DUCAC held their AGM on the third Thursday of Michaelmas term with the position of Vice-Chair being the highest position up for grabs on the night, after Dublin University Boat Club's (DUBC) Donagh McDonagh was elected to a three-year term as Chairman last year.
Harbison, a student of human health and disease, was last year's secretary of the Captains' Committee, making her the link between all club captains and the DUCAC executive committee.
ADVERTISEMENT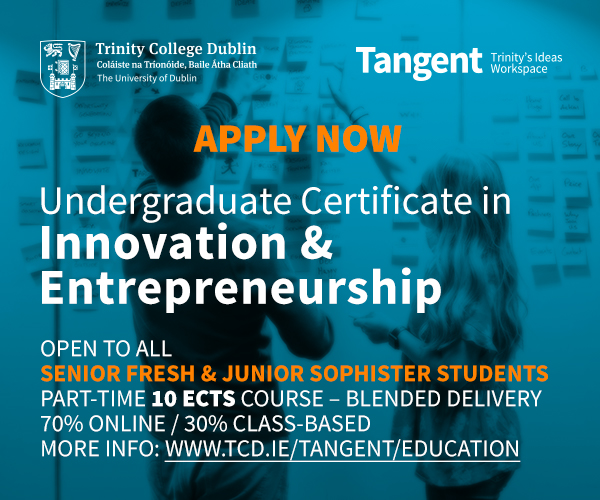 Harbison beat the only other candidate, James Bryant, 96 votes to 71. Last year, Bryant was appointed captain of Dublin University Fencing Club (DUFC). While captain, he led the club to their tenth consecutive intervarsity win as well as their fourth consecutive colours win. In the 2016/17 Trinity Sport Awards, DUFC won the club of the year.
Bryant, a third-year computer and electronic engineering student, ran on the platform of setting up Vice-Chair office hours, distributing a regular newsletter to sports clubs and recruiting external funding.
Last year's Vice-Chair, Monty Badger of DUBC, ran on a platform of making sport cheaper for students.
Also on the night, Sean Canning and Megan Jungmann, both members of DUBC and Dublin University Ladies Boat Club, were elected Honorary Treasurer and Secretary of DUCAC respectively.
DUCAC's current Chairman Donagh McDonagh is in his second year of a three-year term after beating  competition from Gerry Kelly of Dublin University Football Club (DUFC) and PJ McGrane of Trinty GAA at last year's AGM.
McDonagh ran his campaign on the idea that DUCAC was not broken and it didn't need fixing, but rather fine tuning to better support clubs.
Last year, DUBC held a monopoly of sorts over DUCAC with three out of five of DUCAC's executive officers being members of DUBC. There were only six nominations for club representatives out of a required eight. This evening, McDonagh stressed that this was "nothing unusual", leaving it up to the new representatives to "co-opt" new members into the new executive.
---
Matthew Murphy contributed to reporting to this piece.