I have never been to the National Gallery. It's my hidden shame after living in Ireland for a year, and not something that I would usually tell people. But today I'm rushing through it, unable to appreciate the art, to make sure I'm not late for my interview with one of Ireland's youngest politicians.
As I dash through the brightly lit building, I'm approached by a man only a few years older than myself, who might have just come from hosting an event for Apple. Senator Fintan Warfield is dressed in a slim-fitting, grey suit with a black turtleneck underneath, the epitome of a fashionable 25-year-old and far from the typical dress code of your average Irish politician.
A Sinn Féin senator, Warfield is part of a new breed of young, socially-conscious Sinn Féin politicians. While he might look like he just stepped out of Silicon Valley, his path to Irish culture is somewhat predictable, even romantic.
ADVERTISEMENT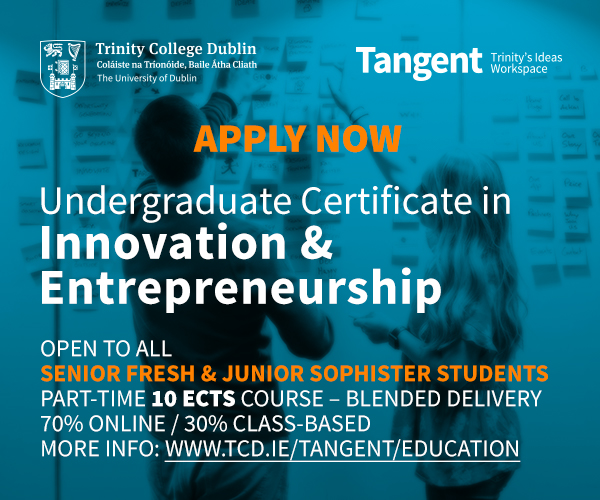 "I was politicised largely by folk music and songs in my teenage years. And that would have largely created this interest in history and politics. Songs have this ability to tell a common story", he says. If heritage is everything in Irish politics, Warfield might have one of the best family trees in the entire republican movement. Derek Warfield, of the Wolfe Tones, is a cousin of his and Warfield would often tour with them during the summer.
A quick search on the internet reveals Warfield, in only 2014, serenading a small crowd on O'Connell St during the Easter Rising celebrations, looking to all the world like a youthful country singer.
"Music was my first route I'd say into politics and at the same time I was negotiating my sexuality." Warfield is gay and his foray into politics coincided with a burgeoning interest in LGBT activism. He mentions Stonewall and recalls the effect learning about it had on him. This was his first time learning about an event, he said, in which citizens engaged in "physical action with the police force".
"…same-sex relationships often fall off the table. And young people need that in schools. I needed that in school. And I didn't have it."
But he also used his own personal experience of growing up gay to illustrate the issues that face LGBT youth. He is particularly critical of the sexual education in Ireland. Schools "pick and choose the curriculum and pick and choose certain elements of the sex education curriculum, meaning that same-sex relationships often fall off the table. And young people need that in schools. I needed that in school. And I didn't have it."
He remembers watching the legendary hurling goalkeeper Donal Óg Cusack coming out as gay on the Late Late Show. It was his mother's positive reaction that assured him that if he came out as gay, there wouldn't be an issue. But it also made him realise, early on, the value of having gay people in visible, high-profile roles.
But this isn't to say he found growing up gay to be easy. He remembers the despair of thinking that he would probably not know what love felt like. At this point, his voice drops to a hushed whisper.
Ireland, of course, has once again been pushed to the centre of world attention with the election of a gay Taoiseach. Headlines around the world, from the New York Times to the Guardian, seemed disbelieving that Ireland could, so soon after legalising gay marriage, elect a gay leader.
Discussing Leo Varadkar, Warfield brings up a recent discussion with a woman from India who mentioned how, back home, headlines proclaimed his Indian heritage, but did not focus on his sexuality. "So, that's interesting to hear… just the dynamics." Throughout the interview, on everything from Christy Moore to Northern Irish civil rights, Warfield has an endearing habit of running off on tangents and half-formed thoughts.
"But Leo thinks I'm a threat to democracy", he laughs. "I don't think he really believes it." Recently, Varadkar said that he would relish taking on Sinn Féin, which he said was a danger to Ireland. I'm talking to Warfield the day after a highly publicised and slightly bizarre spat between Varadkar and Sinn Féin Deputy Leader, Mary Lou McDonald, which, some suggested, was ringing with sexism.
"Straight away we saw a lack of representation for women in the cabinet. And I think largely Leo is just complicit."
Warfield says he's disappointed in Varadkar. "I was hopeful, I think, if I give him the benefit of the doubt that he could still shape some Irish response, some progressive Irish response to what's going on in a fractured world." So far, Warfield isn't impressed. "Straight away we saw a lack of representation for women in the cabinet. And I think largely Leo is just complicit." There is still a possibility, he says, that Varadkar could help further the image of Ireland as a progressive nation. "But I don't see that happening. And it's kinda bullshit that Sinn Féin is some sort of threat to democracy. The only threat that we are is a threat to him and the establishment and the elite."
Even in terms of Varadkar's impact on the LGBT community, Warfield's hopes aren't high. "I mean, it's a hugely visible position, that can't be argued. And I don't think that beyond that it does the community any good."
Straying away from current politics, we start talking about his own political tenure and his aspirations. At this point, we move in from talking outside the National Gallery to a quiet spot, a room very different from any other in the building. Looking out at the art hanging in rooms just across from us, we return to Warfield's own background.
We start with his college experience. He left Dublin to study at the Galway-Mayo Institute of Technology (GMIT). Citing a less-than-stellar Leaving Certificate result, he said that Galway was the best choice for him. "A journalist from the College Tribune rang me up and she said 'How was your experience in Galway?' I didn't really want to tell her what my experience was like. Because it was fucking shite."
His bad experience in Galway came from two instances, but both were a result of his sexuality. "I looked at a guy in a club and we shared a stare. And then his friend came up to me and said 'Stop looking at my mate' and I got a fuckin' thump to the jaw in the club. So I told my mate that we had to go… And the two guys and two women followed us out and proceeded to kinda fuckin' punch me or whatever…The reactions of the two, of one of the women who was with the two lads was shocking because it was verbal and it was, it stays with me more than the fuckin' physical violence…was like 'Get that faggot!' basically."
The second instance came from an interaction in which he only recently learned was not consensual. "I watched an RTÉ documentary on consent… I waited a few days because it struck me in my mind that I had been through a sexual assault and I just kinda blamed myself. I blamed myself for being in the place that I was. And, essentially, it took me four years [to work out] what had happened."
Recently, he has gone back to Galway for an LBGT Pride debate and was floored by the energy he experienced. "A good, political energy that was a better turnout at the Galway Pride political debate than there was at the Dublin Pride political debate."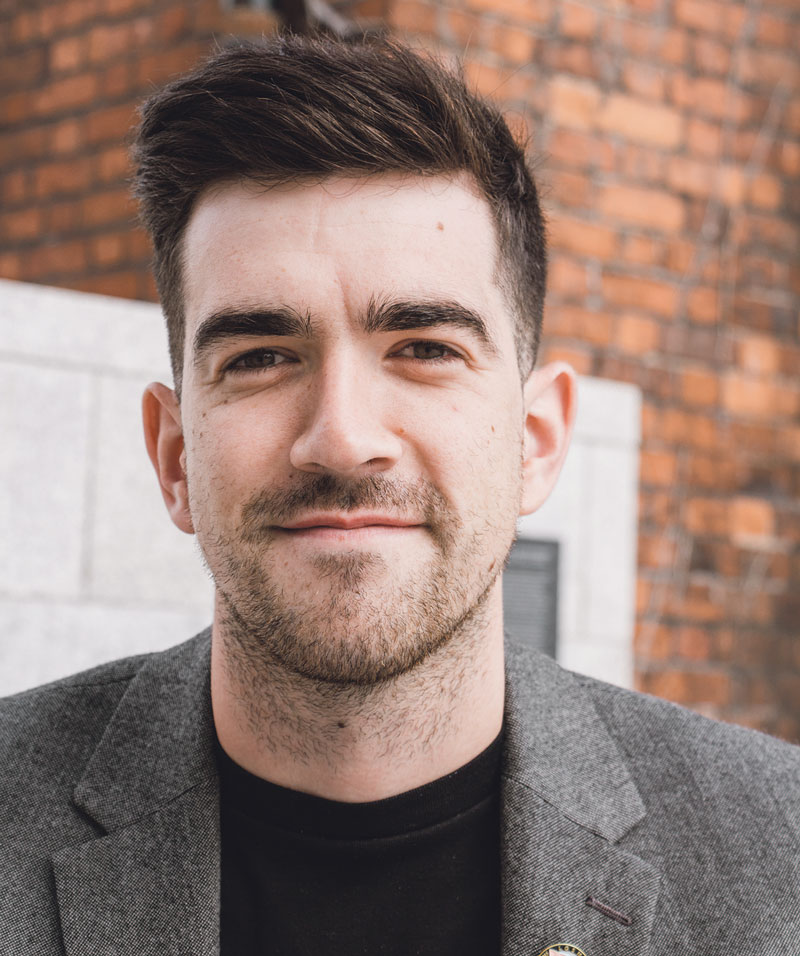 After he moved back to Dublin, he was the first senator announced in the country in 2016. He said it was unexpected for a couple of reasons. "I didn't think we would top the poll. But [also] because I had no idea about how the Seanad count was conducted. And it so happened that they did it in alphabetical order. So the Culture and Educational Panel was first. So that was a shock. It was quite nice." He was also elected on the centenary of the Easter Rising, an honour that "was nice as well".
Before that, he was the mayor of South Dublin County Council as a result of "a progressive alliance with the Labour party and other left-wing Independents". When he was asked to run, he immediately knew he wanted to. He still remembers telling his mother about his decision. "She was too busy watching Coronation Street. She was like 'Wait, Coronation Street is on', so we spoke after Coronation Street."
One important reason why he stood as mayor was the marriage equality referendum. As mayor, aside from the normal, everyday complaints about roundabouts and potholes, he wanted to address three big issues: homelessness, LGBT rights and youth employment. One of his proudest achievements as mayor was cutting the position's wage by 10 per cent, with money he would have received redistributed among Saoirse Women's Refuge in Tallaght, BeLonG To and Citywise.
Since becoming a senator, he has brought two bills to floor, both focused on the youth of Ireland. One is a bill that would reduce the voting age to 16 in regards to local and European elections. He noted the importance of getting politicians from other parties to sign on to avoid being shut down for being Sinn Féin-authored. In this instance, he recruited the help of Lynn Ruane to co-sign the bill. "And I don't think she'll mind me saying that she still maintains that the bill was delayed until January of next year because it was a Sinn Féin bill. And that if she had brought it forward, it would have been passed. Which is really frustrating. But, yeah. Tiocfaidh ár lá, our day will come, y'know."
He's also currently working on a bill that would prohibit conversion therapy in Ireland. He says he would like to get cross-party support for the bill, particularly from Fianna Fáil. "It isn't happening in this state that we know of, but there are concerns that families are sending young people abroad to receive conversion therapy. And that's an issue we're looking at in the bill." He believes the main objective is that "we future-proof legislation", as opposed to stopping current practises.
Rumours have swirled in recent weeks that, after an election next year, Sinn Féin might be ready to go into coalition with Fianna Fáil. At the thought of this, Warfield reels away, seemingly unsure how to proceed. Proceed he does though, albeit on political eggshells.
"I wouldn't be allowed home to my family home if Sinn Féin went into a coalition with Fianna Fáil…"
"I wouldn't be allowed home to my family home if Sinn Féin went into a coalition with Fianna Fáil… The discussion around Fianna Fáil and Sinn Féin is kinda largely being based around comments from the Sinn Féin leadership about Sinn Féin's position not to enter government as a smaller partner."
"I wouldn't be interested in a coalition with Fianna Fáil unless we were co-equal, and my priority would be on building a broad-left, Labour, Social Democrat, Green Party bloc rather than work with Fianna Fáil."
How likely would that be to succeed? Warfield's answer to this, to put it bluntly, leaves a lot to be desired. He doesn't concern himself with "different statistical dynamics", he says. To be blunt, again, he doesn't seem to have an answer.
On a united Ireland, Warfield is on surer footing. He might be young, but his preoccupation with the North is just as strong as that of his party predecessors. It's "moving", he says, "that we have a really diverse island. Maybe not in colour, but certainly traditions and culture. And I think we would all do well to bear in mind the spirit of the referendum for civil marriage equality… that's the spirit in which we can build a new republic. And also I think a united Ireland is the best chance to create a separation between the Church and state because it simply is not possible… the new Ireland needs to be secular."
You could sense that Warfield would be more than happy to be the poster boy for this new Ireland. Young, an LGBT advocate and a Dubliner who left for Galway, he seems to challenge stereotypes about what Sinn Féin stands for.
But in a world of Justin Trudeaus and Emmanuel Macrons, is the good-looking politician with a guitar good marketing, or have Sinn Féin fallen on good luck in the shape of Warfield?
"There's nothing in Sinn Féin that I see that is an attempt to distance itself from the past and I think the appeal of Sinn Féin for young people is a certain ambition in which a rights-based society is prioritised. I think that speaks to young people. It speaks to me. And I think it brings a certain critique others will see as over the top, but a certain critique over what has been the established norms in Ireland."
And, as all politicians do, he does truly believe that Sinn Féin can deliver. "I wouldn't be part of the party if I thought they didn't have the ambition to succeed." He praised the leadership, specifically pointing to Mary Lou McDonald and Pearse Doherty of the party, saying that they won't simply continue the work of the status quo, but instead will lead the way. It is interesting to note that he doesn't initially mention Gerry Adams when listing leaders of the party.
"And the perception may certainly be that Gerry… certain narratives that Gerry wants Mary to take over. I don't know. I think personally that she would be… she is the person to lead Sinn Féin after Gerry Adams. And I think she is also the Taoiseach in waiting. I really believe that."
If there is one area that Warfield might be in disagreement, it might be over his party's policy on the eighth amendment. While Warfield does adhere to the official stance of the party, it could be presumed that he would personally want to go further. As chairperson for Sinn Féin Republican Youth, he oversaw the passing of a motion to support free, safe and legal abortion. While he won't be drawn on criticism of the current stance, it's probably safe to assume he would welcome a more proactive stance.
If there is one area that Warfield might be in disagreement, it might be over his party's policy on the eighth amendment
The stance of Sinn Féin in regards to the question of the eighth was apparent at the March for Choice on Saturday, September 30th. Party leaders were notably absent from the march.
The party has claimed that the reason for the absence was only due to a scheduled meeting. However, it has been stated that the stance of the march was much broader than the party would like to see. Warfield declined to criticise the party's position. "The march went past the party stance."
His own ambitions for the future are relatively stable, or at least he'd like them to be. "I would like to run for the Seanad again. I would like to run for the Senate again because when I served as councilor or served as mayor, I didn't re-run for those positions, so there was no… I wasn't held to account essentially."
It's clear that in a party that has always been a broad church, Warfield could very soon have a seat at the top of the the table. However, while Sinn Féin has so far been a vehicle for his success, in the future, he might become the vehicle for Sinn Féin's success.