For those not already in the know, Space Week has just finished its annual event organised by Blackrock Castle Observatory in parallel with World Space Week. The annual event serves as a reminder of just how important space is to Ireland, and to inspire and encourage young people to consider STEM careers.
During Space Week, talks, workshops and other events are held throughout the country to increase awareness of space and Ireland's place in it. Ireland's status as an emerging space nation was cemented earlier this year, when the International Space University held the 30th edition of their Space Studies Programme in Cork Institute of Technology over the summer. This nine-week event brought some of the world's most influential space entrepreneurs, policymakers and influencers to Cork, and one of the most exciting results was a paper on how we can further develop our space sector.
In the age of Apple, Google and other mega-corporations, it's easy to forget that every euro invested into the Irish space sector leads to a return of around eight euro in our GDP. One leader in this sector right now is Enbio, a company who have developed a revolutionary heatshield material to be used on European Space Agency's (ESA) Solar Orbiter (SolO) spacecraft, which is to be launched in 2019. SolO will fly closer to the Sun than ever before to study it in unprecedented detail.
ADVERTISEMENT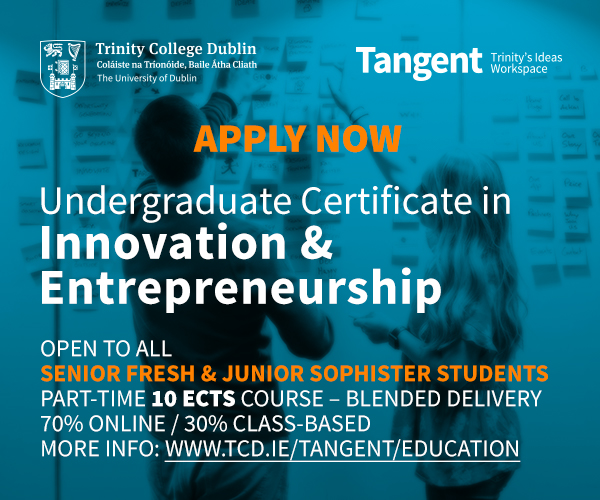 The Irish link with SolO doesn't end there though, as Prof Peter Gallagher, from the School of Physics, is directly involved with the mission as a co-investigator of the Solar-Telescope Imaging X-rays (STIX) instrument. As a member of the ESA Space Science Advisory Committee, a group of just 12 scientists from universities all over Europe, he is also an advisor to ESA's Director for Science.
Furthermore, Gallagher is the head of the Irish station for the Low Frequency Array (LOFAR) consortium that built and now operates a state-of-the-art radio telescope on the grounds of Birr Castle in Co Offaly. A team of student interns from College and many other Irish institutions built the telescope over the summer. This telescope is part of the International LOFAR Telescope, which links the Irish telescope to stations all over Europe. Using many stations simultaneously over baselines of thousands of kilometres allows for much greater sensitivity when observing distant objects.
University College Dublin (UCD) are also heavily involved in the space sector, as they're currently designing Ireland's first satellite EIRSAT-1 in collaboration with Queen's University Belfast. The project is part of the ESA "Fly Your Satellite" programme, and they plan to launch two experiments aboard the mission. One of these, the gamma-ray module, incorporates a silicon photomultiplier sensor made by SensL in Cork. Using this sensor has the potential to revolutionise space-based gamma-ray astronomy by removing the need for high voltages and bulky, fragile photomultiplier tubes.
Ireland has an active and well-respected community of research astronomers involved in all aspects of space science and astronomy, especially in Trinity. Here in College, Prof Gallagher leads a group of solar physicists seeking to better understand the Sun's behaviour. The ability to predict solar flares and coronal mass ejections is key to protecting astronauts and satellites from dangerous radiation. Prof Jose Groh and his group are interested in supernovae and stellar evolution, studying some of the biggest explosions in the universe using computer modelling. Prof Aline Vidotto and her research group study how planets around other stars interact with the stellar wind. Prof Brian Espey's group study gas in galactic and extragalactic systems using data from ground- and space-based telescopes.
In addition, Prof Tom Ray of the Dublin Institute of Advanced Studies, and also the Robert Ball Adjunct Professor of Astrophysics in Trinity, has been instrumental in the development of the Mid InfraRed Instrument (MIRI) camera for the James Webb Space Telescope, the successor to the Hubble Telescope.
Space Week also reminds us of our proud history in astronomy. The Leviathan Telescope (also at Birr Castle) was the world's largest for almost a century! The Third Earl of Rosse constructed it and used it to discover the first spiral galaxies, like the Whirlpool Galaxy. Our astronomical heritage also includes the Armagh and Dunsink observatories, of which the former is still active over 225 years later. Newgrange is our most ancient astronomical site, as it is aligned so the inner chamber fills with sunlight on the winter solstice.
To this day, a 19th-century Irish discovery is helping satellites to navigate and maintain orientation. In 1843, Prof William Rowan Hamilton, the Andrews Professor of Astronomy in Trinity, discovered quaternions. These allow spacecraft to measure their position in terms of rotation.
There's never been a better time to get involved in space, and inspiring the next generation of scientists and engineers to continue this exciting journey of discovery is what Space Week is all about. If all of this sounds very exciting to you, fantastic, because there are still plenty of opportunities to get involved in Ireland's exploration of space.