Since Freshers' Week, the presence of Plynk on Trinity campus has not gone unnoticed, and neither has their growth in the larger global app market. Plynk is an Irish-based virtual money-messaging app that is now expanding into the Spanish and Portuguese market. The app attempts to recreate the physical exchange of cash between people. It creates a platform for users to "chat" with their friends and family with the added feature of sending money. Plynk is free, easy to use and has simple, but reliable, functionality.
Each user receives a unique IBAN upon downloading the app and a virtual Mastercard for their uses. The company's objective is simple: replace cash and become a verb in every language. Sounds easy, but how do they plan on doing it?
CEO and co-founder of Plynk, Charles Dowd, speaking to The University Times, explains that for the company to succeed, it requires long hours and constant work, something he describes as "very normal" to him. Some of Plynk's success can perhaps be attributed to the vast acumen Dowd brings from his previous businesses and his past jobs at IBM, Facebook and Microsoft. The other component is perhaps the result of how unique Plynk really is in the market. "Plynk is a money messenger", Dowd begins, "but in reality what we're building is a social network where money is the media type. We're making money social. To make that work you need to deliver it to a group of people who are highly connected and who are open to working with new technology." The group of people Dowd is referring to is, of course, students. The company conducted market research prior to starting promotion and quickly realised that students were the ideal market. "We found that the student market is highly connected, highly social and really interested in adopting new technologies to solve their problems."
ADVERTISEMENT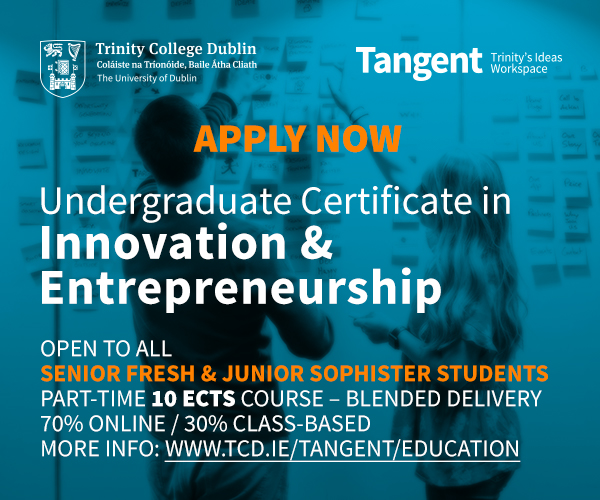 Now more than ever, the student market is saturated with companies attempting to tap into the ideal environment for new software. When asked about the competition, Dowd responded, "we focus on cash really as our competitor." A big competitor and a big ambition but Dowd believes in his mission to replace the physical exchange of money. "What we try to do in our product is actually make the process digital and then wrap around it the ability to do that in one private conversation and also in groups of friends, people you live with and people you work with."
A lot can be said about the resources available to entrepreneurs starting in Dublin. Especially in Trinity, where societies such as Trinity Entrepreneurial Society exist to support student founders, and companies such as Launchpad have an office right on campus. Trinity has always "had a forward-thinking point of view", Dowd remarks. During his time in Trinity about 30 years ago, the maths department (where he studied) "had its own Linux machine" and "its own computer system".
His career began in tech but his shrewdness in business is what he really brings to the table at Plynk. His co-founder, Clive Foley, "the CompSci guy", graduated from Sligo Institute of Technology and completed a Postgraduate in DIT. When asked about how they met, Dowd laughs. "Well, serendipity is the first word that comes to mind. Mainly knowing people who he knows. He was in the NDRC [National Digital Research Centre] and I was actually talking to some venture capitalist companies that they were talking to [at the NDRC] and we actually got together and we had a shared vision so we combined resources."
The two weren't even acquaintances prior to their business venture, but in the two and a half years together they have become friends. "I bring certain things to the table, he brings certain things to the table and you put it together and you end up with a product", Dowd explains.
What do Dowd and Plynk look for in their employees? His response was plain yet constructive. "We actually look for people who are strong, people who have strong skills, but also people who can demonstrate a desire and passion to learn, who are interested in our product and being in a start-up because they understand that it's really about working together." Dowd added that they wanted employees to operate and succeed as a unit, not as individuals citing the importance of taking account for one's failures personally, but moving forward as a team to achieve the company's overall goals.
They must be able to suspend reality, if that helps. Actually believe in what they are doing… even though everyone else around them is saying 'that's really stupid'
It was clear that Dowd recognised that to get his staff's full potential, he had to treat them well, emphasising the importance of a professional yet embracing recruitment process. "I invest heavily in making sure that we have an adequate staffing team that gives people a good experience when they come working for us and that if they don't end up working for us today, they may end up working for us some time in the future." These comments come at the end of a week in which Plynk announced 40 new jobs in Dublin, continuing the company's upward surge on the back of a €25m Series A fundraiser in June, an industry record in Ireland.
Before finishing up we asked Dowd about any advice he may have for future entrepreneurs and founders at Trinity. He chuckles before beginning: "They must be able to suspend reality, if that helps. Actually believe in what they are doing… even though everyone else around them is saying 'that's really stupid' …you really have to believe." He pauses. "And then there's resilience. You have to be able to survive. You have to have the mental resilience to be able to survive the lots of no, lots of failure, lots of challenges, lots of broken things. That's actually what success is, being able to survive through all the hard times, and actually picking winning when winning isn't an option. You have to be able to survive and that means you have to have resilience. I'd recommend that to anyone who's getting into business."