The Book of Kells, housed in Trinity's library, remains an inspiration to Irish artists working to preserve Irish heritage and tradition. The Book of Kells and the Long Room exhibits are consistently featured on top 10 lists for sightseeing in Dublin, helping make Trinity a popular tourist attraction. The gift shop alone sells over 500,000 tickets per year. And, like any museum or gallery, Trinity sells a variety of souvenirs and merchandise.
But who makes these works? And why do people buy them?
Trinity students are accustomed to walking past long lines full of eager tourists waiting to see the ancient Book of Kells. Completed in the year 800 AD by Irish monks, the book consists of four gospels written in Latin. It is perhaps most famous for its elaborate Celtic illuminations, which include illustrations of Celtic knots, religious figures, crosses and mythical beasts.
ADVERTISEMENT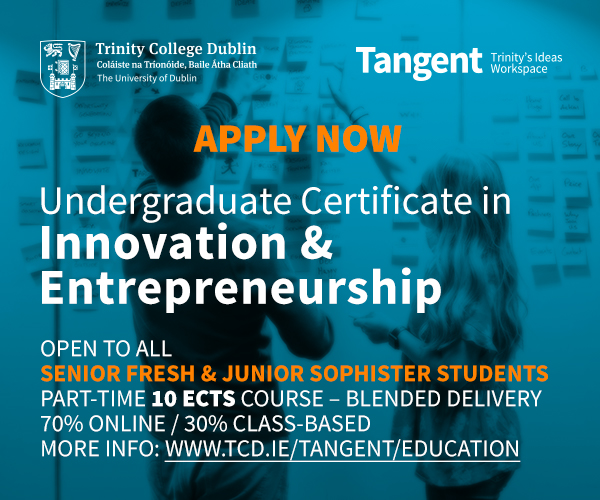 More than 10 million people have viewed the Book of Kells, and upon leaving have had the opportunity to take home a commemorative item. Irish artists often replicate the Celtic designs from the book's pages, taking inspiration from the ancient text to keep the centuries-old culture alive.
In particular, two companies that sell its wares in Trinity's gift shop offer something a bit more unique than the standard tourist products.
It's just fantastic, he says. There's nothing like it
Specifically, two companies, Mullingar Pewter and Wild Goose Studio, have collaborated with Trinity by creating these lines of products. Both companies produce their products by hand, using traditional methods for pewter, bronze and iron work. The process of creating these items is undoubtedly a lengthy undertaking requiring discipline, exceptional skill and passion.
Trinity's role in preserving Irish history lends itself well to a market for Irish heritage-inspired items, and many companies have found a niche in the College's gift shop. Wild Goose Studio is one of these companies.
Based in Kinsale, Co Cork, Wild Goose Studio's mission for the past 47 years has been to produce decorative pieces based on the heritage of Ireland, which includes ancient stone carvings, monastic symbols and Celtic designs. Many of their products are featured in the Trinity gift shop – the most popular piece among tourists being the "Book of Kells Eternity Cross", which, like other products produced by Wild Goose Studio, is made of bronze. Wild Goose Studio uses a cold-cast method, which requires a mold to be carved by hand and takes almost a week to complete.
Speaking to The University Times, Jamie McCarthy-Fisher, Managing Director of Wild Goose Studio, explains that he believes that their mission is similar to Trinity's. "We have always told stories relating to our products", explains McCarthy-Fisher. "We've always seen it as one of our jobs is to look at the symbolism, what it meant to them, look at what it can be now…The Book of Kells is obviously very inspirational in lots of different ways." Their products feature a short description of the Book of Kells design, which explains the story of the specific Celtic motif and the significance behind the symbolism.
For instance, the "Book of Kells Bird" comes with a description explaining that the symbol represents resurrection and immortality. According to McCarthy-Fisher, it is important to Wild Goose Studio to provide the history of their product designs in order to create the emotional attachment between the buyer and their products.
We believe that people need to have some emotional attachment to what they buy
Similarly, Mullingar Pewter's mission also concerns preserving Irish heritage and tradition. The company too has a tailor-made Book of Kells product line sold in the Trinity gift shop, consisting of handmade pewter items such as goblets, tankards and smaller items such as money clips and wine bottle stoppers. Peter Collins, owner of Mullingar Pewter, tells The University Times that they "started off mainly with goblet-type items" before they "decided to incorporate Irish motifs on any table top items we made, so obviously the Book of Kells was an obvious one, anything that has an old monastic look about it, we work with that".
The pewter goblets feature designs such as the Lion of St Mark, which are inspired by the Celtic art in the Book of Kells. Collins explains that he was originally drawn to the artistry of the Book of Kells. "It's just fantastic", he says. "There's nothing like it."
Not only does Mullingar Pewter preserve Irish heritage through their art, they also have revived the ancient Irish method of pewter production, which dates back 800 years. This traditional process of pewter making involves an old casting technique. Similarly to Wild Goose Studio, the production process for Mullingar Pewter is quite lengthy. The company is able to make up to 100 pewter goblets per week. "Pewter is a lovely material, soft, easy to work with", notes Collins, "but you have to be very tricky with it…you have to be careful".
Collins first learned his trade at 17, in a pewter workshop in Nuremberg, Germany, before he was encouraged by his manager to bring the pewter business to Ireland: "I went to Germany because I had an old pen friend. He was a guy who actually spent a couple of weeks in Ireland working with a company up the road and we became friends."
Collins returned to Ireland with £75,000 from his manager to start Mullingar Pewter about 45 years ago. Collin's father, Paddy Collins, helped start the business and managed the company's accounts and sales efforts. At the time, there was only one other pewter business in Ireland, but they used the British method of pewter production. Collins and his father opted to use the ancient Irish technique of pewter, meaning they could add the complex and intricate Celtic designs to their products.
While the company has grown in size over the years, Collins admits that US tourists – hundreds and thousands of whom visit Trinity each year – are a very lucrative market.
McCarthy-Fisher from Wild Goose Studio also notes that his company's products are popular in the American market. He puts it down to Americans' own emotional attachment to their Irish heritage: "We believe that people need to have some emotional attachment to what they buy and that could just be from visiting a place and wanting to remember it. It could also be that it sparks off something in them which is related to the product."
Whether you agree with Trinity's commercialisation or not, it's heartening to see small, independent businesses offering Trinity's visitors something authentic and inspired by the very history we often take for granted.