Cold mornings, spiced coffee beverages and autumnal colours mark this time of the year for students in Trinity – the beginning of internship application season. The year has only just begun and students are already thinking about what they'll be doing after it ends. Increasingly, over the past couple of years, there is pressure mounting on students to fill their summer holidays with yet more work.
To meet the influx of demand, companies are starting to create more work-placement positions. Surveys by GradIreland of up to 100 employers show the number of companies offering summer internships has grown from 80.8 per cent to 85.7 per cent between the years of 2012 and 2016. But, as any successful intern will tell you, more availability does not equate to more accessibility. Over half of these firms expect a 2.1 or above, nearly 30 per cent require online psychometric tests and 27 per cent look for relevant experience.
The luckless soul that fails to acquire a place at one of these well-known firms is then forced to brave the unforgiving economic climate. The current job market no longer sees a degree as adequate evidence of hard work. In the technology industry, finance and law fields specifically, competence is no longer only proven through evidence of a degree. The ideal candidate will have completed at least one internship during their time in college at one of the big four, the top 10 or any firm worthy of being included in some glamorous numeric.
ADVERTISEMENT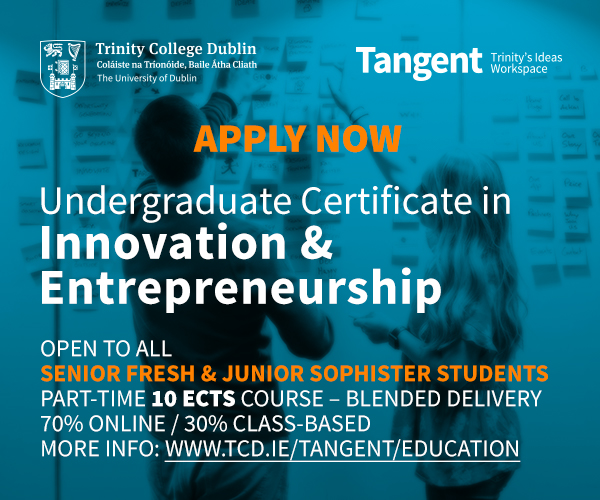 Internships and real work experience play a large role in the hiring process as third-level education has become commonplace.
The increase in expectations is the result of vast advances in technology and the increasing availability of good education in Ireland. Between 1961 and 1980, participation in the Leaving Certificate jumped from 8,500 students to 39,000. Today this number is 55,770, according to data from the State Examinations Board, with 44,043 of those enrolled in third-level courses.
Current Irish students live in a completely different economic climate than the generations that came before them. Internships and real work experience play a large role in the hiring process as third-level education has become commonplace. This was not always the case for our students. The Googles, Arthur Cox's and Accentures of our time would not have been as eager to take on an unqualified undergraduate some 15 years ago. Similarly, students would not have been as inclined to give up their precious summers serving coffee and filing papers for a large, white-collar corporation.
Speaking to The University Times, Prof Stefan Weber of the School of Computer Science recalls how, during his youth, he had four work placements before entering the job market: "People got internships through people they knew and word of mouth." In 1990, a student could approach a firm and, with a bit of luck and some friends in the right places, wedge their way into work placement. The positions were often created when students asked for them and it wasn't as common for companies to have specific internship roles. According to Weber, employers "saw it as a nuisance and just tried to come up with something to keep people busy. They weren't interested in people learning".
Rarely were there clear-cut job descriptions and specific responsibilities for the student involved. They were joining in the hope of creating a place for themselves within the company and learning from the employees in the process.
Today, the process is starkly different. Due to the lengthy application process, combined with the vast variety of choice, students are in a much better position than their predecessors. To an employer, the student is not just an unqualified trainee, they are a potential specialist, manager or even board member. It is for this reason that they provide company laptops, subsidised canteens, cubicles and high salaries to interns, letting them truly experience everything the company has to offer them in exchange for their skills.
The lucky few that get selected for the summer are immersed in a three-month programme that generally involves several projects and first-hand exposure to company activities. Speaking from personal experience, my internship at Intel gave me insight into the corporate world before it was time for me to enter it. I was given the chance to see myself in such a large company, to see if it was the right place for me.
A wave of ambition and motivation has hit Irish youth. It brings with it a more educated generation, thousands of start-up ideas and a relentless drive for success.
It is for this reason that there exists a continuously increasing pressure on undergraduates to complete internships before entering the workplace. The data supports the view that companies are no longer interested in simply employing people to fill positions. They are interested in curating a company that is populated with people who want to be there, people who know themselves and where they thrive. Students today are disinterested in dead-end, nine-to-five jobs that only pay the bills. Instead, they aim to find themselves in a firm where they are suited to the tasks and company culture.
A wave of ambition and motivation has hit Irish youth. It brings with it a more educated generation, thousands of start-up ideas and a relentless drive for success. Pressure on undergraduates to find internships and work experience is, then, not only the product of growing employer expectations, but the result of social conformity. It may not be the wish of every student to dedicate time to an arduous application process in order to get a place that pays or, similarly, accept low or unpaid work as a result of not meeting internship criteria. Above all, the appeal of a three-month placement is perhaps not shared by their peers. An internship is valuable in some cases, but it comes at the expense of experience as students forego travels with friends and time spent with family to pursue one.
While educational and extremely useful, I sacrificed a summer of interrailing with my friends for the time I spent at Intel. I was paid and treated well, but there are times when I question if the 10 weeks I spent in an office cubicle were really worth sacrificing the adventures I could have had and the memories I could have made.
My advice to any student around this time of the year is to really consider all your options and to ponder on what really matters to you. For the ones for whom the career ladder is there to be conquered, an internship is perhaps the most desirable option.
But for the ones who measure success and achievement by other means and feel no need to populate their CVs with big names and recommendations, I implore you to consider not to feel guilty about taking a different path. The pressure on students, while not malicious, is detrimental to the experience of youth and college life. No undergraduate should feel ashamed about opting to spend their summer adventuring around the world, taking up a personal project or just spending those three months off truly relaxing and preparing for the year ahead.