In June, Mary Mitchell O'Connor's appointment as Minister for Higher Education became something of a sideshow in itself. Backroom chatter abounded over what position Mitchell O'Connor had really asked for, while Fianna Fáil pledged to oppose her appointment as a "super junior" minister.
Mitchell O'Connor, of course, is no stranger to being the subject of choice for the chattering classes. For a while, she seemed to be the centre of the rumour mill that powers political journalism. Stories of her incompetence were plentiful, while newspapers revelled in covering her latest gaffe.
But, so far, things have been quieter in the higher education brief. Tucked away at the back of Leinster House – well away from the grander, more salubrious offices – Mitchell O'Connor has been at the centre of the sector that found itself, in June, rather unexpectedly with a new minister to lobby.
ADVERTISEMENT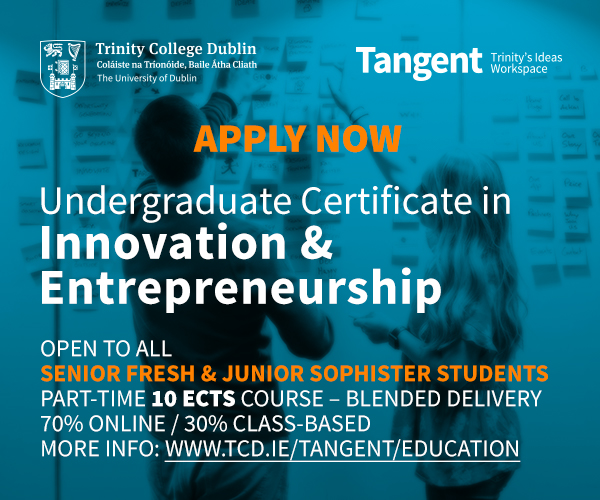 Students' unions, trade unions and university heads have all come knocking on her door, asking to chat policy, politics and photo opportunities. Just last week, Mitchell O'Connor was at Oisín House, the site of Trinity's grand new accommodation complex, to turn the sod with Provost Patrick Prendergast.
But is Mitchell O'Connor really the one to finally dig higher education out of a hole?
Someone certainly has to. Ask anyone who works in a university, from president to professor, and they'll tell you about a raft of issues: funding, contracts, autonomy, student-staff ratios. The list goes on.
To be honest, you're trying to box me into a corner. And I will not be boxed into a corner
But our interview gets off to a bad start. "To be honest, you're trying to box me into a corner", she tells me. "And I will not be boxed into a corner."
I'd been asking about her promise not to put Irish families under "undue pressure" to fund higher education. Was the pre-2012 UK system, of £3,000 fees and a student loan scheme, enough to qualify as "undue pressure"? Is that a system this government could stand behind, as not applying undue pressure?
"No decision has been made and I have no decision made. So it'd be silly of me, sitting here and telling you, y'know, about the future. What I'm saying to you is, we're waiting for that report. We'll be informed. And then we'll see what they come back with. Then the cabinet. I'll go, probably, take that report, go with it to the cabinet and a decision will be made there. And an informed decision."
And that's the way much of our interview goes. Back and forth, again and again, I ask Mitchell O'Connor a question. She returns with a puzzled look, or frowns a response. At the start of our interview, she'd sat at her desk stretching her legs and fiddling with a wrapper. By the end, she was agitated.
Mitchell O'Connor has also become the new pinata in the portfolio at the Department of Education. For years, it was the Minister for Education, Richard Bruton, from whom universities were forced to shake cash from. Now, it's to her colleges are appealing.
And, to be fair, by luck, lobbying or good fortune, she's delivering. The sector got €47.5 million in funding from the Budget, while the government also guaranteed €310 million to address infrastructure needs of universities and colleges.
But there's still no answer to the Cassells question, since the report was published in July 2016. It offered three options for the sector – a loan scheme, full state funding or the status quo. And, since late last year, the Oireachtas education committee has been pouring over the report, listening to experts and offering their thoughts on the sector's future.
If Mitchell O'Connor knows when the committee will report back about Cassells, she's keeping it quiet. She's spoken publicly before about how the committee process is the best approach to funding: the idea is that cross-party appeal will make any passage through the Dáil easier.
Everyone talks about the student loan scheme. That has not been discussed at cabinet. No decision has been made
But the committee hasn't seemed to agree. Numerous members have raised doubts about coming to a consensus on any funding model.
"I'd presume they're going to come down one way or another", Mitchell O'Connor says.
But if there's no consensus, they can't make a recommendation one way or another?
"I've had no formal written communication. So I'm sitting waiting for it, as are the cabinet. Then we'll decide on the way forward. But I wouldn't like to give an impression in any way that a decision has been made. Everyone talks, as I said, about the student loan scheme. That has not been discussed at cabinet. No decision has been made."
Another issue that has dominated the agenda has been autonomy. Universities have long shrugged off the state's influence, while the government has done its best to regulate a sector that prizes its independence much more than its primary and secondary counterparts.
But, in July, the government made a significant step towards tying universities more closely to the public sector, announcing plans to appoint investigators to address "issues of concern" in universities, through amendments to the Technological Universities Bill.
Seen largely as a response to governance scandals across several Irish universities – the worst offender being the University of Limerick – the Chief Executive of the Higher Education Authority (HEA), Graham Love, told The University Times in September that universities have little to fear from the new powers.
"I have the greatest respect for autonomy in teaching [and] learning in the universities. But when it comes to state funding, the taxpayer expects accountability", Mitchell O'Connor tells me.
I tell her how Love hoped the powers would be used sparingly by the HEA.
"What do you mean now?", she says. I repeat my question. His hope, I tell her, was that universities wouldn't need to be investigated with any regularity. Instead, universities might be encouraged to investigate themselves.
"Um. Investigators into the [institutes of technology]. We have experience of that. So we'll be, um, I just have to look. I cannot give you a definitive answer sitting here, at this moment, on the investigators into universities." A few days later, her assistant calls me to clarify the discussion around the amendments. The amendments will be brought at a later stage, she says, not at the committee stage, as originally planned.
However, this week, the Irish Times reported that plans for the investigatory powers, due to be introduced under the Technological Universities Bill, would not go ahead before Christmas, with suggestions that plans had been dropped.
I'll tell you what Ireland needs. Ireland needs equality. Gender equality. No buts, no ifs, no nothings
One area Mitchell O'Connor has seemed on surer footing is gender equality. Higher education, for all the hand-wringing in recent years over the lack of gender equality at the sector's upper echelons, still remains largely unequal. Mitchell O'Connor has pitched herself as the person to fix it.
So, does Ireland need a female university head?
"I'll tell you what Ireland needs. Ireland needs equality. Gender equality. No buts, no ifs, no nothings. That's it. And I also want the best person for the job. But in 425 years, it's not like 100 years… let's go back to 1916, go on back. Since 1616, or 1716, we've never had a woman president in our universities", she says. "I'd have every confidence in someone that has come through an interview system and if it's a women appointed and she's come through as the best candidate, I'd have every confidence that she could lead a university."
It's a typical response from Mitchell O'Connor. But the role of the higher education sector is to look for answers. Three successive ministers have failed to answer the funding question now, and Mitchell O'Connor seems no closer to deciphering the puzzle. If she is to be the one digging higher education out of a hole, we'll soon see if she was the sharpest pick.