Ah, the Christmas Market. In recent years, they have become a real phenomenon, with major European cities opening their own left, right and centre. We all know that they don't belong in Ireland, but we are perfectly happy to re-appropriate this continental tradition during the festive season. Our neighbours in the UK are happy to do so too, with the first British market opened in Lincoln in 1982. Birmingham, Leeds, Manchester, London and Edinburgh all boast impressively large Christmas markets, while Cork, Galway, Belfast and Dublin have all followed suit in starting their own too.
There is a key difference between experiencing Christmas markets on our shores, however – a sometimes jarring lack of authenticity. Re-appropriating the continental model has led to a pervading commercialised, Oktoberfest-come-funfair vibe. Little difference can be found between the wares and atmosphere on offer in the IFSC when the Oktoberfest set-up switches into Christmas mode in December.
So, where are the oldest, most traditional markets to be found then? You guessed it – in the realm of German speakers, specifically in the areas that once made up the Holy Roman Empire. Christmas markets first began in the Middle Ages as an event lasting only a couple of days, where villagers would go to stock up on provisions to get them through the cold winter months. Vienna's Dezembermarkt (December Market) is amongst the earliest examples of such markets, dating back to around 1296. Christmas markets as we know them were developed in Germany to signify the beginning of Advent, and lasted right through the festive season. Dresden's Strietzelmarkt is noted to have been the first real Christmas Market in Germany, dating from 1434, but similar examples could be found in Munich from around 1310, in Bautzen from 1384, and Frankfurt from 1393.
ADVERTISEMENT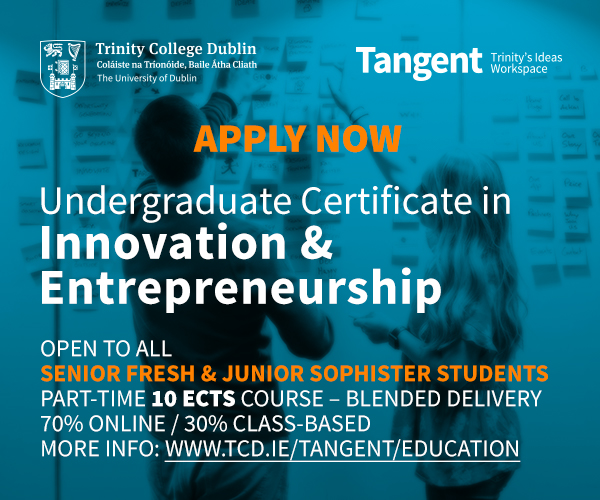 The markets are known by various names throughout the continent, including Christkindlmarkt, Marché de Noël and Weihnachtsmarkt, all loosely meaning "for the Christ child". The tradition remains strong throughout Germany, with Berlin alone boasting 80 markets of varying sizes. German cities have become hotspot tourist destinations during the month of December as a result, as people flock to them to experience the markets in their most authentic form. Small regional towns also hold their own local markets.
Christmas markets today revolve largely around food, amusements, entertainment and shopping for gifts, which are often handmade and traditional. We strongly associate mulled wine, hot chocolate, gingerbread, sugared almonds, roasted chestnuts and currywurst with the markets, but different cities across the continent also incorporate their own regional delicacies. The air is filled with the sounds of choirs carolling and brass bands oompah-ing out festive refrains, and all the while throngs of well-wrapped people wander around tightly packed rows of stalls. A Ferris Wheel often rises above the proceedings, standing next to a towering, elaborately adorned Christmas tree. Lights and decorations glitter in every corner, and, while you lap up such an atmosphere, one thing is made abundantly clear – Christmas is here.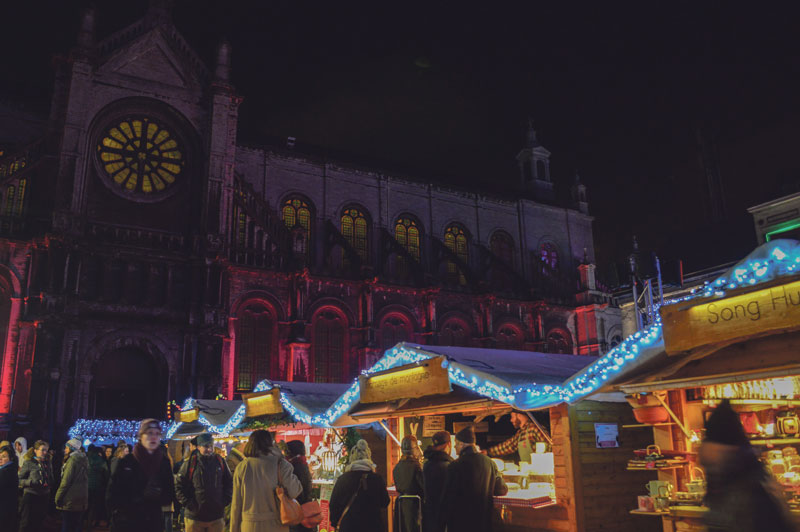 Standing in Brussels's iconic Grand Place on the first Saturday night of December, I feel like I could be in Disneyland. I am witnessing the exhilarating light show that is the icing atop the city's Christmas cake, positioned perfectly between the gigantic, elaborately decorated Christmas tree and the life-sized Nativity crib, watching flickering lights cascade across the iconic buildings, while the glow reflects on the rain-soaked cobbles. The spectacle happens nightly on the hour every hour in this main square during December, and I return to watch it more than once during my weekend. Sia's new Christmas album serves as the soundtrack to the magical atmosphere this year, and the colours surrounding you change to match her moods and rhythms. It truly is a wonderfully festive feast for the senses.
The European capital's offering to the Christmas market scene is fairly new, but is expanding rapidly and gaining widespread popularity as a tourist destination. Time Out has named the city in its top 10 list of Christmas Markets, ranking it third place. Brussels's markets form the largest part of the city's aptly named Winter Wonders festival. The main market now extends along a 2 km stretch, with over 240 stalls covering their streets from Grand Place to Place Saint Catherine. Winter villages also pop up in four areas away from the main action: Quartier des Squares, Haren, Neder-Over-Heembeek and Laeken. The festival runs from November 24th until New Year's Eve, with the markets staying open all day from 12pm to 10pm. The 200 ft, covered ice-skating rink in Place de Monnaie stays open until January 7th, so visitors and residents can continue to indulge in festive activity even after ringing in the New Year.
Each of the market's stalls is a little wooden-roofed hut, selling mainly arts and crafts or food and drink, and all of their offerings have a pan-European flavour, with wares from Mongolia and Albania being a strong feature this year. A 35m toboggan slope looms over the neat rows of huts and children squeal with delight as they slide down from its summit, while other revellers get a bird's eye view of the scene atop a big wheel illuminated with 18,000 lights. Families, locals, tourists and couples alike all mingle in the festivities.
Standing in Brussels's iconic Grand Place on the first Saturday night of December, I feel like I could be in Disneyland
Having experienced the German equivalent of the markets on a trip to Frankfurt last winter, I can assure you that the Belgians manage to do it better. The products on offer in the Belgian markets are far more varied. I picked up some loose-leaf Christmas teas, a colourful, handmade star-shaped paper lantern, cake moulds and some hand-blown glass roses. Other stalls boast products as diverse as hats and scarves, real reindeer skin rugs, candles, strings of elaborately coloured lanterns on fairy lights, soaps, Christmas decorations, puppets, picture frames, Russian dolls, clothing, sweets, nuts, chocolates and more.
On Saturdays, choirs perform carols on the hour every hour along the main market strip in the bustling Saint Catherine quarter. There is also a toasty champagne bar in an inflatable, igloo bubble heated by a wood-burning stove with comfortable couches, should you seek a fancy drinking spot.
Beer enthusiasts find refuge from the cold in the festival's Leffe installation – a large wooden hut boasting chandeliers made of beer glasses. A tasting platter of all three main varieties of Leffe beer can be sampled, or if you already have a favourite you can go straight for a pint. The Ruby brew is particularly special – it's refreshing, light and fruity, and far less common than the Blond brew Leffe is famous for.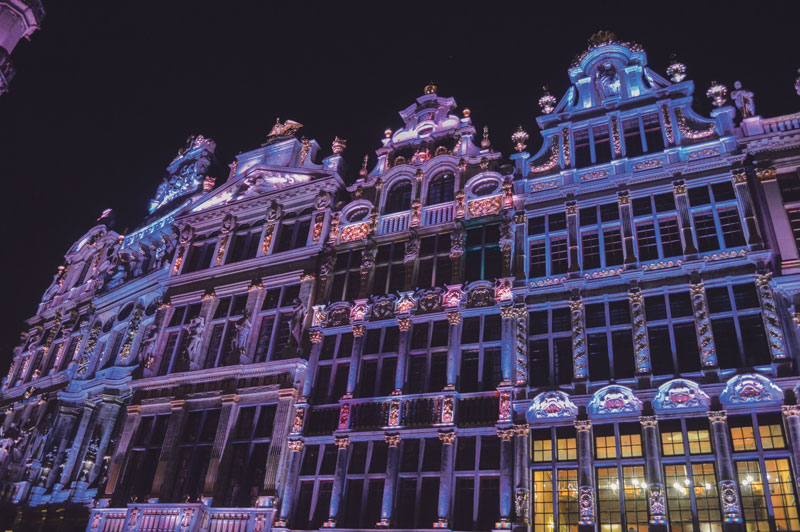 If you're still seeking an alternative, you can sample some hot wine, hot chocolate enriched with amaretto or rum from a nearby stall. If you fancy a drink elsewhere, I recommend the Delirium Cafe (next to the hilarious Jeanneke Pis statue), which boasts a selection of 3,000 varieties of beer, or the Brussels Brewing Project, which offers a highly affordable selection of beers and wines, and is conveniently located in Saint Catherine.
I suggest making a food bucket list before heading to Brussels, as there are so many delicious offerings to sample both within and without the markets. Sample a hot waffle of the Bruxelles variety if you like them light and fluffy, or of the Liége variety if you like them thick and crunchy. Slathered in Nutella or covered in icing sugar and cream, this sweet Belgian staple is to be found aplenty in the markets, and it's the comfort food you need to warm you up while strolling around.
I suggest making a food bucket list before heading to Brussels, as there are so many delicious offerings to sample both within and without the markets
Beef stew with beer sauce is also a firm favourite, along with a Belgian staple "moules et frites" (mussels and fries). If you're in need of a break from the cold and hectic crowds circulating between the stalls, take a pit stop in Fritland on Rue Henri Maus, just beside the Stock Exchange building. It's located alongside some of the main market stalls. Here I sampled a Belgian delicacy, favoured by many students and drunkards alike – a Mitraillette. This literally translates to "sub-machine gun", and it lives up to its name. A sandwich of epic proportions, it's made from a generous length of crispy, chunky baguette filled with thin steak hamburgers, salad and fries, topped with your choice of sauce from 13 available varieties.
The Andalouse sauce is the most traditional choice. This is the Belgian equivalent of heading to the chipper on your way home from a night out, and it provides great soakage when sampling all the local beers. Fritland is also well known for their fries – it's in the name. They come in huge paper cones, topped with salt and sauce. Take a stroll along the many shopping streets to visit some other iconic establishments – including Maison Dandoy, and the city's many popular chocolatiers. Monsieur J Dandoy's speculoos has been the most famous in the city since 1829, and it must be sampled. Speculoos is a traditional cinnamon flavoured biscuit, and Dandoy's many outlets throughout the city manufacture it en masse at Christmas in the shape of St Nicholas, filling their shop fronts with biscuit villages and fake snow.
Leonidas and Elisabeth are the two most popular chocolate houses, selling more varieties of pralines and truffles than even the biggest chocoholic can manage. After a weekend of Christmassy activities, I return home slightly fatter, even happier and wholeheartedly in festive spirits.