In the early 1800s and under the supervision of their Professor of Anatomy and Surgery, James McCartney, Trinity's medicine students could frequently be found snatching bodies from the city's unguarded graveyards for their anatomy studies. The Royal Hospital Kilmainham graveyard, known as "Bully's Acre", was a favourite spot for their raids, with burials there mainly for the poor. Bodies could be relied on too, because of high mortality rates. From Kilmainham, the students would bring the bodies back for dissection at the college's old Anatomy Building – where the Berkeley Library sits today.
For the last quarter of a millennium, the use of human bodies has been central to the study of anatomy and medical science at Trinity and exactly 300 years after the college's first anatomy building was erected in 1711, the department moved to its current home: the €131 million state-of-the-art Trinity Biomedical Sciences Institute (TBSI) on Pearse St.
The department has come a long way since McCartney's grave-robbing days and, now in TBSI, everything oozes best practice, with the comfort of donors and their families at the heart of everything the department does.
ADVERTISEMENT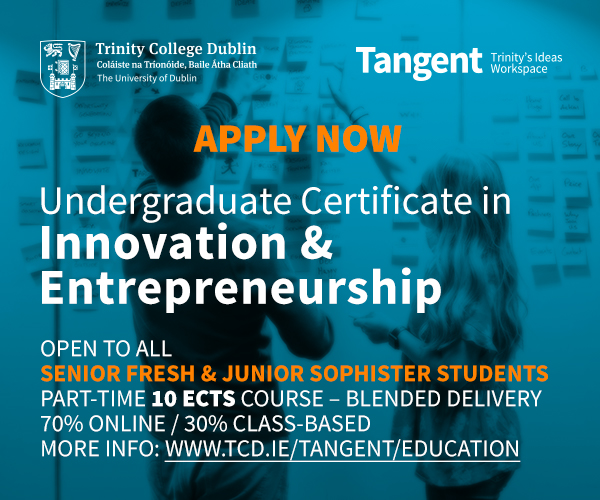 Every year in Ireland 120 people, of all ages and from all four corners of the country, make the decision to donate the one thing they truly own in life – their body – for the education of others.
I never liked when people died and there was no communication and there was no sympathy card sent out
Currently over 2,000 people, all from the greater Dublin area, are on Trinity's body donation registry. Not all of these 2,000 though, will actually get to come to Trinity and teach the country's next generation of doctors. Trinity only has 40 spaces in TBSI's mortuary and all bodies must be in a situation where they can be brought to the College within 24-36 hours after death, which in some cases, for example in deaths that occur abroad, is not always possible.
Those who do make it to Trinity after death are called Trinity's "silent teachers" or the "first patients" by staff and students. The word cadaver is rarely, if ever, used within Trinity, as Chief Technical Officer in anatomy, Philomena McAteer explains to The University Times: "The whole process of anatomy can dehumanise so we like to re-humanise because after all they are human remains."
Since 2011, bodies have also been called by their first names in the anatomy lab, along with the person's age and cause of death. This movement away from total anonymity came after a study by Trinity's other Chief Technical Officer in anatomy, Siobhan Ward, found that students felt uncomfortable referring to the bodies by numbers.
Similarly, from research done by McAteer during her master's on bereavement studies, a new Relatives Room, dedicated to all those who have donated their body to Trinity, was set up for use by the donor families on TBSI's first floor.
For many donors, this room is the place where they first come in to meet McAteer and Ward to find out about the donation process, and this is also where, when their time comes, they will be laid out in their coffin and surrounded by family upon their arrival to Trinity.
Over the three years the donor body will stay in Trinity, this room acts as the place family can go to feel close to their loved one and reflect on the good they are bringing to others beyond their death. The room has regular visitors and gets a lot of use particularly around Christmas, Easter, birthdays and anniversaries.
The establishment of the room has seen, for the first time, staff in the anatomy department develop personal relationships with the families of the donors.
"They come in here and say hello to their loved one, with photographs. They might have a quiet moment in here where they say a prayer or remember their loved one or talk about them. Some of them would come in once a month so they tell us when they are coming and we make sure there are biscuits and things", McAteer explains with a smile.
"It's not considered part of our history to deal with the family. Even when I started here the person would die and you'd give the information but you'd never meet the family."
"I never liked when people died and there was no communication and there was no sympathy card sent out, and it was quite secretive or paternalistic in a way."
The room is testament to the work of McAteer, Ward and the rest of the department's long-serving staff in making the donation process as easy as possible for both donor families and students.
While all families find it comforting and take great pride in their relatives contributing and giving so much to students in their education, the three-year wait before burial or cremation leaves some with a lack of closure and, for some, prolongs the grief. As a result, Ward and McAteer are currently working on attempting to reduce the stay of donors in Trinity to just two years.
There is a difference between a personal encounter with death and a professional one
For visitors to the Relatives Room, there is also a book at the door for writing messages to loved ones. Since its first written entry in 2011, the book has been filled with many heartfelt and deeply personal messages from late husbands, wives and siblings. Several pages are also decorated with colourings and stickers from kids writing to grandparents.
Scattered along the room's back wall, faces young and old stick out from the photos and memorial cards of past donors as a tribute to those who have gifted their bodies after death. On the room's opposite wall hangs artwork by a donor gifted to the department by the donor's daughter after her death.
The sacrifice of these donors and their families is not lost on students who, due to the personalised nature of the process, never forget the privilege it is to work with their donor bodies.
The use of first names for the bodies, fourth-year medicine student Jack Hartnett says, acts as a "constant reminder that you are very lucky to have this opportunity", adding that for students the weekly anatomy lab session serves as their "first exposure to the human aspect of medicine."
"When you go into first year you are studying science for the whole year, you don't go into any hospitals. But the donor bodies are a weekly realisation that it's not just the anatomy or the science but there is a very human element as well."
McAteer, with 37 years of experience in the department, says that to study anatomy without a donor body would be like studying car mechanics without lifting a bonnet.
"You have to lift the bonnet look inside and see everything does fit in perfectly in little pockets. So the inside of the body is just as interesting and beautiful as the outside of the body, because everything sits in perfectly."
Hartnett adds: "Personally I found that when you look at the textbooks the drawings are very clear, you can see everything and everything is in different colours and when you look at the models everything is the same way. Then when you look at the donor body it's not. It's actually extremely difficult to pick different things out unless you have a trained eye."
"Once you see it in an easy form and a difficult form then you will never forget it. Your eye is sharpened to what you should expect to see and then when you're talking about an organ you become actually able to visualise it and think about what it looks like."
The donor bodies are a weekly realisation that it's not just the anatomy or the science but there is a very human element
For students, the donor body, as well as being their first introduction to the human side of medicine, also acts as their first introduction to death as an inescapable aspect of their future profession.
For McAteer, death is an everyday occurrence in her life and has been throughout her 37 year career in Trinity's Anatomy Department.
"I get phone calls all the time either about somebody who is dying or who wants to do something with their life after they die. I get phone calls from people's children to say their loved one has died."
"I still find it difficult. It's okay, because there is a professional distance even if I've met the donor, and I do meet most of them. There is a difference between a personal encounter with death and a professional one."
McAteer turns her attention to a lone poster, hanging on the back of the Relative Room's door. The poster depicts a visual metaphor of the grieving process. On one side of the poster is a series of jars, with the grief inside growing smaller over time. On the other side, the jars progressively get larger, with the grief inside remaining the same size throughout.
Pointing to the poster McAteer concludes: "They used to say that bereavement filled the whole jar, and you'd feel like that: like you had nowhere to breath and no space to move and really feel lost. After one year it gets lesser, after two to three years it gets very small and then you get on with your life and that's normal. But what they have been finding out through therapy is that grief remains the same size, it's just you allow yourself to grow bigger as a result of learning more. So that idea of allowing yourself to grow."
"So instead of making your world smaller, make your world bigger."
Correction: December 11th, 2017
Due to an editing error, an earlier version of this article incorrectly attributed quotes to fourth-year medical student Conor O'Gara, when in fact the quotes were from fourth-year medicine student Jack Hartnett.