The Ireland under-20 basketball squad was in Israel for the European Championships last July. As part of their preparation for each game, the team would watch clips of upcoming opponents in the lobby of the hotel, because that was where the WiFi signal was strongest.
One day, Aoife O'Halloran noticed a man walking through reception on his way to the pool. Not exactly remarkable behaviour from a holiday maker. Only, as O'Halloran noted at the time, "he just had a gun hanging out of the pocket of his swimming togs". What was normal for life in the Israeli port of Eilat, on the Red Sea, was certainly an eye-opening experience for the second-year Management Science and Information System Studies (MSISS) student from Howth.
In the airport in London, she and the rest of the Ireland under-20 squad were questioned by Israeli intelligence before they could board their flight to Tel Aviv: "We were all asked different questions and then the officials gathered together to make sure we had all given the same answers. It was intense". Fortunately, she and her teammates were all on the same page, so they arrived in Israel with a full contingent, but as far as efforts to psyche out the opposition go, interrogation must go right up there with New Zealand's haka.
ADVERTISEMENT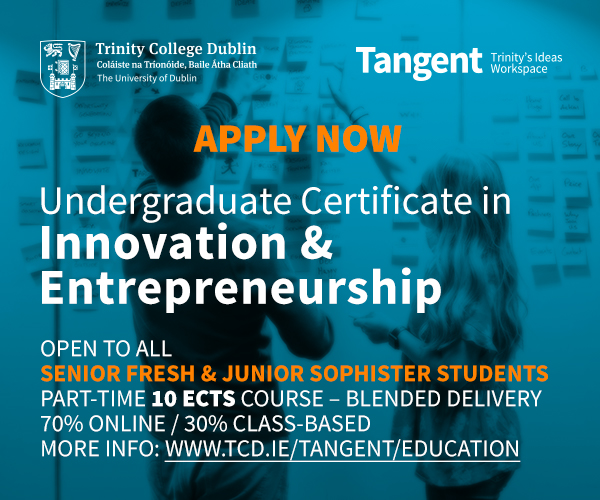 O'Halloran is a sports' scholar in Trinity, Co-Captain of the Irish Under 20s team, Captain of Trinity's ladies basketball team and Captain of her club team, Killester, so quite frankly she is far too busy for that sort of carry-on. She just wants to play basketball no matter the conditions.
But I was still so young and I just completely overworked myself. I ended up getting a stress fracture in my left leg
In their game against Israel: "It was over 40 degrees outside. In the trainings coming up to it we were wearing under armour and layers to try to adapt to it, but you just can't prepare for 45 degrees of heat." To make matters worse, most of their opponents were in the Israeli military, so they played with a physicality that allowed no respite.
While that result didn't go their way, it was a strong Irish performance against a very talented side, and growing up, O'Halloran would never have envisaged herself playing power forward for her country just miles from the Red Sea. She excelled at squash, swimming, athletics and tennis from a young age, and although they fell by the wayside one by one as she focused in on her aptitude for basketball, it's clear O'Halloran is one of those enviable "natural" athletes who could try her hand at almost any sport. That's not to suggest for a second, however, that she hasn't had to work hard to get to the top of her game in Ireland.
After transferring to Killester Basketball Club as a teenager, she worked her way up through the age groups, until she was playing for both the club's under-16 and the under-17 teams each week. Unfortunately, there comes a point in every athlete's life where the desire to improve and to progress outstrips the body's physical limits. For O'Halloran, the moment arrived ahead of the trials for the Ireland under-18 side: "In September I started training for the Women's Super League team in Killester. I was delighted to be asked to do the pre-season with them. I started training with them, on top of everything else I was doing. And I was still going to the gym and doing weights. But I was still so young and I just completely overworked myself. I ended up getting a stress fracture in my left leg."
Her injury left her on the sidelines for six months. But in a display of remarkable commitment, she got off crutches two days before the Ireland trials, made it onto the 18-strong final panel and then went right back onto her crutches again. "It was really what I wanted at that time, but I ended up missing about 70 per cent of the training due to injury so I got cut then, when they picked the final 12." Looking back on it all now, she admits she has learnt a lot about managing her physical workload and her own limits. "[Getting cut] was a really good thing in the long run, but it was a major defeat at the time."
To make the Irish women's team would be an honour, and that's what I'm working towards now
What stands out about O'Halloran is her maturity. Every setback is a learning experience, every success the result of a lesson learnt. It makes her an excellent leader on the court, as successive coaches have identified. With the Irish team, there is the expectation that players will study their opponents ahead of every game and O'Halloran has taken eagerly to these assignments, putting in her due diligence: "Every morning we get a report through our door, we have a scout who provides a detailed report of each team. Number 18, for example, how many minutes she normally plays, what she's good at, how many points she's averaging. Then there are video analysis sessions to look at what they do and what we can do to stop them."
The attention to detail O'Halloran brings to her game is particularly interesting in the aftermath of the Irish football team's 5-1 hammering at the hands of Denmark. It emerged in the build-up to that game, that Martin O'Neill, the Irish manager, didn't brief his players in detail as to the specific strengths and weaknesses of their opposite numbers. Now, whether that's true or not, I have always wondered about how much of those briefings an athlete actually remembers once they find themselves panting for breath in the swirl of the action. O'Halloran, though, is an advocate: "You can of course focus too much on what the other team are doing as well, but it's good to know if someone can't miss from the three-point line, then you don't leave them out there."
Having wrapped up her international duties for the moment, she is looking forward to a promising season ahead for Trinity basketball. With two American sports scholars, two Trinity sports scholars and a healthy Killester contingent on the playing and coaching staff, O'Halloran is determined to challenge the likes of Dublin City University (DCU) for intervarsity success this year. She also has her eyes on trials for the Ireland senior squad next year, the final frontier for a player who is always looking to improve: "To make the Irish women's team would be an honour, and that's what I'm working towards now."