Full disclosure, I am scared of heights. I hate glass elevators. I avoid Ferris wheels. As a kid, I never even really enjoyed trampolines. So when my editor suggested to me that I should try out one of Dublin University Climbing Club's (DUCC) sessions on the climbing wall, I told him I had plans with friends. Then, when I couldn't name two other people, we both agreed it would be embarrassing if I was to take that lie any further, and so he pencilled me in for death by blunt force trauma on Thursday, between 7pm and 10pm. DUCC also offer a Tuesday session during the same slot but that wouldn't have given me enough time to get my affairs in order.
When I arrived at the climbing wall, on the first floor of Tirinty's Sports Centre, it was so much busier than I was expecting. There were about 40 people at the session I attended, and it felt like 10 of them were on the wall at any one time. The rest were belaying (securing the ropes of those climbing on the wall), putting on harnesses, joking with one another and calling out advice to climbers in need of a figurative leg up. Music was pumping out of speakers somewhere and while I was too stressed to listen closely when I first arrived, it seemed like a familiar playlist. To be honest, the general vibe felt like I had walked in on a course night out, but with less pulling. And where the classmates actually like each other.
I ran a quick test I often use to see how welcoming to newcomers a society is. It's simple. Just approach a random person while they go about their business and proceed to ask them inane questions. I was given such a helpful, warm welcome by everyone I spoke to, I started to forget how terrified I was supposed to be of the giant blue wall looming over me. For a group of people who spend most of their time looking down on others, climbers are a surprisingly inclusive group.
ADVERTISEMENT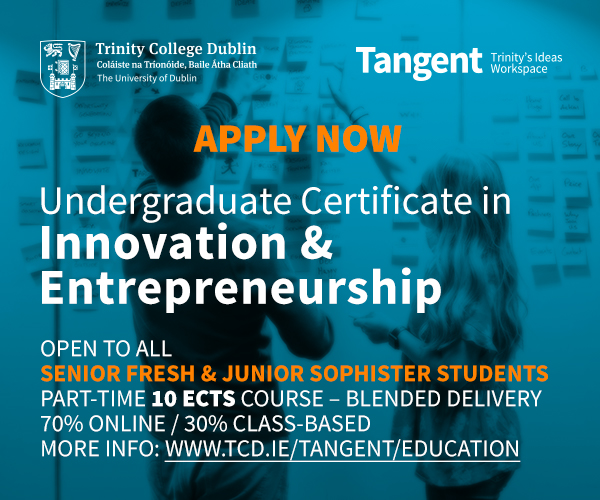 Our photographer was ready and waiting, and I just knew the rest of the sports section would never let me live it down if I backed out now
Before I attempted to climb anything, I spoke to Club Secretary Cliona Farrell and Ents Officer Hannah McSweeney, who were very helpful in "showing me the ropes". Their pun, not mine. Now, I knew that my personal idol, America's sweetheart, Chloë Grace Moretz, had scaled this very wall just a few months ago during filming for a Neil Jordan movie. Unfortunately, Farrell had to break it to me that I wouldn't be able to scale the same route that Moretz had, because the grips had been changed. But she could reveal that, as well as her day job as a third-year neuroscience student, she is also a body double to the stars, having filled in for Moretz on set.
Having stalled long enough, it was time for the moment of truth. I pulled on my harness with McSweeney belaying for me, and approached the wall. "So I just start climbing?", I said over my shoulder. McSweeney smiled and nodded. Our photographer was ready and waiting, and I just knew the rest of the sports section would never let me live it down if I backed out now. Knowing my blood would be on their hands was oddly comforting. So I started the same way I pull on my trousers. One leg at a time. Farrell and McSweeney had picked a gentle route, perfect for beginners, and although I'm sure I was painful to watch, I never once felt in danger of losing my grip. Instead, a sense of euphoria kicked in.
Eleven metres up in the air, you lose all track of time, aware only of the contact between your body and the wall. The sense of satisfaction that comes with grasping each new handhold drives you on, as does the music down below. In psychology, there is a theory that explains this sense of flow as a feeling of "complete absorption in what one does, and a resulting loss in one's sense of space and time". And that's pretty much how it went down.
When I finally came back down to earth, after a very inelegant abseil, I couldn't believe I was asking if I could go up again, just to chase that high one more time. Farrell and McSweeney laughed and obliged. I'm sure they see that same excitement from most newcomers.
They then both took time out of their session to answer my questions about the club, but not before discussing the evening's playlist. Farrell laughs: "There's like 200 songs on that playlist. It's awful tunes, like Doyle's." But she doesn't mean this disparagingly at all, and in fact, DUCC are some of Doyle's best patrons. McSweeney, or MC Swizzle as she is known to Farrell, talks me through the numerous social events the club run every year: "On Saturday, we had a bouldering night, with pyjamas, pizza and beer. We were at the [climbing] wall in Sandyford and it was really fun. They closed the place for us. We were bouldering in our pyjamas and we had pizza and we were able to drink as well. And then we went to Doyle's. Doyle's is like our main hub."
The pair of them are charming company, always finishing each other's sentences and talking freely about their love of climbing. The camaraderie explains how the average three-hour session on the wall can attract around fifty people – not bad going for Tuesday and Thursday evenings in college.
The club also holds an annual screening of a climbing film, which attracts climbing enthusiasts from all over Dublin. Farrell explains: "It's a film produced by the North Face, called Reel Rock. They produce a new one each year. We buy the rights and we show it every year for the public, kind of thing. We had about 300 people." McSweeney jumps in: "It was the biggest turnout ever, because we are one of the few places in Ireland to screen the movie." They also held a raffle that evening to raise money for Mountain Rescue Ireland, with prizes donated by Ireland's up-and-coming climbing community.
DUCC also go on four climbing trips every year, and this term they've already explored the Burren, with a bouldering outing to Glendalough on the cards for just before Christmas. When we talk about how climbing allows you to exercise in nature, Farrell immediately points to the value of these trips away: "Down there when we were in the Burren, it's so gorgeous, we got a really sunny day one of the days, you can just appreciate the beauty." McSweeney is also keen to emphasise the fitness benefits, as well as the potential for panoramic views of the countryside: "It's such a full body workout. Like, [for example] one climb requires so much more arm strength so I'm going to work on that ….. [but] a different type of climb will require a different type of muscle, so you'll work towards developing that specific muscle to build up the strength for that climb."
It's all personal. You're not competing against anyone else. Like, you are, but in the big picture it's your achievement
Mostly though, they both seem to have been hooked by the same sense of "flow" that I felt on my first outing. As McSweeney concludes: "It's all personal. You're not competing against anyone else. Like, you are, but in the big picture it's your achievement. I topped that."
We are about to wrap up, as I can sense they are dying to get back to the wall, but then, almost as an afterthought, they drop the fact that DUCC won climbing intervarsities last year, with the highest average score: "Oh, we should probably mention we won varsities, yeah!" says Farrell. They themselves finished first and second in the female freshers' category. If it was anyone else, I'd think this was a classic case of false modesty, but the way McSweeney delivers the line "it was kind of an extra cherry on top that we did win", leaves me in no doubt that first and foremost she was happy with how she had met her own challenges. Then Farrell draws proceedings to a close, with a verbal mic drop that had been coming all night: "H McSwizzle out!"