Trinity researchers were awarded three out of the four Medals of Excellence awarded by the Irish Research Council (IRC), as the association marks 15 years.
Medals of Excellence are named after former chairs of the IRC and are given to people who stood out from the organisation's postgraduate and postdoctoral funding calls. Two postgraduate researchers, Miriam Cummins and Aisling Heeran, and postdoctoral researcher, Dr Natalia Muñoz-Wolf, won awards across the arts, humanities and social sciences as well as the science, technology, engineering and mathematics categories.
Cummins, a PhD candidate in the School of Creative Arts, won the Eda Sagarra Medal of Excellence for her research examining post-secularism, gender performativity and performance in the postcolonial world. Her award is the only one of the three that won in the arts, humanities and social sciences category.
ADVERTISEMENT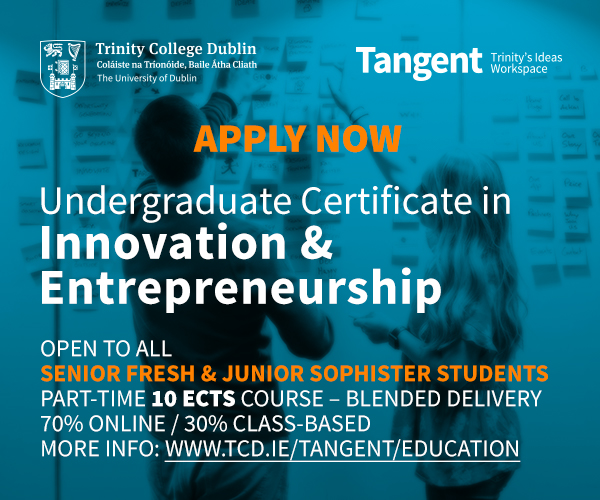 The postgraduate award for the science, technology, engineering and mathematics category, the Jane Grimson Medal of Excellence, was awarded to Heeran for her research in investigating the clinical relevance of the radiation-induced bystander effect in rectal cancer patients. A radiation-induced bystander effect is a phenomenon in which cells exhibit effects as a result of signals coming from nearby cancer cells.
Muñoz-Wolf, a research assistant in the School of Biochemistry and Immunology, won the postdoctoral Thomas Mitchell Medal of Excellence for her research investigating morbidity and mortality in pneumococcal disease. Pneumococcal disease is an infection caused by the introduction of pneumococcal bacteria, of which there are 90 types. The disease affects mostly the very young, the very old and those with medical issues relating to their spleen.
Also awarded was University College Dublin researcher Dr Dan O'Brien, who was given a Medal of Excellence for his research on the intertwining fiction of Philip Roth and Edna O'Brien. He was awarded alongside Dr Martin O'Halloran, a researcher from NUI Galway, who won Researcher of the Year, and Dr Paola Rivetti from Dublin City University, who was named Early-Career Researcher of the Year. O'Halloran's work focuses on medical electronics, while Rivetti focuses on politics of the Middle East and international relations.
Speaking in a press statement about the awards, the Minister for Training, Skills, Innovation, Research and Development, John Halligan, congratulated the IRC for "funding the brightest research talent". "Ensuring that we have the pipeline for a broad range of expertise future-proofs our higher education and indeed Ireland in a globally-connected world", he said.
The IRC is an extension of the Higher Education Authority (HEA) and particularly looks into early-stage career researchers. The awards were given as the IRC marks 15 years of service, including its forebears, the Irish Research Council for the Humanities and Social Sciences and the Irish Research Council for Science, Engineering and Technology.
Speaking on the importance of supporting research, Chair of the IRC and director of Trinity's Long Room Hub, Jane Ohlmeyer, brought up this milestone: "Over the past 15 years, the Council have awarded 7,776 researchers across all disciplines of research. Having a vibrant research community – and strong public support for research – is now more important than ever before."