Behind Phoenix House, in an otherwise dreary car park, are four shipping containers. When approached from behind, they look mundane, almost like makeshift storage facilities. Venture around the front however, and the media facilities, open-plan office, smart couches and atmosphere of concentrated creation is immediately arresting. "The Box", as it is called, is one of Trinity's most recent but lesser known additions. Its background and aims are as striking as its appearance. Inside is a team of eleven: five facilitators and six Syrian refugee students collaborating on a media project for which the Box was built.
"The goal of the Box is to basically headquarter a series of refugee video training workshops", says project manager of the Box Neil Smyth speaking to The University Times. "The idea is that through these workshops, people from underserved or disadvantaged situations can become empowered to go on after the workshop and earn money by essentially becoming video content creators."
The venture is a part of the Ismani project, jointly funded by ALTV.com, a user-driven Arabic language video content platform similar to YouTube, and the Science Foundation Ireland Research Centre for Future Networks and Communications, CONNECT, headquartered in Trinity. The partnership is the first of its kind and the first of ALTV's workshops to focus on refugees. "The idea is that they [ALTV] can discover new talent and provide individuals with the skills and training that they need to then go on and create careers as video content creators", says Smyth. "It's kind of like an altruistic project, but they'll still hopefully get something that they can put on their platform too." Smyth is also a researcher at CONNECT, a telecommunications and future networks research centre, which is facilitating the project in Ireland.
ADVERTISEMENT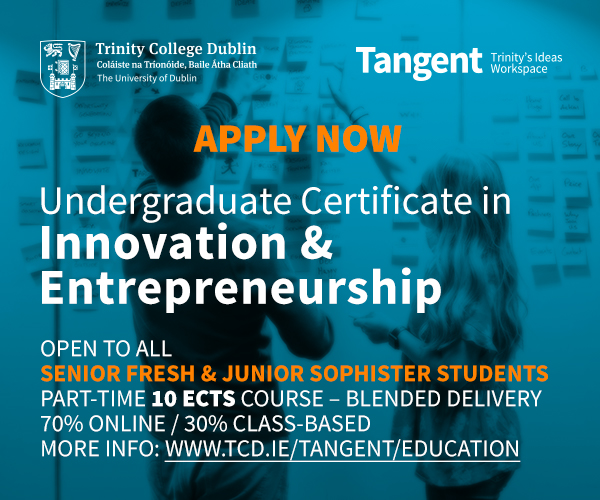 We are working with people who probably don't have a lot of material possessions at the moment
A key element of these particular workshops is the sole use of mobile phones in content creation. "We are working with people who probably don't have a lot of material possessions at the moment, but they generally all have decent phones", explains Smyth. "The focus is that whatever they learn in the workshop, they'll be able to go keep doing that and become content creators using their own phones." Indeed, in the next compartment, one of the students can be seen working with some of the facilitators, shooting a scene using a simple tripod and smart phone.
The six students arrived last week from the Abbeyfield Reception Centre in Ballaghaderreen and shortly after, Mosney direct provision centre arrived to begin work on a diverse range of individual projects in the very first of the two-week workshops. "We've got one [project] which focused on a series of comedy sketches and another which is a visual poem about the kind of difficult journeys that refugees often have to take", explains Smyth. "Kamel [one of the students] is doing a piece that focuses on Dabka dancing, which is a form of Syrian dancing, sort of framed in the context of not being able to find other Arabs in Dublin. Through that form of dance he then finds new friends, again telling the sort of situation of a refugee here. Then we have a documentary-style piece that two of the brothers, Muhammad and Noor, are creating, where they interviewed some people living in Mosney about life there."
Although most of the students were studying before leaving due to the war, and although some had an interest in IT, experience isn't a requirement of the programme. When the project's cultural coordinator, Mai ElMahdy, was reaching out to families in direct provision in Mosney, she was looking for people with passion and who were interested in film. As Smyth explains, ElMahdy was "looking for people who were interested but not necessarily already directly experienced".
"It's actually great to see how much people who weren't necessarily you know, mad [about it], become so enthusiastic."
The positive buzz around the Box and Smyth's enthusiasm about the pioneering project indicate a successful pilot run. But there have of course been obstacles and Smyth admits that they have hit a "couple of snags with direct provision limitations". "The other day the bus was an hour and a half late coming from Mosney, so that cut into our limited time and limited daylight hours of opportunity for daylight shooting", he explains. "The first day, half of the students got told completely without warning that they had to go to the passport office to collect their refugee passports, so they missed the entire first day of their workshop, so we're already a day behind. So there's these kind of practical things that get in the way of the ideal."
The first day, half of the students got told completely without warning that they had to go to the passport office to collect their refugee passports, so they missed the entire first day of their workshop
These are the kinds of learning curves that Smyth hopes to factor in to future workshops and he will pass over his recommendations in a handover session to another workshop, the second of its kind, for refugees in Jordan. "The plan is that we will take what we've learned from this workshop and apply it to a Palestinian refugee camp in Jordan", says Smyth. Also run by ALTV, these workshops will be run independently, but will learn from the model on the Trinity campus. "I won't personally be managing the workshops in Jordan", says Smyth, "but I will be going over on one or two visits to do some mediation and handover ideas and that kind of thing and then probably to be there when the actual workshop kicks off".
In terms of where the Box is headed in Trinity, the space is a permanent fixture, soon to be opened up to staff and students of the College for their own creative purposes. Applications have been opened for a design competition for the exterior, where students and staff of the College, as well as hobbyists and professionals, are invited to submit proposals for the external design for the Box. Smyth is optimistic about the future of the workshops themselves: "Word has gotten around through the guys in Mosney and there's a lot more people interested in trying to get on it."
Smyth is also aware of the gender imbalance that exists amongst the current Syrian participants. Out of the six students, only one student is female. "Taqwa is, unfortunately, our only female student, but we're working on that and hope to get a bit more balanced for the next time. It was quite difficult to get more females involved. Some had reservations", explains Smyth. "There are cultural differences for women to be going up to Dublin by themselves, especially when they're a bit younger. But hopefully through Taqwa being a pioneer and leading by example, it will lead to a bit more of a gender balance on the next one."
The results of the workshop will be uploaded onto the ALTV website at the end of the process. The Box looks to be an exciting new feature for the College community. Although a small space, the creative capacity is exemplified in the very nature of the shipping container structure and the intercultural dimension of the whole project is a wonderful indication of an increasingly vibrant College community.