When looking for examples of graduates revolutionising their professional fields, the Trinity recruitment office should look no further than singer and saxophonist Gavin Brennan, the first-ever student to graduate from Trinity's masters in music performance. A self-described "Dub", Brennan is a Clontarf native now touring the world with internationally acclaimed Irish group Anúna, while recording his upcoming debut album, both of which aim to change the 21st-century space of Irish music.
Though not from a typically musical or performance-driven family, Brennan attributes his propensity for stage work to a truly millennial origin. "As a 10-year old in 2001, the instrument that sprung to mind was the saxophone, because The Simpsons was absolutely huge." He follows by saying, "I always liked to be a little different, and the saxophone was that. I didn't know of anyone at the time who played it." And so, the bug had bitten and normal schooling couldn't have been over sooner. "From first year in school I was asking myself 'why can't I just study music full-time now?' I was waiting to get to do it."
That being said, Brennan's talents are by no means limited to his training as a classical saxophonist in his undergraduate degree from Dublin Institute of Technology (DIT). His Twitter bio describes himself as a "singing saxophonist", notably, though, "just not at the same time". Yet, with global phenomenon Anúna as his first professional singing job, Brennan's self-taught vocal skills, cultivated by "singing at home playing along to the piano," are clearly more than adequate. A quick peek at his Youtube channel only confirms the obvious.
ADVERTISEMENT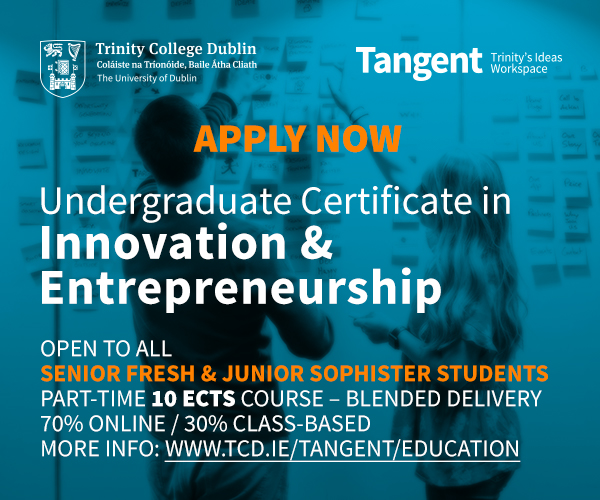 His Twitter bio describes himself as a "singing saxophonist", notably, though, "just not at the same time"
Post-DIT graduation, Brennan could have followed graduate opportunities abroad and focused solely on winning competitions to launch his career. Indeed, he was nominated for the Irish Young Musician of the Year award – twice. Nonetheless, the standard graduate avenues didn't appeal. "I have a real passion for the music and the arts scene in Ireland, and I didn't want to do the typical thing", he says, emphasizing that there is something inherently special about music and the arts in Ireland that isn't accessible elsewhere in the world.
Thus, in searching for a way to combine the Irish context with his true passion for "playing, not composing", the first graduate of the Trinity master's in music performance was born. "The main draw for me was performance-based study. There are a lot of music degrees that don't have a huge performance element and that was very important for me. I also finally got to study at Trinity." And who wouldn't want to do that?
The programme, new in Brennan's first year, has established a link between Trinity and the Royal Irish Academy of Music with the goal of propelling its graduates into the entertainment industry. In particular, Brennan appreciated the flexibility of the master's, and his own ability to mould contact time to suit the saxophone, an instrument not often found in these kinds of programmes. More specifically, he praises Trinity for teaching its students how to be true entertainers, business and all. "From the lectures I had, I learned a great deal about how to organise a concert. I was going into it fresh, [not] coming from a family of concert promoters. Gaining all of those connections was fabulous [and] seeing how the promotional side of things works, like how incorporating a mainstream element can get people who wouldn't necessarily associate themselves with classical music involved, really made a difference."
Those skills, likely helped by Brennan's genuine, friendly personality, were evidently honed before the first graduate graduated. In a concert that acted as his second-year final exam, Brennan organised a forward-thinking, genre-mixing production at Smock Alley Theatre that featured physical artwork inspired by a blend of performed contemporary and traditional Irish music. In company: the seemingly unrelated RTÉ string quartet and Tríona Marshall of the Chieftains. In attendance: the Minister for Culture, Heritage, and the Gaeltacht and the Tánaiste. In humble fashion, Brennan simply comments:"It was just lovely to have and be seen as having that impact when I was still in college."
I have a real passion for the music and the arts scene in Ireland
That his time at Trinity would lead to multiple world tours and an upcoming solo album is fitting, and Anúna, Brennan says, was the perfect place to bring his exercise in musical synthesis to the world stage. "The way Anúna works really resonates with me. It's not just about the sound. The visual element is so important. The movement is so important. Saying an Anúna concert is just music would be underselling it. It really tries to be this higher form of art that lets people connect with the story of the music." Perhaps that's why Brennan has found himself, and will find himself several times again, touring East Asia, where most audience members might not be expected to understand lyrics as gaeilge. "The clothes and technology may change, but the stories are still there. Love, loss, connections, and hope – those transcend boundaries."
It's unsurprising, therefore, that Brennan doesn't see himself as "fitting in" with any particular artistic scene. Instead, his vocation is quite aptly self-described as "breaker of barriers". His only complaint, for his troubles, is that the charmed life of making your passion your business means being away from home: "There is something special about Ireland. Ireland is not necessarily just a place. It's an ideal for a lot of people… an island of hope where dreams can be harboured. [For that reason], it is such a formative place and a good environment to create in. That's a part of the reason I didn't want to go abroad."
Sadly, an ability to feed oneself calls, though Brennan's impact on the promotion and space of Irish music will certainly reach further than what he can do to sustain himself. With the Trinity master's having helped him find his path as an artist, Brennan's talents will undoubtedly transcend more than linguistic, geographic, and musical barriers. His upcoming solo album and future with Anúna will certainly give him the platform to revolutionize the culture of Irish music, here and around the world.