This week marked the second time in recent years that renegade students dropped a banner from Trinity's Front Arch in support of a social movement. But compare Wednesday's effort by Strike 4 Repeal with its 2015 counterpart and you will get some insight into the philosophy behind this group's approach to the broader repeal movement.
In the run-up to the marriage equality referendum, a TCDSU-organised banner encouraged rush-hour commuters to "vote yes for a more equal Ireland" – an easily understood message that played into the wider campaign. Strike 4 Repeal's message to passersby was a whole lot more abstract, however: a giant lightning bolt – and nothing else.
At the opposite end of campus, the single-word message on a banner splayed across the Goldsmith Hall walkway was only slightly less obtuse ("strike").
ADVERTISEMENT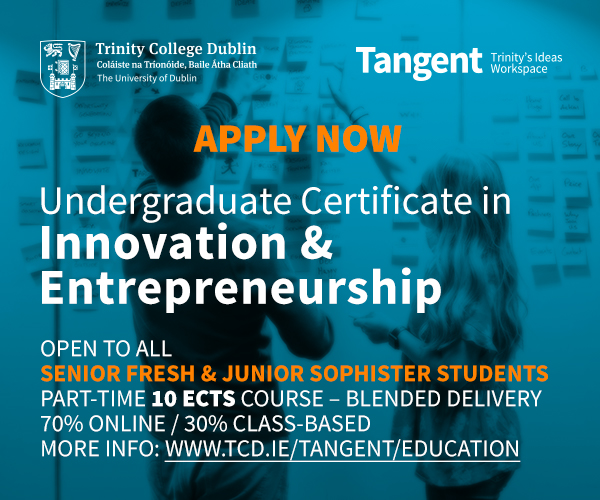 The guerilla-like Strike 4 Repeal campaign got off to an extremely admirable start in March last year with its direct action protest that echoed similar historical demonstrations against inequality across the world. But its lightning bolt-related branding hasn't even come close to infiltrating the popular consciousness in the way the word "repeal" has. If Wednesday's efforts on campus had any impact at all, it is thanks to coverage in student media outlets. While many movements would of course wither without media coverage, it's a rare thing for the action to have such little impact in and of itself.
One thing that the marriage equality referendum taught us is that when interest groups coalesce around the same message – like when multiple high-profile organisations joined together as one unit under the Yes Equality banner – it's possible to effect profound change.
In a week that some on the repeal side expressed ill-advised skepticism about an obviously sincere speech in support of their cause from the leader of one of the country's largest political parties, it's worth reminding ourselves that the campaign to repeal the eighth amendment will be difficult enough as it is. Splinter groups with their own distinct branding won't help the cause.
In Trinity, that fact necessitates hand-in-hand co-operation between interest groups and Trinity College Dublin Students' Union's Repeal group. Nationally, it means emphatically banding together under the Coalition to Repeal the Eighth Amendment – with one message.