The stereotype of brooding student bands hanging around college campuses is one that holds true, whether it's solo guitarists or nine-piece collectives. Student bands are something of a phenomenon, with countless big names nowadays having beginnings in university halls and music societies. Pink Floyd and Queen are two bands that started like this. University is a popular place to foster a band, all the while juggling academia and music. With more emphasis placed on Battle of the Bands competitions recently, and social media flushed with student bands looking to become the next big thing, two student acts, Étáin and Dysfunktional, shed light on the realities of the lifestyle.
Étáin Sweeney, performing under the stage name Étáin, is a Dublin-based solo performer originally from Leitrim. Having just launched her EP earlier this month with a performance in the International Bar, Étáin has seen success as an acoustic artist with a varied genre: some 60s folk, some punk, some Motown. She's been performing for a few years, so she is familiar with the balance you have to strike between college commitments and working. "Really the most difficult part is probably trying to focus on both", she says, but also notes an interesting perk of not studying music. Being a law and politics student, she explains how her degree and her music "actually compliment each other and it adds this broader worldview to my writing that I think is really important", and that "college is such a focal point of new ideas".
Dysfunktional, a nine-piece funk band consisting of students from various Dublin institutions, was formed in early 2016 from various orchestral ensembles. Though still a fairly young band, they have found success in their live performances in Dublin's venues already since they properly began earlier this year. Currently, they're through to the semi-finals of Trinity's Ents Battle of the Bands, evidently with hopes to play Trinity Ball in April. Already from this one performance, they've secured another spot with the venue, Tramline. In a similar vein, managing student life, as well as band matters, is one of the more difficult aspects of the job. Adam Kenny admits that it's harder because "we just don't know when things are going to pop up".
ADVERTISEMENT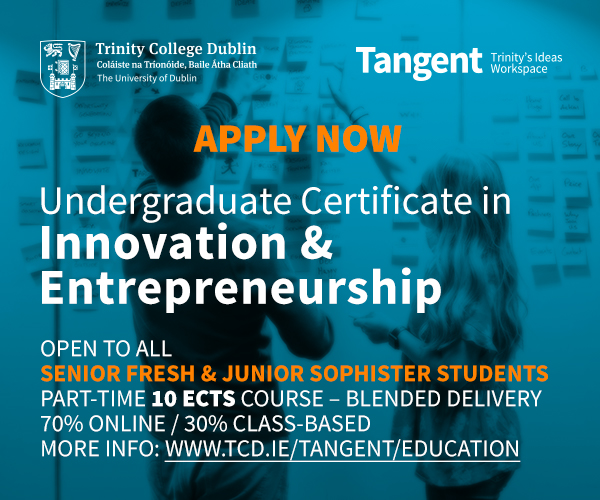 It's evident, however, that Trinity, and universities in general, are doing a good job at promoting and supporting the rise of student bands. Étáin hones in on Trinity's knack for fostering a supportive musical community within its walls. "In Trinity, music is well respected and there's a lot of admiration for the work that you put in", she explains, touching on the difficulties of the industry as a whole outside the comforts of college. "It's very encouraging, especially in an industry that's becoming more closed off every day."
While college support is undoubtedly invaluable to a band beginning to develop, Dysfunktional also cites Dublin as a whole as a welcoming city in which to get an act off of its feet. Universities "want to showcase" what students can offer, at events like DU Music Society's open mics and recitals. But students themselves are also more open to new sights and sounds. "Everyone's more up for going out in college", Kenny offers, which obviously makes it easier to grow their audience. But adding to this, there seems to be a renaissance in live music lately. "I think in the last few years live music has come up way more, especially in Dublin", Kenny explains, suggesting some people are "veering away from DJs". And venues know this, "they see these lives bands and they want to bring them in because they know that it's becoming a good thing and they know their patrons are gonna love it", he explains, which has undoubtedly helped in Dysfunktional's successful debut into the world of live performing.
Bands do tend to have an easier time booking venues, according to Étáin, who says "solo artists, particularly female ones, are stereotyped as these soft, sweet songbird types", a stereotype she rejects after having won over a "dingy bikers' bar" with Ricki Lee Jones, leaving the audience asking for encores. "But even now I find I still have to prove myself to venues", she says. She revels in surprising an audience "because in a way you've managed to banish a stereotype in the minds of at least that audience".
There are ups and downs to working in the music industry while maintaining an academic career, but it's pretty obvious student bands do it for the love of it. Time management issues and venue woes all get put on the backburner when you see how much support and genuine interest there is for student bands starting out. Clearly, Dublin is steadily building up a strong network of bands that are bringing the allure of live music back into fashion.