Trinity and Bank of Ireland's long-term partnership will continue into the future, as College announced today its new innovation and entrepreneurship hub.
The aim of promoting entrepreneurship among students has long been a key aim of Provost Patrick Prendergast, who has praised Trinity's entrepreneurial success in recent years.
The new partnership will look to copper-fasten that success, which has turned Trinity into one of Europe's leading entrepreneurial universities.
ADVERTISEMENT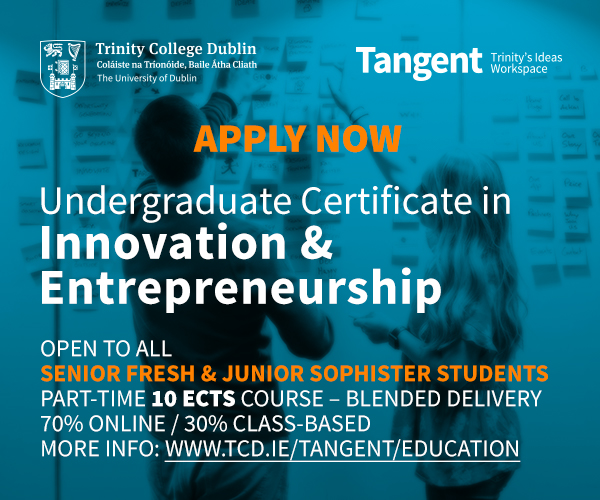 The new partnership will involve the development of a new Undergraduate Certificate in Innovation and Entrepreneurship. This course, launching later this year, can be taken by students in tandem with their degree and will be open to all students from second-year onwards.
In October 2016, The University Times reported on plans for the new hub.
The partnership will support the expansion of existing programmes, such as Launchbox. LaunchBox has been one of Trinity's success stories, with five companies raising more than €4.7M in investment between them.
The certificate will be available at the Innovation and Entrepreneurship Hub, which will co-located within the new Trinity Business School. As Trinity seeks to partner with startups and entrepreneurs in Dublin and beyond – College has plans for a billion-euro project in Grand Canal Docks – the hub will be important in offering more opportunities for students and staff to link up to new Irish companies.
Trinity has been ranked as the top European university for producing entrepreneurs three years running by Pitchbook. However, with E3 and the Trinity Technology and Enterprise Campus in the works, the College is looking towards an ambitious innovation strategy.
In a press statement, the Bank of Ireland CEO, Francesca McDonagh said: "We are delighted to announce the next phase of our long-standing, successful partnership with Trinity College Dublin. Today marks the next chapter in our relationship: two of Ireland's most established institutions joining forces to deliver a transformational vision for Ireland."
"It gives me great pleasure to deepen our relationship with Trinity – a college associated with original thought and innovation for many centuries", she said.
In a press statement, Provost Patrick Prendergast said: "Trinity is committed to providing an environment that supports and encourages innovation at all levels across the University, promoting entrepreneurship as an engine for economic growth, and for social and cultural development."
"This partnership with Bank of Ireland strengthens our capacity to promote innovation and foster a culture of entrepreneurship among all our students", he said.