Over €2.5 million was awarded to two Trinity researchers, who were among the five scientists to win a €7 million grant from Science Foundation Ireland (SFI). The President of Ireland Future Research Leader Award was presented at Áras an Uachtaráin yesterday.
Dr Tomas Ryan and Dr Lydia Lynch, associate and assistant professors respectively in the School of Biochemistry, in Trinity, were both named winners of the prize presented by President Michael D Higgins.
The award aims to develop new research leaders in STEM by creating 15 new posts in the five labs that received the grant. The funding will advance research in multiple sclerosis, obesity, immunology, regenerative medicine, tissue engineering, protein engineering and amnesia.
ADVERTISEMENT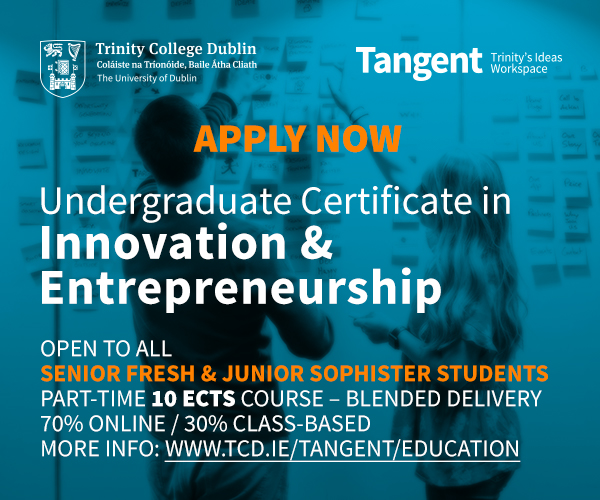 In a press statement, the Director General of SFI, Prof Mark Ferguson, highlighted the importance of the grant: "The development of leadership skills in these researchers early in their careers is vital to ensure research and innovation in Ireland continues to progress. Our investment highlights the importance that Science Foundation Ireland places on supporting all stages of academic careers, and on the attraction and retention of star researchers."
The award is to be also shared by three other researchers, Dr Claire McCoy of the Royal College of Surgeons Ireland (RCSI), Dr Christina Kiel of University College Dublin (UCD) and Dr John Laffey of NUI Galway (NUIG).
Ryan studies memory engram cells, a type of specialised neuron, and is trying to understand how memories are stored in the brain at a molecular level. He has collaborated with world leaders in neuroscience research such as Dr Colm Cunningham of Trinity, Dr Steve Ramirez of Harvard University, as well as Susumu Tonegawa of Massachusetts Institute of Technology.
Ryan received €986,012 to continue his research yesterday. In a press statement, Ryan said that "this award enables me and my research team to engage in ambitious, blue-skies research and experimentally address the most fundamental questions about the nature of memory storage in the brain".
Lynch carries out extensive research in immunology and received €1.52 million of the award. Her research looks at obesity-related diseases, including cancers caused by obesity. During obesity the body's ability to find and kill cancer cells is often compromised, and Lynch hopes her study can identify the causes underlying dysfunction in certain immune cells that are typically responsible for preventing the development of cancer.
By understanding why these cells aren't working properly in these settings she hopes to uncover new ways to combat cancer in obesity. Lynch said that she was "delighted to receive this prestigious" award and said that "this means I can continue to perform the research that was established in Harvard and train the next generation of young scientists in this frontier field of immunometabolism".
In 2015, Lynch was among six Irish university researchers to be awarded a total of €9 million from the EU. Lynch was also named as one of Ireland's top 25 most powerful women, alongside some of the biggest names in Irish society, in 2017.
Kiel, principal investigator in UCD's School of Medicine, received the largest proportion of the grant, securing €1.57 million.
The award comes just weeks after Ferguson called on the government to double science research funding, if Ireland is to remain competitive globally and improve Ireland's economy. Speaking at the launch of SFI's 2017 review, Ferguson said that "tough political decisions" will be needed to increase research funding to €300 million over the next few years and to solve the funding crisis in higher education.