In recent years, the role of communications and marketing officer has taken on a heightened significance, with the latter aspect of the title especially important when set against the backdrop of TCDSU's continuing deficit. Previous communications and marketing candidates have tended to focus more on the communications aspect of the role, but the proposed establishment of a Commercial Committee in the union bears out the idea that this year's candidates will need to focus more on money-making strategies for TCDSU.
As an uncontested candidate last year, incumbent Communications and Marketing Officer Úna Harty was free to set the terms of debate, seeming to concentrate mostly on the importance of social media campaigns and promising a weekly TCDSU radio show. However, it is from commercial deals, such as the installation of popular doughnut brand Offbeat in House 6, that this year's candidates can take inspiration, as TCDSU seeks to unearth new ways of generating finance.
Speaking to The University Times, Harty emphasised the significance of her job: "The role of the communications and marketing officer can sometimes be overlooked, but I think it's important for the student body to understand that it is vital to the Students' Union."
ADVERTISEMENT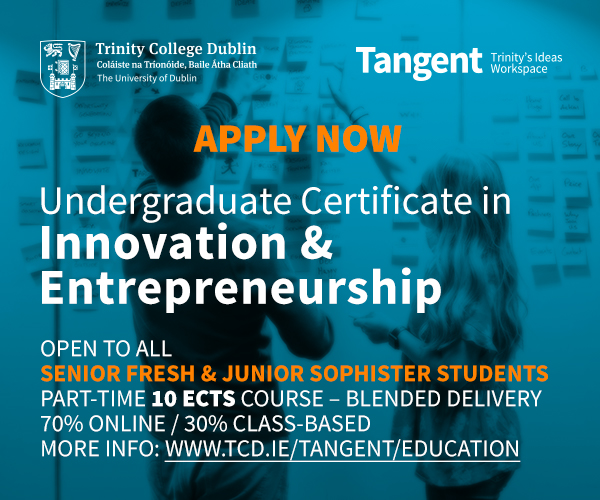 The role of the Communications and Marketing officer can sometimes be overlooked
In marked contrast to last year, this year's election will see three candidates compete for the position. Paraic McLean is a fourth-year drama and theatre studies student who has long been involved with the union, having served as the PRO of the Ents Committee last year. He has also been convenor of the School of Creative Arts for three years and was the Production Manager of Trinity Arts Festival.
Fourth-year philosophy student Niall Harty is treasurer of the Russian Society and served as a member of parliament in Comhairle na nÓg between 2012 and 2014. Cian Rynne, a final-year genetics student, is perhaps best known for running the Trinity College Doggos Facebook page. Both of these candidates lack union experience, but argue that this will in fact be an advantage if they are elected. Rynne added that some officers view their roles as "something to check off on their CV", and thus are too fearful to "rock the boat".
If the role is still "malleable", as McLean claimed in an interview with The University Times, each candidate has an opportunity to leave a mark on the Communications and Marketing brief. For Glen Byrne, who took on the role last year, redesigning TCDSU's website and branding became a core aim, while Harty will likely be remembered for her pioneering work on the union's Instagram and social media.
The importance of the marketing side of the position cannot be overstated, especially given the financial difficulty in which TCDSU currently finds itself. It is an inescapable truth that next year's Communications and Marketing Officer will have their tenure defined by how successful they are at generating revenue. It is also, according to Úna Harty, the aspect of the role "that is lesser seen by the student body".
The importance of the marketing side of the position cannot be overstated
The most pressing question is what plans do this year's candidates have for making money for TCDSU. McLean admitted to The University Times that "the marketing side of it and getting the money will be my weak side". To counterbalance this, McLean insisted he will ensure communications and marketing complement each other rather than being opposing parts of the same role: "When you have a well-structured communication system it's really easy to market something to anyone."
Harty, on the other hand, will seek to place the business-oriented aspects of the role at the forefront of his campaign, hoping to capitalise on his experience as Sales and Marketing Specialist for media company Headcase Marketing. Speaking to The University Times, he said he intended to focus on "getting outside bodies to sponsor the SU and engage with Trinity students". He does, however, accept the importance of maintaining Trinity's ethical sponsorship policy.
Rynne told The University Times that he will seek to ensure that Trinity remains "a sellable concept to outside investors and companies", accepting that a large part of his role will be taken up by "balancing the books". He will prioritise attempting to make TCDSU "more sustainable".
With a TCDSU-backed boycott of on-campus premises Westland Eats ongoing, this year's race is likely to see some kind of debate on the virtues of ethical advertising. Harty gave the issue a mention in her manifesto last year, and in a prickly political environment, this year's candidates will need to ensure their work matches the values of TCDSU.
I think it's very important to uphold the ethical sponsorship policy
"I think it's very important to uphold the ethical sponsorship policy", Harty told The University Times, citing the publicity currently surrounding the Aramark Off Our Campus campaign as an example of the need for TCDSU to adopt a principled approach to its commercial manoeuvring.
Harty's campaign last year focused heavily on engaging with students via social media, and she later said that her replacement must be somebody "well versed in social media and popular culture". This year has seen a similar focus on social media among candidates, with all of them highlighting the various platforms' ability to engage students. While McLean praised TCDSU's social media presence this year, Harty stated that there is "always room for improvement", and that he intends to use his experience editing the popular Memes and Things Facebook page to help streamline the union's online presence.
Rynne was less complementary about the union's social media platform, which he believes has been "spreading itself too thin". By taking a "no-nonsense" approach and simplifying its message, he hopes to connect more students to one another, as well as to TCDSU. With two candidates this year with backgrounds in social media management, it is likely that we will see strong online presences and it will remain to be seen how much traditional on-the-ground campaigning will be done in this race.
With student engagement predictably forming a large part of this year's debate, social media has been offered up once more as a solution. However, candidates did expand on their own differing experiences of engagement with TCDSU, as well as their ideas for improving on what is a key issue in the union's development.
McLean, who stresses his personal involvement in TCDSU, plans to rid the union's public image of jargon and complexity. At the same time, he wants to encourage greater student input on how the union operates: "We do things and then we show them but we don't really ask frequently what we want from [students]".
We do things and then we show them but we don't really ask frequently what we want from students
The Communications and Marketing role has often drawn students from various backgrounds. Harty took her experience from a range of Trinity Publications, while Byrne came from Trinity Law Society. McClean hopes that his experience as Technical Manager of DU Players and Production Manager of Trinity Arts Festival will serve him well in boosting union engagement: "We engage with different production teams for different shows. We interact with outside companies, we have communicative skills within drama, it's quite tactile in nature".
Harty also has experience with societies on campus, acting as Treasurer of the college's Russian Society two years running. He believes that societies are key to helping students engage with each other, and wants to promote a closer relationship between TCDSU and the college's various committees and societies. His work with Comhairle na nÓg, where he served on the Ceann Comhairle, has given him similar experience "in an institution like the SU". He told The University Times that he believes the recent Opt-out movement stemmed from a lack of understanding of what TCDSU actually offers to students.
For Rynne, self-belief pushed him to run. "I've marketed myself to the entire college over the course of a year", he said. If a TCDSU Communications and Marketing Officer elected on the platform of a meme page would be largely unprecedented, with previous candidates stressing their professional experience with slick graphics and social media presences, Rynne's campaign is likely to be more than a little rustic. Still, Rynne dismissed the idea that he's not running seriously: "I've connected almost an entire 6000 people in this college together."
Facing a continuing deficit and low engagement from students, next year's Communications and Marketing Officer faces a tough task. The three candidates come from far more varied backgrounds than we are used to seeing in TCDSU elections, and one would hope that this will lead to each one tackling the issues ahead of them in a more innovative way.
---
Blaithín Wilson contributed reporting to this piece.
Blaithín Wilson is Senior Editor in The University Times and will edit the communications and marketing race during the upcoming TCDSU elections. Jack Synnott is a Staff Writer for The University Times and will act as communications and marketing campaign correspondent.