Last weekend, the athletes of Trinity Trampolining slipped into their JNCO jeans, laced up their Nike high tops, zipped up their colourful Reebok training jackets and competed at a "90's kids"-themed Scottish Student Trampoline Open. The competition took place in Edinburgh, and after a 6.30 am flight on Friday morning, the Trinity athletes were tired but full of excitement to show off their colours at an international event.
The competition is attended by universities from England, Ireland, Northern Ireland, Scotland and Wales. Approximately 500 individual competitors take part, so it's a big deal for Trinity's athletes to compete in such a large event. Trinity brought 19 competitors across the pond, the majority of whom had never competed at international level before. Not only was this the first international competition for many of Trinity's competitors, but many were also moving up a level for this competition, giving them the chance to really prove themselves.
Speaking to The University Times over email, last year's captain, Aideen Mallon, said that the English and Scottish clubs are much better resourced than Irish clubs with coaching and equipment, as trampolining is better recognised as a sport in the universities there. Therefore, it would be a big deal for Trinity's athletes to bag spots in the top 10.
ADVERTISEMENT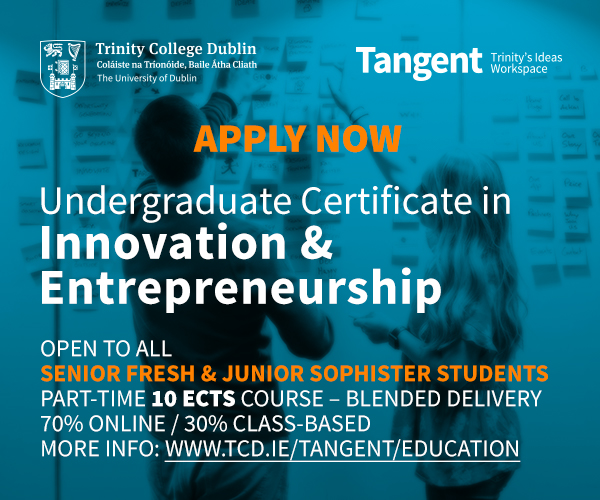 In the individual competitions, which are the most important at the event, Trinity's trampoliners effectively stamped their names on the top half of the leader-board. In the intermediate men's competition, Iarlaith Doherty and Andrey Waller secured top 10 finishes for Trinity, coming in ninth and 10th place respectively. There were 41 athletes taking part at this level, so it was a considerable success for Trinity to have two athletes in the top 10.
In the intervanced ladies competition, Aideen Mallon came second, even securing a trophy for herself. This is a brilliant success individually as well as for the club, proving that even with less resources than the Scottish and English clubs, an athlete from Trinity can make it onto the podium, staking out 52 other competitors. Trinity's Jane Taylor, competing at this level for the first time, fell just short of a top 10 finish at 11th place, yet given the size of the competition, she has every reason to be proud of herself with a finish well into the top half.
In the advanced ladies, Orlaith Geary experienced misfortune, falling in her first routine and suffering the ignominy of disqualification. However, Adelais Farnell Sharp was successful in her routines and came ninth out of 43 competitors. Again, Trinity managed to come away with a top 10 finish, giving much reason for celebration.
Trinity sent three elite competitors to Edinburgh, but unfortunately all three fell in one of their routines, meaning they had to board the homebound plane empty-handed. Yet they have much motivation to take from Trinity's overall performance at the competition and will surely clench their teeth and train even harder for the next competitions.
In the synchronised competitions, Trinity entered three couples, and all finished in the top 20. They entered one couple at Level 1, which came 15th out of 41 couples – a considerable success. At Level 2, Trinity entered two couples, which finished in 13th and 16th place respectively, out of 44 couples. Again, although Trinity missed out on a top 10 finish in the synchronised competitions, they finished far into the top half of the leader board, which is hopefully a good omen for the next competition.
In the team competition, Trinity's first team finished 15th out of 57 teams. They were the second-highest Irish first team in the competition, falling marginally behind University College Cork's (UCC) first team. The athletes can be happy with this performance and can take many positives away from this competition.
Overall, Trinity experienced multiple noteworthy successes at the Scottish Open. Many first-time athletes finished in the top 10 in their respective competitions and they were even able to bring a trophy back home.