If tonight's hustings, a last-chance saloon for presidential candidates, featured familiar themes, they were given a facelift by candidates well aware that they're running out of time impress voters. For some, however, it might have been too little, too late.
The final night of hustings in the Trinity College Dublin Students' Union (TCDSU) election period, in Trinity Hall, showed some candidates sticking to their safe rhetoric, but most injected some last-minute, and much-needed, energy, to campaigns entering their final days.
President
Following today's poll results, which showed Shane De Rís and Seán Ryan running neck and neck, the race leaders took to the stage clearly emboldened by their momentum as they produced their strongest performances to date. Meanwhile, with their campaigns on the line following disappointing showings in today's poll, Michael McDermott and Paul Molloy failed to deliver performances likely to help close what now looks to be an insurmountable gap.
ADVERTISEMENT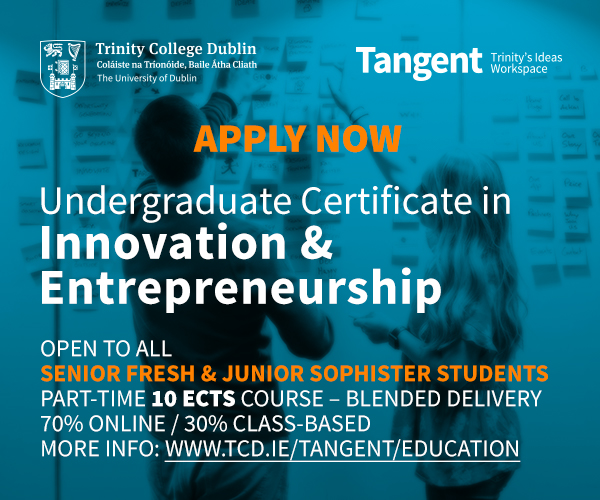 After the announcement of a re-open nominations campaign today, De Rís hit back with by far the strongest speech of his campaign and the best of the night. Asking the audience to put their hands up if they identified as a "minority", he declared, "I want this to be the last time four white males stand on this stage as presidential candidates".
At the tail end of a campaign that has sparked and flickered, but never fully caught fire, De Rís's speech tonight was resounding. His only regret will be that it took the re-open nominations campaign, and criticism of his inability to make higher education funding a topic students can get behind, for him to deliver the convincing speech he offered tonight. At the same time, De Rís's claim that "in the SU, not the presidential race, there is diversity", was met with scepticism from the crowd.
By contrast, McDermott looked suspiciously like a candidate running out of steam. The jokes were less satire, more silly, focused more on dabbing rather than on criticisms of the union. Reverting to jokes he has already made, both in hustings and in his campaign video, he received a less excited response than on previous occasions. He did, however, finish strongly, concluding that "the president isn't there to dictate what the union should do, they are there to listen to the students".
If tonight was Paul Molloy's final chance to capture the imagination of students and instill some passion into proceedings, he will surely leave Trinity Hall disappointed by his failure to do so. Having produced a typically mild-mannered performance, he largely focused on the issues of accommodation and support for students from minority groups. Again addressing students from non-traditional backgrounds such as those who enter through the Trinity Access Programme, Molloy promised to "be an SU president that fights to show that students from minority backgrounds have a place here".
Following a difficult day of campaigning for Ryan, with his campaign receiving a major strike from the Electoral Commision, tonight was less about the strength of Ryan's performance and more about the strength of his support. Receiving a rapturous reception from his assembled supporters, Ryan spoke fluently as he described himself as "a fighter", while focusing again on the issue of accommodation, outlining his plan for a "buddy system" for students navigating Dublin's notorious rental market. When pressed for his thoughts on today's sanction, Ryan simply referred to it as "a mistake by a mate". Members of Trinity GAA have called the comments about a Dicey's bar tab a joke referring to club treasurer Darren McGuckian. The Ryan campaign previously called the allegations "categorically untrue".
Communications and Marketing
There was a lot on the line for the communications and marketing candidates tonight. Polling by The University Times shows that Paraic McLean will receive 36.6 per cent of the first preferences, while Harty will receive 35.2 per cent of first round preferences. In spite of this pressure, the candidates held their nerve, delivering some of their best performances yet.
Niall Harty, taking a slightly different stylistic tack as he seeks to close the narrow gap between himself and McLean, offered a levity not present in his "anti-hack" campaign thus far. Continually emphasising the success of his "Memes and Things" Facebook page, Harty's approach was less an attack on the union, more the address of a man looking – belatedly – like he was enjoying himself. "I don't have a girlfriend, so I have lots of time", he grinned, to laughter.
McLean's speech, heavy on policy ideas for first years, played to those gathered in the Halls canteen."I am not just a hack", he told them, "I am a student." Compared to the energetic performances of his competitors, McLean opted for a more relaxed approach, which garnered fewer cheers but set out his stern defence of his "hack" status. McLean's continual refusal to apologise for his "hack" status, an impressive feature of his campaign, continued tonight.
Cian Rynne went for the jugular. Trailing in the polls, he smacked of a man with nothing to lose, and delivered his strongest speech so far in this campaign. "I've started a movement", he declared, with more than a hint of hyperbole. Nevertheless, the line got a great reception and, perhaps emboldened, Rynne hit out at Harty's meme experience, admitting that his meme page has fewer likes but asserting that it is a "hundred times more Trinity".
Though Rynne stressed the need to "look inwards" and cut costs within the union, marketing issues were notable by their absence for much of the evening, with a greater focus once again being placed on the communications aspect of the role. If the candidates' "meme war" was threatening to dominate proceedings, however, Harty and Rynne were brought abruptly back to earth when an audience member pointed out that running a meme page and being a successful Communications and Marketing Officer are different things. Defending his platform, Harty conceded that "I don't plan on running the SU like a meme page".
Entertainments
After a dismal showing in The University Times polling today, Matt Dundon took to the stage tonight seeking to close what looks suspiciously like an insurmountable gap between himself and David Flood.
Yet, if voters expected a new message, Dundon opted not to deliver one, choosing instead to emphasise his main manifesto points of having "bring your own booze" events in unconventional locations, working with smaller societies to "tap into their potential" and providing ear plugs for individuals with sensory disabilities.
Reminiscing about his time in Halls, the "weekly pilgrimage to Dicey's" and coming up with the idea for the incredibly successful Midnight Disco, he will undoubtedly have struck a chord with this audience. Emphasising again that his manifesto is "strong and achievable", Dundon reiterated that he has "worked hard to get the skills" that make him the "right person for the position".
Since last week's underwhelming performance at TCDSU council hustings, Flood has grown into this campaign. Tonight, buoyed by the polls, he delivered his most assured performance. All cheeky smiles and booming rhetoric, he was confident in directly approaching Dundon's insinuation, made continually over this campaign period, that his ideas are overly ambitious; "People might say I dream too big, too ambitious and bold – but as surf captain I have achieved the bold, I have pulled it off." However, beyond referring to these past endeavours, Flood failed to provide detail as to how he intends to achieve his aims.
With polls opening tonight, only time will tell whether Dundon's broader message that "when you vote for me you're not just voting for a manifesto, but a driven and passionate individual" or Flood's assertion that "you deserve more from Ents", will ring true with students. However, given the polls, it looks like the latter.
Education
Following polling results today that showed a clear majority of 87.4 per cent for lone education candidate Aimee Connolly, she once again delivered a confident, if not rousing, performance. The common themes present throughout her campaign made a reappearance tonight, with Connolly touching on many of her manifesto points such as module fairs and a signposting service for student supports.
Once again, the issue of women in leadership was not mentioned by Connolly, who represents half of all the female candidates running for a TCDSU sabbatical position this year. A reference to the Trinity Education Project was also missing from her speech, but when a question from the audience forced her to address the issue, Connolly referenced her plans to set up a TCDSU Education Facebook page to keep students up to date with changes and developments brought in under the project. Although her knowledge of the Trinity Education Project was a prevalent aspect of her pre-campaign interview with The University Times, Connolly has failed to translate this into her hustings deliveries.
The viability of her plans to introduce a career guidance training service for tutors was called into question, but Connolly's research paid off as she explained how she has been in contact with the Career Advisory Service who assured her of their ability to implement this proposal. Overall, this election period has shown Connolly to be a remarkably consistent candidate, and despite lacking in excitement or innovation, her campaign looks set to win her the position without the threat of competition from a hefty re-open nominations vote.
Welfare
Having spent two years in Trinity Hall, one as a student and one as the JCR's Welfare Officer, James Cunningham was already in a familiar arena. Add to that the fact he has incurred no campaign strikes or fines, has delivered inoffensive hustings performances and is enjoying a more than 80 per cent lead on re-open nominations in the polls, he had every reason to be confident. It may then have come as a surprise when he declared on the stage of tonight's hustings that he was "shitting himself a wee bit". If he was though, it didn't show.
Glancing only infrequently at his notes, he gave a brief overview of his now familiar manifesto points, highlighting outreach and representation as core components. He spoke personably about his time as Welfare Officer of the JCR, joking that he didn't want to get "all happy clappy with you", something for which previous welfare officers have been criticised.
The only real deviation from his programme was his mention of establishing a long-term policy for dealing with incidents of sexual assault, an issue raised with the presidential candidates at last week's activism hustings. Cunningham, having clearly taken notice, tonight stated his intent to formulate one such policy by consulting a panel of students, college staff and experts.
Otherwise, Cunningham stayed on script, answering questions from the JCR and the audience about Halls involvement with campaign weeks and alleviating strain on the college health service. The consistency of his campaign remained clear in all of his responses, his familiarity with the environment evident. Cunningham was clearly at home with his audience and his final appearance was surely his most charismatic.
Editor of The University Times
Eleanor O'Mahony's hustings performance tonight echoed what must have been a strange day for her. She will perhaps be disappointed with the relatively small lead she has in the polls, even if it looks secure. Tonight she stuck largely to the script, emphasising her manifesto points and repeating ideas that have been constants in her campaign.
O'Mahony promised to give Halls residents the same opportunities as everyone else, claiming that the paper is an essential service for all students and not just those centralised on campus.
Once again, O'Mahony promised to make the paper more accountable by opening office hours for students wishing to meet the editor. While she remained confident in her speech and manifesto points, she ran the risk of repetition. Keeping it short and sweet, she did not fill the two minutes allotted time, but managed to get most of her manifesto points across in a clear and concise manner.
A repeated question that O'Mahony has faced, however, is the cost of producing a print paper. Brought up once again tonight, as freshly printed copies of The University Times sat nearby, O'Mahony tried to justify the cost of the paper by pointing out its benefits as a possible means of advertising for the union, while also claiming that the print version is paramount to the overall success of the publication.
Preferendum
Before hustings began tonight, Laura Beston, a member of "Option 2 is Best for You", took to the stage for one final time to implore people to vote for the second option in the preferendum on supplemental exams and modular billing.
The only group that has been set up to campaign for a particular option, Beston's speech tonight was emphatic that students should vote for option two. She asked those gathered to vote for all the people who would never have an opportunity to vote on this issue. With 66.4 per cent of students saying they feel like the union hasn't done enough to inform them on this issue, it would seem that the only campaign group also has some ground to make up in the next few days.
Correction: February 20th, 2018
An earlier version of this article incorrectly stated that the Ryan campaign had last night diverted from its initial defence of allegations of promising a Dicey's bar tab in exchange for votes. In fact, members of Trinity GAA, rather than the Ryan campaign itself, called the promise a joke.
---
Matthew Murphy, Ciaran Molloy, Joe Dudley, Sophie Andrews McCarroll, Jack Synnott, Aoife Kearins, Aaron Finnegan, Ellen McLean and Louise McCormack contributed reporting to this article.