At Monday's Dining Hall Hustings, candidate for president of Trinity College Dublin Students' Union (TCDSU) and Editor of The University Times, Michael McDermott, introduced himself to the electorate by declaring numerous times that "I am not a good public speaker". It was perhaps the biggest lie told by a candidate thus far in the the election campaign.
College, the union and sometimes The University Times fall often at the keen edge of McDermott's satirical Facebook page Trinity Collidge, but one of the most striking aspects of this year's campaign has been the effortlessness with which he has transposed his caustic witticisms to the stage. McDermott, dare we say it, is a showman. Small, bespectacled, wilfully shabby, his on-stage comfort saw him gain the biggest response by far at TCDSU council hustings last night.
During last year's election campaign, Trinity Ents teamed up with the Piranha for a satirical hustings. It was described in these pages as "cringey and far removed from the biting satire" ordinarily purveyed by the Piranha. It was a fair assessment, with the publication's editors struggling, perhaps understandably, with the demands of on-stage performance. The report concluded that "maybe the Piranha should stick to their day jobs as a satire publication". The experiment has not been repeated.
ADVERTISEMENT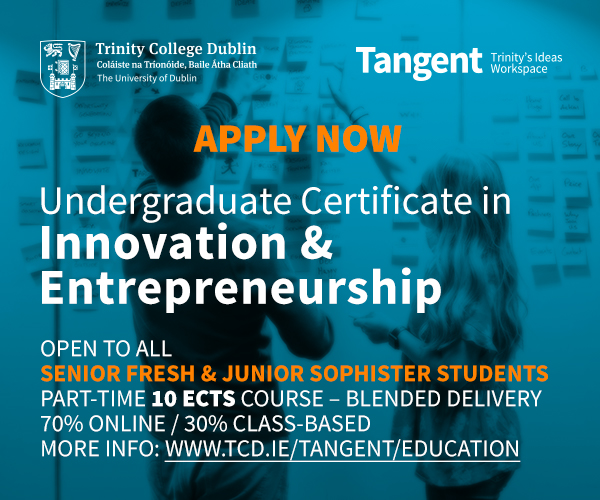 That McDermott has thrived in similar circumstances is perhaps the most surprising, and certainly the most impressive, aspect of his campaign. It is not only what he says, it is the way he says it. Delivered in a monotone magnificent in its flatness, his quips at hustings last night – "a friend told me I'm running for as many positions as all the women in College, which is pretty depressing" – all went down, you suspect, exactly as he wanted them to. Following him to the stage, fellow candidate Paul Molloy said "I was going to start with a joke, but I don't think I can follow that". He was right. None of McDermott's competitors – Molloy, Shane De Rís or Sean Ryan – slipped up hugely last night, but neither could they establish anything approaching the connection McDermott created.
By satirising the processes of the union, and even its reason for existence, McDermott was also, by extension, deriding the other candidates, and life was made much harder for them as a result, as they sought to reach an audience which, prompted by McDermott, had been in stitches not moments before at the same sort of measures the candidates are using as their selling points.
It is not only that McDermott has set himself up in opposition to Ryan, De Rís and Molloy. He is more than that now. A joke campaign his may be, but through an offering that swings from absurdist gags to genuine observations, McDermott's likeability has allowed him to make serious, if satirical, points about the union. The challenge for his competitors now is to establish a narrative strong enough to eclipse this self-same satire.