The role of Welfare Officer is one which has typically been defined by its resistance to definition. A Welfare Officer is tasked with improving the lot of Trinity's students at large, while also running campaigns, sitting on a multitude of College committees and, perhaps most dauntingly, dealing with a huge amount of casework.
Asked what the priorities of the office are, incumbent Damien McClean told The University Times that "the most important skill in any welfare officer is empathy. Sometimes it's more important to someone that you want to help, even if you can't. It's not about picking up the phone and shouting at the College till you get a solution. It's about being there with the student, working through the problem until you sort a problem together."
For James Cunningham, who runs unopposed this year for the position, this will come as no surprise. As a previous JCR Welfare Officer and a member of the current Welfare Committee, he has plenty of experience. He told The University Times that "working one-on-one with people to help them with their problems is something that I am very passionate about".
ADVERTISEMENT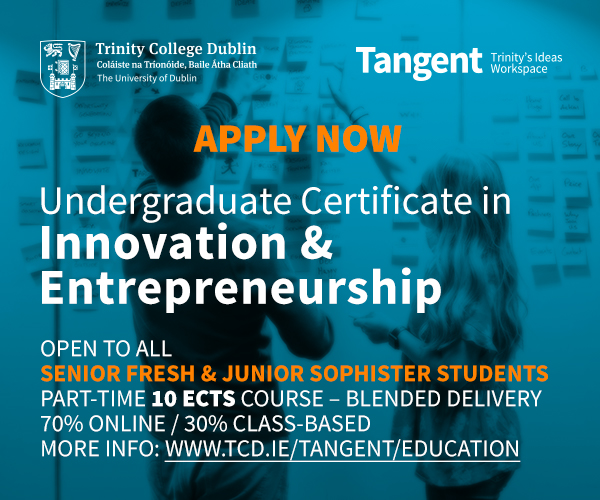 I feel like a definite factor is that last year so many strong candidates ran and they did have very strong ideas
In the past, welfare candidates have been criticised for being too pleasant and friendly, with less of a focus on policy. Former TCDSU Welfare Officer Aoibhinn Loughlin, for instance, made nap rooms a cornerstone of her manifesto and candidates in previous years have been known to trade on their approachability.
Cunningham has pitched his campaign as something of a repudiation of this attitude. The role of a welfare officer, he said, is "far more than just puppy rooms and condoms". If last year saw consent and gender-neutral bathrooms dominate discussions, Cunningham's focus is on student poverty and drug use, issues "affecting the daily life of individual students".
Historically the role has been one of the most competitive, with last year's race fought between five candidates. The year before, four candidates put themselves forward to contest the position. That Cunningham is this year's sole candidate speaks to the wider issue of engagement, the shadow of which looms large once again over TCDSU amid another year of numerous uncontested races.
Cunningham speculated that the strength of the previous year's candidates may be the reason he runs uncontested: "I think a lot of people were surprised, given that welfare is generally one of the most popular races you see in the elections. But I feel like a definite factor is that last year so many strong candidates ran and they did have very strong ideas."
Cunningham is no stranger to campaigning. Besides his own campaign for the JCR, last year he managed Laura Grady's unsuccessful welfare campaign, and although he maintained the importance of the issues on which she ran and is confident of the experience it afforded him, he was keen to stress his individuality. "This is my election," he asserted. He said he is running because "I feel like the right person for the role".
Growth is a key concern for Cunningham. Following successful proposals to expand and establish the Communications and LGBTQ Committees respectively, he plans to do the same for the Welfare Committee. Cunningham believes that the difficulty of being elected to such a committee gives them a sense of exclusivity and hopes to remove some of these barriers to engagement: "it's about getting involved."
I don't have all the answers and I think the point of engagement is to find out what the students want
Engagement and awareness are recurring themes for Cunningham. "I don't have all the answers and I think the point of engagement is to find out what the students want." This year, students proved that consent was still a vital issue. In Trinity Hall, over 90 per cent of students attended consent classes – in part due to better branding.
If McClean thinks work still needs to be done on consent – "the College have good programmes, but no policy around sexual assault" – Cunningham agrees. Hoping to build on the success of the Halls consent workshops, he said he would like to see the classes introduced on Trinity's main campus. "With regards to consent", he offered, "I think there is a lot to do there, in terms of widespread college information".
It is the concerns raised by students and even previous welfare candidates behind which Cunningham hopes to "build momentum". He intends to make it his priority to return the focus to issues "affecting the daily life of individual students", and tackle them through "one-to-one interaction with students". This has echoes of the promises of previous welfare candidates, and Cunningham may face questions at hustings about how he intends to balance this bespoke approach with the large-scale demands of the role.
These aims do, however, go hand-in-hand with his focus on awareness. He stressed the importance of "getting the information out there so it's readily accessible so they [students] know it from the get-go", and allowing people to "make decisions themselves and empower themselves to move forward". It is specifically with regards to the issue of student poverty that he believes "there's a lot more the students' union could be doing" to direct students "in the right direction".
Unusually for a welfare race that often sees candidates swamped by the range of issues or forced to monopolise a certain area, Cunningham will largely be able to set his own agenda and direction. One area Cunningham touches on only briefly is mental health – an issue that has dominated race after race in previous years. It was a central plank of Loughlin's campaign two years ago, while McClean also put it at the forefront of his campaign, advocating suicide awareness training for students.
In recent years, TCDSU has grappled with drug use, promoting campaigns like "What's in the Pill?" Cunningham also raised drug use as an issue that we "need to be realistic about". He hopes to revamp TCDSU's mandates from the past to be "made relevant to where we are now with students and drugs".
Cunningham, then, might relish the freedom afforded to him as an uncontested candidate, steering the debate away from traditional issues and into less-explored territory such as poverty. Early indications also suggest that he will offer a more hard-boiled perspective than the cuddly-toy and case-work narrative of previous years.
---
Joe Dudley contributed reporting to this piece.
Sophie Andrews-McCarroll is a Senior Editor in The University Times, and will edit the welfare race during the upcoming TCDSU elections. Joe Dudley is a Staff Writer for The University Times and will act as welfare campaign correspondent.