Differences started to become more apparent tonight between presidential candidates at the second hustings of this year's Trinity College Dublin Students' Union (TCDSU) leadership race. But it was during the audience questions, rather than in the pre-rehearsed speeches, where the greatest gaps started to emerge.
Clearly wary of slip-ups, the presidential candidates looked mostly to consolidate the points made at yesterday's Dining Hall Hustings – with the notable experience of Michael McDermott, whose speech, veering from the serious to the satirical, was met with uproar from the assembled crowd.
With hustings following the union's council, candidates would have gotten a taste of what to expect from next year, should they be elected. They also faced one of the more engaged crowds of the election periods. Faced with class representatives, many of whom are unafraid of making their voices heard, nerves slipped for some candidates, while others prospered.
ADVERTISEMENT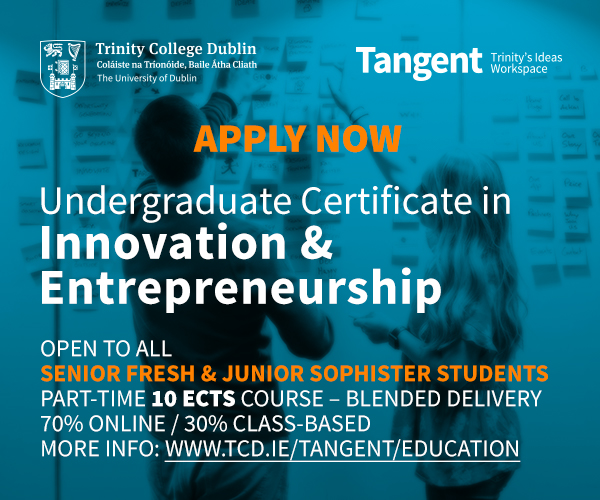 President
Tonight, put simply, was Michael McDermott's. He had the crowd in stitches throughout his satire-laced speech, poking fun at the establishment and handling questions confidently. His irreverence actually made much tougher the job of the other candidates, as they sought to manufacture similar enthusiasm in their speeches.
Following speeches yesterday heavy on rhetoric, both Shane De Rís and Paul Molloy struck a more personable tone this evening. Both again leaned on their extensive past experience, with Molloy noting that his time as Auditor of the College Historical Society means he has "the experience when it comes to bringing things to the table".
De Rís, a candidate whose main selling-point so far has been his well-rounded edges and previous experience, perhaps failed to fully perform in an arena in which he might have done best. Indeed, his identifying of higher-level funding as the biggest issue for students failed to evoke a significant audience response.
Seán Ryan focused on the same themes as yesterday. While again promising to make the union more accessible and setting out plans to work closely with the accommodation service which played well with the crowd, he largely declined to deviate from script, which resulted in a less striking version of yesterday's strong performance.
McDermott, by turns authentic and acerbic, appeared in his speech to capture the best of both worlds. His jokes, almost to a fault, landed with the audience, but perhaps even more impressive was the respect with which the crowd treated his serious points.
In responding to the multiple questions fielded by the audience, the candidates reiterated their stances on issues from disability rights to the ongoing accommodation crisis. Despite all candidates promising to retain a focus on national campaigns upon election, with Ryan promising not to turn a "blind eye to national issues", the primary focus of the presidential campaign looks set to remain heavily geared towards local issues, where the candidates at times struggled to carve out a niche for themselves, largely identifying identical problems and solutions.
Communications and Marketing
Throughout the speeches for the communications and marketing race, perhaps the most interesting sub-plot of the night was the differing takes from Cian Rynne and Niall Harty on the "anti-hack" narrative. It was a curious marriage, with both candidates vying for the anti-establishment vote. In comparison, Paraic McLean continued to emphasise the value of his experience in TCDSU, a value that his opponents don't seem to hold in high regard.
Harty, whose relationship to his "Memes and Things" Facebook page has been less front-and-centre to his campaign than Cian Rynne's "doggo" fixation, appeared determined to wrest back his status as memer-in-chief in the race, referencing it in the first line of speech. If this emphasis seems at odds with the stress he placed, once again, on his experience with the private sector, he did not address this.
McLean seemed nervous, but was clearly in a crowd of his peers. If this is to come down to a race based on union experience, council hustings was probably McLean's biggest opportunity to shine. Though he still proved himself to be a remarkably fluid off-the-cuff speaker, Rynne's speech tonight was more serious in tone, as he went through his manifesto points one-by-one.
Communications and marketing is shaping up to be one of the most exciting races, certainly if the barrage of questions candidates faced is anything to go by.
Entertainments
If the two candidates for Entertainments Officer offered similarly light-hearted speeches yesterday at Dining Hall Hustings, tonight saw more of a striking schism in styles. Matt Dundon employed a more impromptu style than David Flood, who rescued his initial performance – hindered more than helped by a pre-rehearsed speech – with an endearing approach to audience questions.
Dundon maintained that although he is not offering "the sun, the moon and the stars", it is the feasibility and practicability of his policies that makes them attractive. Once again emphasising his experience as co-founder of the "successful" Midnight Disco and current Nights Officer on the Entertainments Committee, Dundon asked the crowd tonight to elect him to the job he was "born to do." Yet he stumbled slightly when asked about non-alcoholic events and lowering the price of Trinity Ball Tickets. "I think a lot people over emphasise the role of the Entertainments Officer in the pricing, we just bring the act suggestions forward."
Despite some early hiccups, Flood's natural charisma came to the fore when answering questions from the crowd. Stumped by a question of who would be his ideal Trinity Ball line-up, his response – "ah jaysus" – prompted laughter from the crowd. Whereas Dundon is polished, Flood is carving out, by accident or design, a more conversational style.
Perhaps the candidates summed it up perfectly themselves when fielding a question from LGBT Rights Officer Noah O'BG about what sets them apart. Whilst Dundon cited experience stating he "knows what is feasible," Flood pointed out that he is "looking to create a new array of events. I am looking to move forward, I am fresh".
Education
Aimee Connolly's assured speech retained a similar format and focus to yesterday's Dining Hall Hustings, with mentions of the Trinity Education Project conspicuous by their absence.
Connolly did, however, diverge into other ideas, such as her plan to have a "convenor catch-up" in the last 30 minutes of every Academic Senate in order for convenors to discuss local issues with class representatives. This attracted two questions about the appropriateness of the Academic Senate as a setting, with Connolly defending the Academic Senate as a place with a more diverse and engaged group of people and proposed bringing in an opportunity for first years to apply for Academic Senate at the start of the year.
Even if Connolly's response to some questions bordered on ambiguity, the biggest omission from the speech remained an in-depth discussion of the Trinity Education Project.
Welfare
The sole candidate for Welfare Officer, James Cunningham, chose to speak without the mic. The forgiving atmosphere in the room will certainly have helped with his confidence, even if some of the other contested races captured the audience's imagination more.
Despite beginning his second hustings speech with a promise to expand on the issues focused on in the first, Cunningham was relatively brief. Nevertheless, he again appeared comfortable and remained focused. Outreach and engagement were touched on most heavily here, including details of his plans for drug harm reduction and consent workshops.
Where in previous years welfare candidates were grilled on the finer points of their manifestos, generally due to the large number of people running, Cunningham once again managed to escape with only providing a broad overview of his points. Cunningham answered one question about improving the experience of new international students, remaining unflustered and very much on message. Perhaps more detailed responses are to come later in the week but once again, without any competition, many of his ideas have gone untested.
Editor of The University Times
Tonight, candidate for Editor of The University Times Eleanor O'Mahony stuck to her guns and reiterated her level of experience and enthusiasm for the role of editor. As she once more took to the stage alone – fellow candidate Michael McDermott chose to address both his presidential and editorial campaigns later on – O'Mahony knew her audience. Attempting to invoke a sense of nostalgia, she told those gathered for council previously that her "involvement in student life really began here, I started off as a class rep in first year".
Much of O'Mahony's Dining Hall Hustings speech made a reappearance here, with the main addition being her wish to address the paper's accountability. Asked about the common theme of Editor candidates running uncontested, she defended the paper's attempts at promoting ever more staff writers in an attempt to encourage greater competition. Overall, O'Mahony seemed sure of herself and her beliefs, but left less room for improvisation or interaction.
---
Sophie Andrews-McCarroll, Joe Dudley, Aoife Kearins, Jack Synnott, Blaithin Wilson, Louise McCormack, Ellen McLean and Aaron Finnegan all contributing to the reporting of this piece.