While not everyone might have made it to today's Dublin march, students' unions across the country are marking International Women's Day with demonstrations of their own.
Earlier today, the government committed to tabling legislation on the eighth amendment this week. The announcement brings Ireland a step closer to a long-called-for referendum on the eighth amendment.
The Union of Students in Ireland (USI) held a demonstration alongside TCDSU in Front Square this evening, before joining the city-wide protest.
ADVERTISEMENT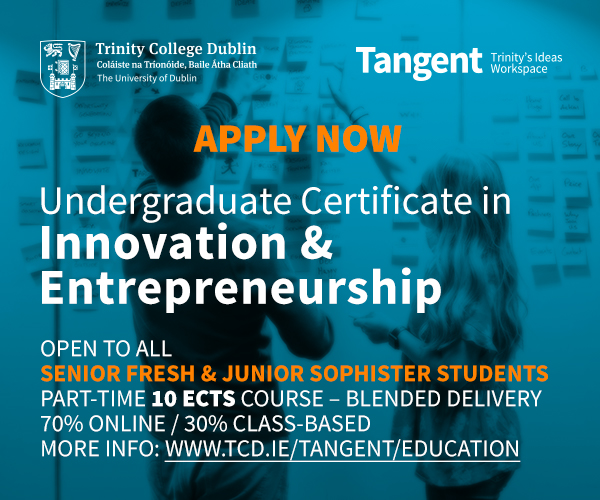 Speaking to The University Times, USI's Vice President for Equality and Citizenship Síona Cahill said "we're really standing at a seminal moment in Irish social and political history today".
"Students up and down Ireland from QUBSU to UCC, IT Carlow to NUIG are mobilising, and gathering to celebrate how far we have come in our movement, and to highlight the barriers that still remain", she said.
This afternoon, Queen's University Belfast Students' Union (QUBSU) and Ulster University Students' Union (UUSU), with the support of USI and campaign group Project Choice, gathered outside the union building in Belfast to take part in a demonstration to make the day.
In an email statement to The University Times, QUBSU President Stephen McCrystall said that today was about recognising the numerous contributions women make but also to highlight the discrimination that still exists.
"Be it sexism, misogyny, hate crimes, or patriarchal oppression, we need to stand up for women today and every day", he said.
He also explained that it was an important day to "send full unwavering solidarity to everyone who is impacted by the restriction on access to free, safe and legal reproductive healthcare".
"If people are committed to standing up for women then access to abortion must be an essential part of this", he said.
Speaking to The University Times by email, UUSU President Kevin McStravock said that "it is so important that we use our voices to stand up and speak out for those who are marginalised within society and unite for change".
"As a union with extensive policy in favour of women's rights particularly in relation to bodily autonomy, we're firmly in support of the march for International Women's Day", he said.
This evening, NUI Galway Students' Union (NUIGSU) will join a larger "Vote for Repeal" march in Eyre Square. With speeches and a march which will finish up outside the Magdalene memorial on Forster St, participants were encouraged to bring placards, banners, instruments and costumes. In an email to The University Times, NUIGSU President Lorcán Ó Maoileannaigh said that today was an "iconic" day to march.
"As a union we have a megaphone, one that can be heard at all levels of society and we must give that megaphone to those directly affected by the 8th amendment and march alongside them", he said.
Waterford Institute of Technology Students' Union (WITSU) will join students at a protest on a local roundabout. Speaking to The University Times, the WISTU Convenor for the School of Business, John Fortune, said that "it is ridiculous that women don't have control over their own bodies". Believing that the effort up to this point has been successful in highlighting the issue, he said that "the more you do, the more the government recognises you".
"We're going to shout at the top of our lungs", he said.
Last September, students joined 30,000 other people marching from the Garden of Remembrance to Merrion Square. With participants marching at that time for a referendum, today's march has a very different purpose. A referendum in May looks almost certain so today will instead be a key moment for mobilising support across the country.