It may be the mother and father of cliches, the most hackneyed of tropes, but days like today are truly what sport is all about. Dead and buried with 10 minutes remaining, after a frustrating 70 minutes of near misses and misplaced final passes, Dublin University Football Club (DUFC) showed patience, belief and no shortage of skill to claim a famous – and potentially vital – last-gasp win over Young Munster. Phase after phase of brute force preceded a moment of the deftest skill from substitute Tommy Whittle, and his try, coming in the last play of the game, handed the hosts a famous victory. Predictably, College Park erupted.
Speaking to The University Times in the afterglow of victory, DUFC Director of Rugby Tony Smeeth was suitably euphoric: "The guys had belief and they just stuck with it. You know, the fitness, all the weights in the morning, everything, the boys were incredible." He was right. The manner in which DUFC continued to plug away even as the game looked lost, the way they stepped up again and again with the clock and the scoreboard seemingly set against them, made today's win special by any measure.
It had been a relatively even game up until this point, but not one that Trinity ever looked entirely comfortable in. Errors were rife from the start, frustration too, DUFC's attacking intent too often thwarted by a combination of solid Young Munster defending and some poor decision-making from the students. Nevertheless, DUFC did take the lead, Jack McDermott slotting over a penalty after some decent buildup.
ADVERTISEMENT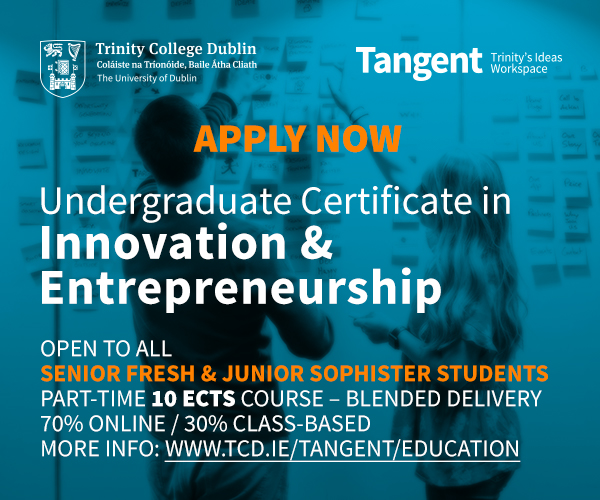 Angus Lloyd was looking sharp around the fringes, prompting much of Trinity's attacking play, and DUFC were playing most of the rugby, but handling errors proved costly on too many occasions. The lineout, too, was an area of concern, with the visitors almost totally dominant and a shaky Trinity pack struggling to retain their own ball.
Young Munster, having weathered the storm, began to play some good rugby of their own, showing enough glimpses of quality to worry the Trinity defence. With scrumhalf Jack Lyons directing traffic, the physicality of the Young Munster pack began to pose problems for DUFC, and the game's momentum began to swing.
Young Munster's try, when it came half an hour into the game, was an utterly avoidable one from Trinity's perspective, but it was hardly a surprise. When Seb Fromm pushed Young Munster winger Evan O'Gorman into touch on the 10-metre line, things did not look especially dangerous, but the crowd's collective intake of breath showed clearly that confidence in Trinity's lineout was fast eroding. Sure enough, Paddy Finlay's throw missed everyone, bouncing into the grateful arms of a loitering Benjamin Kilkenny at the tail. He freed Jack Harrington, and a scrambling DUFC defence failed to prevent Ger Slattery from crashing over.
Barely two minutes later and Young Munster struck again. A bout of kick tennis handed possession to Alan Tynan, the fullback picking up his own clever kick and chase to jog over the line. For most of the half, Trinity had bossed proceedings, yet somehow Smeeth's charges found themselves trailing 12-3 at the break.
For DUFC, it was imperative to begin performing the basics. This they belatedly did after the break, and it was from a lineout that the students hit back with the try their positivity merited. Simple play off the top created some breathing space for centre Kyle Dixon, and his offload to Tom Ryan was sumptuous. Ryan trundled home in the corner, and despite McDermott's missed conversion, things suddenly looked a lot rosier. Ten minutes later, McDermott brought DUFC within one point with a well-taken penalty.
If it seemed like DUFC were in the ascendancy, however, then the visitors' next try was a harsh dose of reality. Camped on Trinity's 22, Young Munster showed great patience to suck in defenders, before a gorgeous looping pass from Shane Airey freed Tynan for his second try. Tynan duly converted to leave eight points between the sides, a huge gap for Trinity to bridge with time running out.
DUFC were dogged, though, and began to gain field position in spite of some clever game management from Young Munster. Finlay was superb with ball in hand, atoning for his earlier inaccuracies at the lineout, and DUFC began to force penalty after penalty. However, with five minutes left, McDermott opted to take the three points rather than go for the line.
If this decision looked questionable, it was certainly the right one in hindsight. Straight from the restart, DUFC came back at Young Munster. With ball in hand, they laid siege to the try-line, showing discipline and patience and going through what seemed like hundreds of phases until finally they were camped five metres out. Wave after wave of pick and drive came, and wave after wave was repelled, until Whittle, in at outhalf, could stand it no longer. He took from stand-in scrumhalf Rowan Osborne, sold the defence and broke the line and the visitors' resistance to level the scores at 19-19. McDermott's conversion, in front of the posts, was a formality, and, when the whistle blew seconds later, celebrations could begin.