Hundreds of students rallied at the Dining Hall this afternoon, as politicians, students and staff promised to fight to the bitter end against supplemental exam fees.
If the day began with a carnival atmosphere, as students peaceably took over the Dining Hall, anger was palpable by the end of the rally, with students fired up by speech after speech that attacked Provost Patrick Prendergast and promised to start a movement that would unite staff and students across the country.
Speaking to students from the steps of the Dining Hall, the President of Trinity College Dublin Students' Union (TCDSU), Kevin Keane, said: "College is for us. It's not for those who have mansions on Grafton Street. This movement is the most inspiring student movement in Trinity in a decade."
ADVERTISEMENT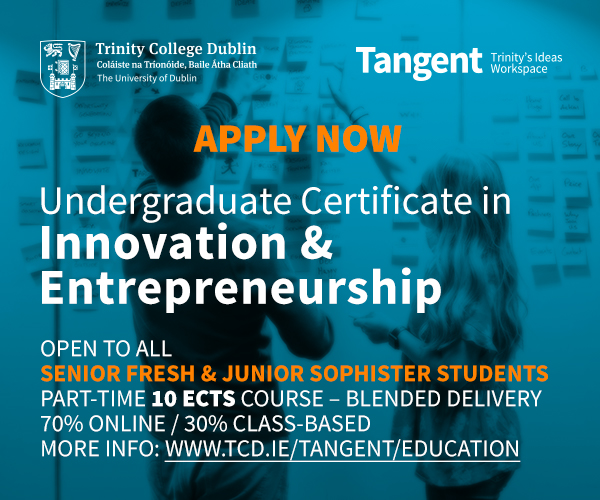 As College staff and tourists looked on, student speakers promised to take Trinity to the negotiating table over supplemental exam fees.
Today is the third day of action. Previous demonstrations have included blocking entry to Front Gate and the Book of Kells and protesting outside a Finance Committee meeting in House One.
Supplemental exam fees, which Trinity's Board approved in February, have become a flashpoint for students used to bemoaning cuts, fee hikes and efficiencies. After years of litigating issues at committee-level, students have turned to protests and pickets in a bid to secure national attention for the fight against fees.
The demonstrations across campus are a rare show of force from students used to a College that has repeatedly turned the blame on government inertia on higher education funding. Over the last few months, Trinity's senior staff – including Chief Financial Officer Ian Mathews and Vice-Provost Chris Morash – have appealed to students to understand their hands are tied. Yet it's fallen on deaf ears.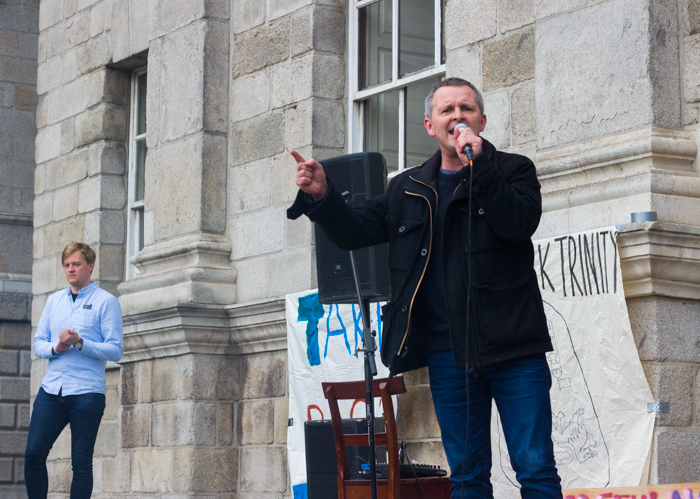 Spirits were high as students sat chatting on the Dining Hall steps, and music – including Pink Floyd's "Another Brick in the Wall" – rang out over Front Square from a sound system set up on the platform. The occupation drew attention from passing tourists many of whom took photos and looked on with a mixture of interest and bemusement. A steady trickle of students joined the ranks over the course of proceedings.
Politicians and public figures were also in attendance, including Senator David Norris, People Before Profit TD Richard Boyd Barrett and Sinn Féin senator Paul Gavan. Many called on this demonstration to be the start of a movement, while other drew parallels with the struggles faced by staff in Trinity over the years.
Boyd Barrett addressed students saying commended: "Trinity students for standing up to what is essentially the corporate takeover of Trinity. I also want to commend you all for reviving the student protest."
"It's great to see that student resistance is rising. To my mind, this not just a fight against fee increases. There should be no price tag at all", Boyd Barrett continued.
Gavan also addressed the rally: "You are not cash machines, you are the future of our country. How dare they decide that they can just rip you and your families off."
"This is the greatest moment for your SU in years. Let's stand firm, let's stand to win and let's teach this university a lesson", Gavan concluded.
The head of the Trinity branch of trade union Unite, Ciaran Perry, also spoke to students from the Dining Hall steps. He said the union wants "to support you in your struggle against College management".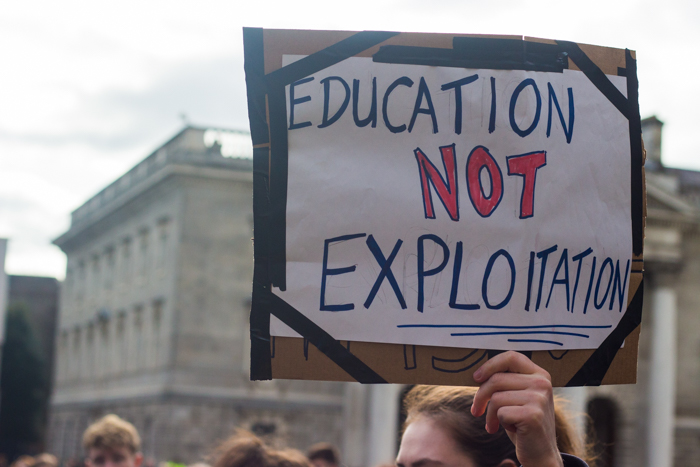 Dublin City Councillor and member of the Worker's Party Eilis Ryan was also in attendance. When speaking to the crowd of students gathered, she told them she was "shocked" to hear about College's decision to introduce a €450 fee for sitting supplemental exams.
Since 10am this morning, a group of students have been occupying the Dining Hall. With signs propped up on the steps outside, inside students milled around waiting for the bigger rally to start. On the wall at the back of the room, a large banner was hung reading "student protest against €450 exam resit fee". Since the occupation began the Dining Hall has been effectively shut down. As the day continued, only students with "Take Back Trinity" badges were allowed to enter the building.
President-elect of the Graduate Students' Union (GSU) Oisín Vince Coulter addressed the crowd: "We are full time students who have been backed into a corner who have no choice but to take these actions until our voice is heard."
"This isn't ending today. This is going to be a movement that is going to change education in Trinity", Coulter said. "The reason that we have the slogan 'Take Back Trinity' is because we are all in this together we all feel that we have lost what Trinity means to us and so we all need to work together to take back Trinity."